Scott Weiland fans paid tribute to the fallen rock star at an interactive tribute event held at MIST Harlem on Tuesday, January 12, 2016. The event revolved around an art exhibition which included a 40"x50" oil portrait of Weiland painted in 2014. It additionally featured music video presentations, a sing-along, and a live art happening in which guests and fans from around the world contributed their favorite lyrics to another portrait-in-progress. This one, at 4x6 feet, is even more monumental than the first.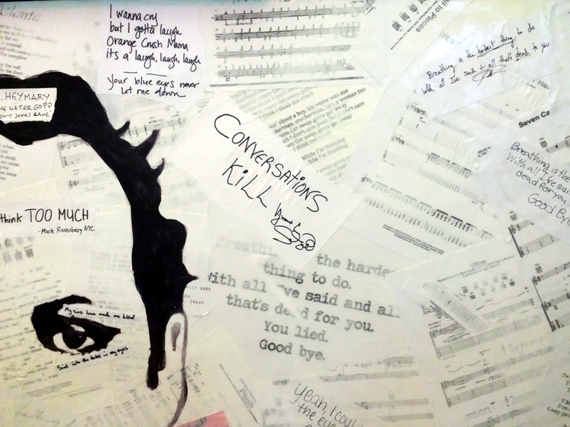 Since emerging as the front man of Stone Temple Pilots in 1992, Scott Weiland's wide-ranging vocal and lyrical stylings have belted brooding and melodic tales over some of the hardest rock riffs of the era. As a solo artist, he applied his gifts to trippy, experimental and even pop compositions. And, as frontman of Velvet Revolver, he kicked it up to extreme notches with lyrics that bled, kicked and raved on top of music that tolerated nothing less. For more than two decades, listeners latched on to the singer's words which, often squarely pointed at himself, reflected struggles with addiction, romance, and public perception. These images he crafted in song seamlessly vacillated from deathly dark to whimsical and hopelessly romantic, and were stamped indelibly upon the souls of listeners the world throughout.
Mishelle N. sent in a line she recalled from childhood, "when the dogs came to smell her." She'd first heard the song, Plush, when she was twelve and asked if it was bad that the phrase had stayed with her. One of Stone Temple Pilots' break-out hits, Weiland used this song as a canvas to merge the real-life story of a missing girl found dead with the demise of a relationship.That line, and the images it engendered, had stayed with everyone who'd ever heard the tune.
For some it was hard to choose just one lyric and, certainly, some universal favorites emerged, such as "Breathing is the hardest thing to do/With all I've said and all that's dead to you" from Interstate Love Song. Fans from as far away as Australia and Germany, chimed in with lyrics via Facebook to be included in the live art piece. It meant something to be a part of this, even from afar. Yvonne S., whose lyric from STP's Still Remains appears below, later commented that contributing to the portrait felt, strangely, as close as she would ever get to taking a picture with Weiland.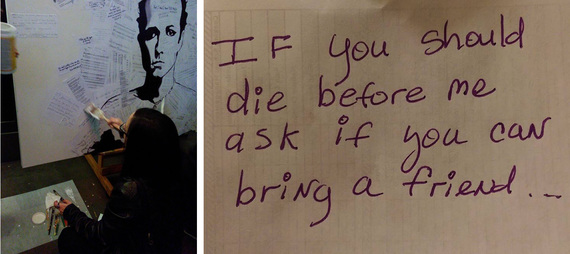 Attendees came prepared to get their hands dirty while collaging their handwritten lyrics into the painting. (Deborah H.B. appears above pasting her lyrics to the portrait.) Between hanging at the bar, perusing the exhibition, sharing Rock & Roll stories, making new friends and enjoying Weiland videos on the big screen, many even took the time to transcribe eight pages of lyrics from their brothers and sisters from across the country and around the world. For Weiland fans, who have been seeking some closure amidst widespread public bashing that continues weeks after his death, coming together to share their love for the music and the man through art was a healing exploration.
Notes of appreciation (and lyrics!) continue to flood in via email and social media. Images from the event were posted this morning on Scott Weiland's Official Facebook Page and have already garnered nearly 5000 likes, 300 shares and, yes, hundreds more lyrics. Many fans are hoping a similar event will happen in their area - especially on the West Coast, where Weiland and the Stone Temple Pilots originated as stars. Even those who were too far away to attend are simply grateful it happened, as they witness front page memorials for other recent fallen rockers and none for Weiland, whose controversial personal life has extinguished the media glow you would expect for someone with his career. In a private message, Julia K. from Berlin expressed how she feels we are "guardians" of his legacy.
With the participation of audience members, Greg Tate - co-founder of the Black Rock Coalition and conductor of the Burnt Sugar Arkestra - played guitar during the live music tribute. Guitarist and vocalist, Chris Munden also delivered a rendition of Plush. Brett Buchanan, Director of AlternativeNation.net, sent in a heartfelt tribute to be shared at the event, and there was an acknowledgment of David Bowie, who passed away just days earlier and who was Weiland's greatest inspiration.
Monday, January 25, 2016: There will be a soft exhibition closing and an opportunity for locals to come view the finished portrait from 6-8 pm at MIST Harlem, 46 West 116th Street, New York, NY 10026. The event is free to attend and open to the public.
Fans are asking where the painting will be able to be seen next. I am looking into it....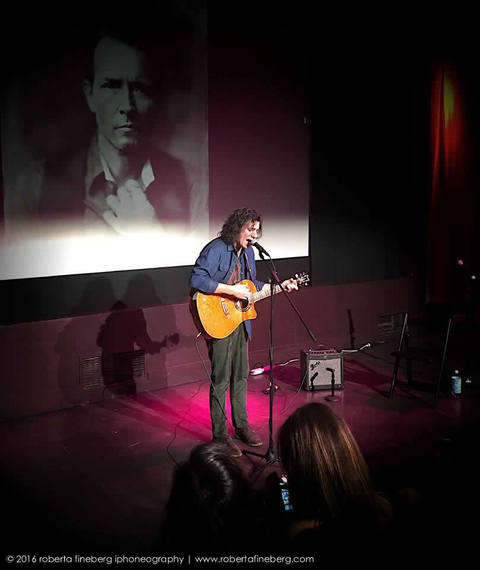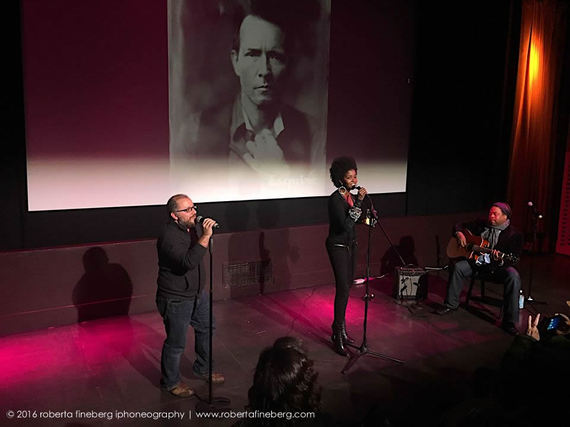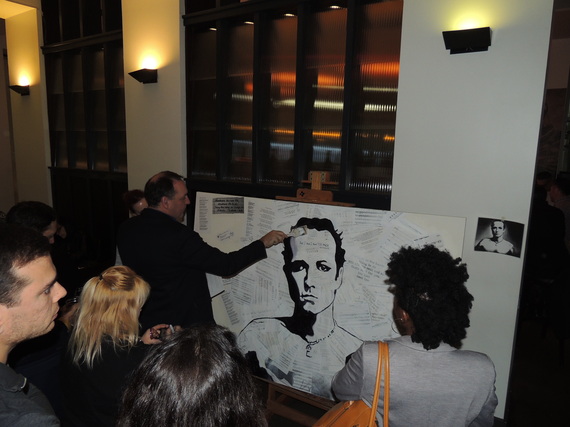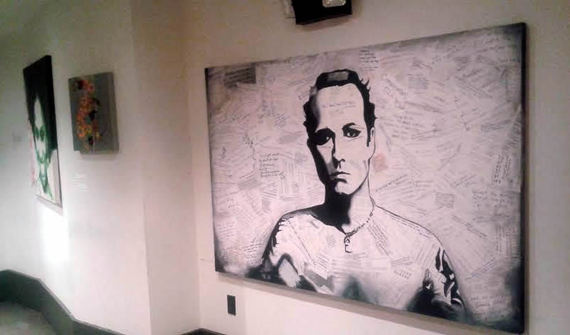 REAL LIFE. REAL NEWS. REAL VOICES.
Help us tell more of the stories that matter from voices that too often remain unheard.