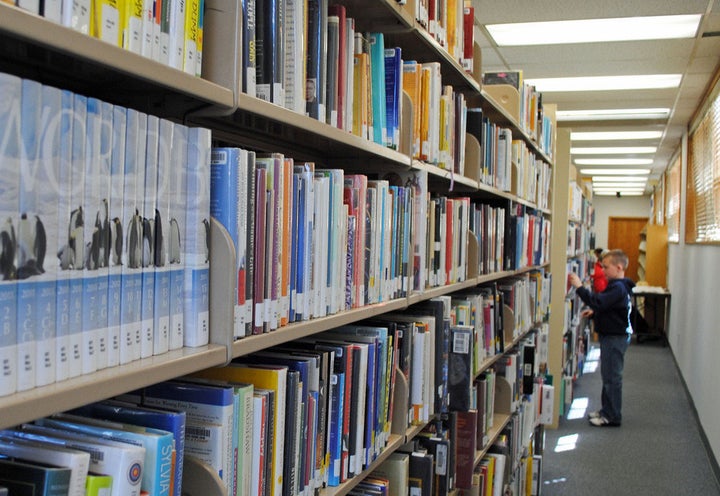 Several great reasons to pick up a book: These artists are bringing literature to life. Clockwise from top left: "The Book of the Lost"(2011) by Su Blackwell; "Grolier" (2005) by Brian Dettmer; "Little Red Riding Hood" (detail) (2010) by Su Blackwell; "Paper Manipulation 1" (2002) and "Butterflies" (2012) both by Louisa Boyd.
Recently we've highlighted the work of artists breaking ground in various media, working with everything fromfish parts toscrap metal. Paper has also made a comeback, but not in the traditional sense -- artists such as Louisa Boyd, Brian Dettmer and Su Blackwell are using books as a medium, lending a novel perspective (pun intended) to the concept of artistic narrative. In this photo essay, we allow ourselves to be happily consumed by the story.
Boyd's own sketchbooks inspired her to create works from the pages themselves. "The hand-bound book represents an element of our cultural heritage, a reminder of how far removed we have become from many traditional skills, and how technology and the use of machines have altered our world," she recently told MutualArt.
Many of Boyd's book works reflect themes in nature. Top: Two views of Boyd's "Take Flight" (2009); Bottom: "Flock"(2009); "Landscape Image within a Book" (2001).
Her book sculptures tell a tale of realities reassembled, sculpting dreams from the pages of her paper-works. "The pages operate as barriers and give options for hiding and exposing imagery. In many senses the book has been as important in portraying my message as the imagery within it."
Boyd approaches topics that are embodied by the tomes she reconstructs. "Consequently the themes of restriction and freedom occur frequently in my pieces, and the book allows this to be demonstrated visually," she explained. "Many of the terms used in bookbinding support these ideas, and this is integral to the choice of media. The book in its traditional sense is a series of loose leaves of paper, 'bound', 'contained' and 'covered'."
And Boyd isn't the only "bookworm architect": Dettmer and Blackwell also work with this multi-faceted medium, transforming story into sculpture. For her part, Blackwell told us she is inspired by the tales themselves: "I've always loved books and the idea of escaping into a good story, transporting you to a different time, and place, somewhere more magical."
Blackwell brings fairytales to life with her storybook creations. Top Right: "The Snow Queen" (2011); Top Left: "The Girl in the Wood" (2008); Below: "The Orient Express" (2011, commission); "12 Dancing Princesses" (2007) all by Su Blackwell.
Below: Blackwell's "Birds of the Open Forest" (2006); and "Pandora Opens Box" (detail) (2009)
Magical it certainly is -- Blackwell's book art beckons the viewer right into the story, with sculptures that spring up from the pages. Her works are reminiscent of the pop-up books we loved as kids, reborn as truly unique incarnations. "Rather than writing my own stories, I take inspiration from other people's, and I re-interpret them. ... I aim to make the stories more visceral, while drawing out elements that are personal to me."
Dettmer pays homage to this medium through his spellbinding sculptures, creating works that can inspire even the biggest bibliophobe to become enthralled in a book. Indeed, that's part of his artistic goal -- to remind us there are still concrete modes of communication in our modern digital world. "I want people to consider the value of books, their assumed solidity and their position in today's information landscape as they become pushed to the side from newer and faster digital technologies," he explained.
Brian Dettmer's labrynth-like creations have us headed to the library. Above: (left) "Tower of Babble" (2011); Right: "Absolute Authority" (2011). Below: "The March of Democracy," (2010).
"Ideas and information about the world are constantly changing so the Internet has become a great vehicle to reach a wider audience at a quicker rate, but nothing can replace the consistency and tangibility of books. A paperback will last hundreds of years but a word document is lucky if it survives a dozen," he added. Dettmer attempts to reconstruct this ongoing cultural narrative in his work, exploring "the dichotomy between language and the information it contains."
Dettmer's dynamic creations: Above: (left)"American Peoples" (2011); (right)"The Facts on File" (2011); Below, (clockwise from left)"World Books" (2009); "Vertical Knowledge" (2009); "Medicine" (2010);"Webster Two Point Oh," (2008)
Boyd closely mirrors Dettmer's sentiments, finding her inspiration from nature and "the constant battle we face as human beings to fit into a manmade world." She believes "that we have an inherent connection with nature that is often difficult to understand given that many of us live in cities, detached from the natural world and surrounded by modern technology." Her work seeks to bridge the gap between the modern world and the individual's ever-changing relationship to it. "The result is glimpses of imagery that allude to the natural world, yet also describes its fragility and the human detachment from it."
Louisa Boyd's "Keeping Secrets" (2009) and "Paper Bird #1" (2010)
That's the beauty of this innovative art form: it allows us to tangibly trace our way back through a shared historical narrative. These artists are reimaging the art of the story, and we're captivated by the tales they're creating.
Clockwise from Left: "Complete Guide" (2011) by Brian Dettmer; "Landscape within a Book" (2001) by Louisa Boyd; "Hope" (2009) by Su Blackwell
Beautiful homage to books or a bibliophile's nightmare? Do books still have a place in the modern world? Share your thoughts below.
Written by MutualArt writer Lauren Meir
Popular in the Community