For HuffPost's #LoveTakesAction series, we're telling stories of how people are standing up to hate and supporting those most threatened. What will you stand up for? Tell us with #LoveTakesAction.
Not long after President Donald Trump's administration announced on Wednesday that it will no longer stop schools from discriminating against transgender students ― rescinding a policy put in place by former President Barack Obama's administration ― the Walker Art Center in Minneapolis, Minnesota, posted a powerful image on Instagram.
The photo, a simple shot of its all-gender restroom logo, was accompanied by a caption that reads: "All Genders Welcome."
As students like Gavin Grimm, a transgender teen in Virginia who sued his school for the right to use the boys bathroom, fight to have access to the restroom consistent with their gender identity, the Walker's Instagram post is a quiet reminder of how inclusivity can take shape functionally in public spaces.
The Walker is but one of several museums, including the Whitney Museum of American Art, the American Folk Art Museum and the Chicago Children's Museum, that have opted to make a seemingly small but effective gesture toward providing safe and inclusive spaces within its walls.
In 2014, the Whitney announced its move to include all-gender restrooms in its galleries, writing online that the decision came out of a discussion on museums as safe spaces that took place at the LGBT Community Center on West 13th Street in New York City. Quoting artist Gordon Hall of the Center for Experimental Lectures, they wrote: "The arts have long been a home for individuals who may not find support in the culture at large, and have served as a harbinger of broad social changes. The Whitney's visitors, artists, and staff represent a wide range of gender identities and expressions, and this change will help make the Museum a welcoming space for us."
The 2016 edition of TrendsWatch, issued by the Center for the Future of Museums (CFM), part of the American Alliance of Museums, reiterated the importance of all-gender restrooms, encouraging museums not already doing so to "take a fresh look at their own environment and the overt and subtle signals they might send about the categories in which they place visitors, potentially signaling who is welcome and not welcome."
"The arts have long been a home for individuals who may not find support in the culture at large, and have served as a harbinger of broad social changes."
According to The New York Times, "all-gender" is the preferred terminology when it comes to inclusive restrooms. "To me, saying gender-neutral is like saying colorblind," the Stonewall Center's Genny Beemyn told the Times. "We see gender. To deny it is to deny people's reality. We're trying to increase recognition of the diversity of gender rather than to erase it."
Of course, some museums still have a long way to go when it comes to cultivating comprehensively inclusive spaces. While TrendsWatch 2016 outlines concrete steps institutions can take in terms of all-gender bathrooms, it is a far from perfect model for trans inclusion as a whole, Margaret Middleton, an exhibit designer and queer advocate, told The Huffington Post.
"Providing gender-inclusive restrooms is certainly a step in the right direction but museums shouldn't stop there," Middleton explained. "The whole museum needs to be considered ― including visitor services, exhibits and programs, and staff policy. For example, a visitor should be able to buy a membership using a name other than what is on their legal ID; there should be work by trans artists in the galleries; and non-discrimination hiring statements should include gender identity and gender expression. Becoming more trans-inclusive is a process. There is always more that can be done."
Ahead of its decision to rescind Obama-era policy on discrimination, Trump's administration characterized transgender rights as "a states' rights issue and not one for the federal government." Going forward, the onus of change may fall on individual institutions like museums to continue advocating for basic protections and to recognize the role they play in educating their visitors ― whether it's using a canvas or not.
This post has been updated to include a quote from exhibit designer and queer advocate Margaret Middleton.
Know a story from your community of people fighting hate and supporting groups who need it? Send news tips to lovetips@huffingtonpost.com.
Related
Before You Go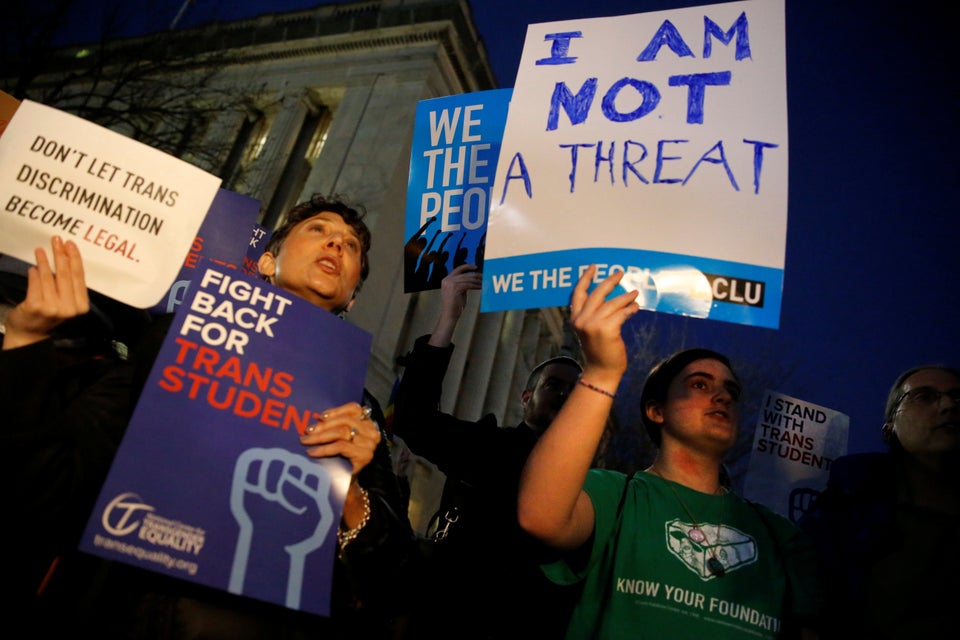 LGBTQ Groups React To Trump Revoking Trans Protections
Popular in the Community