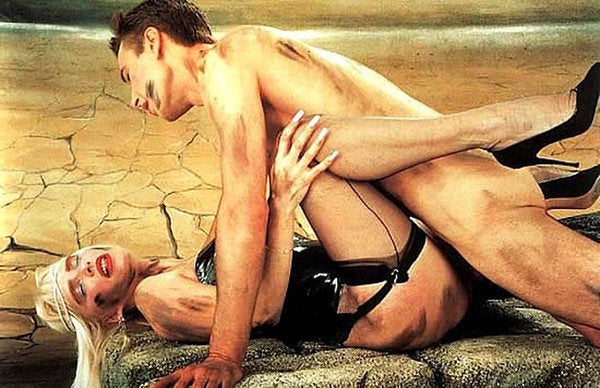 When Jeff Koons debuted his "Made In Heaven"series, the art world gasped at the nerve of the sculptor who had made his name with reproductions of Michael Jackson and his monkey. How tame Bubbles must have seemed to critics faced with an entire exhibition of Koons fornicating with his then-wife, Italian pornstar and parliamentarian Ilona Staller.
Though Koons would graduate to a career of reproducing mammoth inflatable dogs and befuddling members of British high society, it was neither the first nor last time that so-called "fine art" appeared to slip into the land of pornography (which, for the purposes of this piece, means visuals primarily intended to elicit arousal).
Photographer Nan Goldin caused a media frenzy when a collection of her work -- including an image of a young girl standing and looking at her naked sister lying on the floor beneath her -- was shredded in France. In a talk last year, Goldin noted that she doesn't think of the audience when she's at work: "There are a few times when my stomach tells me it's not appropriate to photograph ... to me there is no pornography in this whatsoever."
Goldin went on to place the onus on the viewer. "The idea that nude flesh is seen as pornographic -- people seem to forget they were born naked and that they were born from women."
When a group of students at UCLA held a December 2008 screening of the adult film Pirates II: Stagnetti's Revenge, a perhaps predictable controversy brewed as conservative students and Christian groups threatened to protest the event. By the time the movie started rolling, however, over 850 students had eagerly packed the house. Which begs the question: are galleries and museums to be similarly crowded with graphic works of art that will draw some protests but ultimately be overrun by those who either don't care about the distinction or, rather, care more about seeing something new and provocative?
Are works like Koons ultimately any more or less "artistic" if the, ahem, thrust of their oeuvre lies in unabashed displays of sexuality? HuffPost Arts decided to take a stroll down the journey and curate some of the most high-profile art-porn hybrids in recent years -- take a look at the gallery below and let us know what you think in the comments.