Today's world of painting is a very exciting one! We can find exhibitions by contemporary painters which explore human themes, with human symbolism and which are masterfully executed. I see oil paintings being done by living painters that make use of the medium to its highest advantage, to create a sense of magic in the atmosphere as well as in the viewer. The painters who are working in this new classical vein have varying methods and techniques but are loosely bound together by their portrayal of the human figure in a beautiful fashion.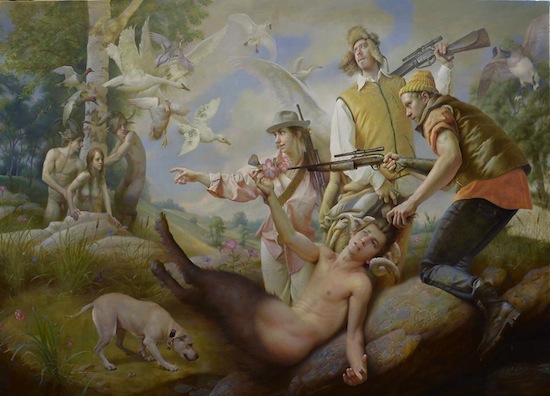 Twilight in Arcadia by Adam Miller
Not all paintings have the same intention and that's fine. Art Basel opened earlier this month and claims to be the Olympics of the Art World. You might expect the very best paintings being made today to be on display there but that is not the case. After browsing all 62 pages of what they have to offer this year, which can be found on their website, I was hard pressed to find anything I liked. Among the very few contemporary figurative painters represented we see Chuck Close, Eric Fischl and Lucian Freud, who was contemporary until not so long ago. In my opinion not the best choices to represent figurative painting at the Olympics.
Is the best contemporary classical painting not shown at the Olympics of the Art World because there is no interest in it? No, it is clear that there is a definite interest in it.
In addition to the growing number of ateliers and schools that are teaching technique and nurturing the desire to produce beautiful paintings, there are now galleries, and more importantly collectors, who see the value of the paintings being produced. There are magazines devoted exclusively to representational painting that were not around 10 or 15 years ago. Eric Rhoads and friends at Streamline Publishing have helped open up people's eyes to some of the fantastic work that is being done today both in contemporary realism with magazines like Fine Art Connoisseur and Plein Air. Likewise Joshua Rose editor of American Art Collector and American Fine Art Magazine and his staff have also helped show that this type of work is not only popular, the best of it is valuable and worth collecting. There are many other examples of the rising popularity of representational painting.
Art Basel was started in the early 70's by a group of galleries who had like interests in art and made it a huge success. It fills a niche. It is not the right venue to view contemporary classical paintings so I am not surprised that they don't really have any event for it at their Olympics. To me what they are doing and what I am interested in are at the very least, two different things.
It is my hope that the current interest in and the quality of contemporary classical painting will inspire new collector's, new galleries and investors to come together to organize an Olympics of the Figurative Painting World where the best of today's classically oriented paintings can be displayed properly. Already there are signs of this happening but nothing yet on par with the notoriety and financial support of Art Basel.
For those of you who are like me, looking for alternatives to the Olympics of the Art World, the Michner Art Museum in Bucks County, Pennsylvania is currently hosting an exhibition of paintings by Nelson Shanks titled A Brush with Reality. Shanks' dedication to classical painting is evident in his work. Here you will see more than 30 of his major paintings from public and private collections on display until Sept. 8th.
If you are in Norway this July you will have the opportunity to see an exclusive exhibition of paintings by Odd Nerdrum & Colleagues. Nerdrum's influence on figurative painting both in Norway and in the United States is remarkable. This exhibition, at Raugland Gård in Stavern, Norway, features Nerdrum together with several other painters who explore beauty, dignity and the nature of the human condition. This exhibition opens July 6th and is runs until the 28th of July.
Adam Miller's paintings are inspired by baroque and Hellenistic narrative painting and address questions of progress and the human experience in the face of technological change and the struggle to find meaning in a world poised between expansion and decay. His new painting, Twilight in Arcadia, pictured above, will be unveiled at the National Arts Club in New York on June 25th. His work will also be on view in Vered Galleries Art on the Edge exhibition as well as at Art Market Hamptons in July.
It is a big diverse world and I believe that there is room for all manner of creative expression. Given the popularity of figurative painting today I will not be surprised, or disappointed, when it is a major Olympic event in its own right.
Popular in the Community