Our weekly picks of the top exhibitions in the region reflect the opinions of our editors and contributing writers based throughout the region. We include closing dates so if you are in the area you can more easily plan your visits; each venue is linked to a page that includes address, map, contact information, and more.
Want to opt-in for a free subscription to stay current every day on our Weekly Newsletter, as well as new shows, events and (if you are an artist) artists' calls? It's easy.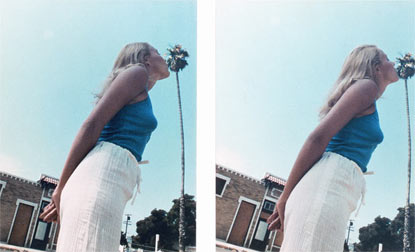 John Baldessari, "Kissing Series: Simone Palm Trees (Near)," 1975, two color photographs on board, 10 x 8" each, at Los Angeles County Museum of Art.
So alert does John Baldessari seem to the reality of 21st century experience built from image-text bites, that one can bet he'd cringe at this isolated snippet recently read: Baldessari: Founder of West Coast Post Modernism.' Huge, titular, generic, proclamative, full of portent, full of hot air, and so familiar as to slither past any real scrutiny -- just the sort of loaded info packet the artist loves to stop us at, to toy with.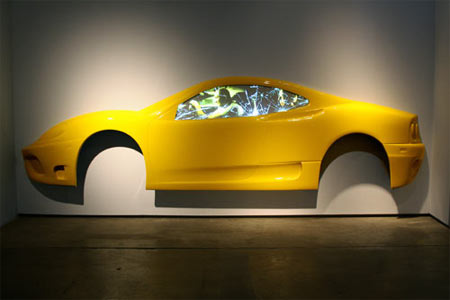 Peter Sarkisian, "Dusted," 1998, mixed media and video projection, at James Kelly Contemporary.
If there were such a thing as the color "candy-apple yellow," Peter Sarkisian nailed it in his blazing wall reproduction of a Ferrari roaring around, crashing and squealing with lots of noise and action. The piece, "Registered Driver," is the first in a series to come, and this one features the artist as driver. Turns out the driver has a little drinking problem, and given the horrifying statistics about drunk driving in Sarkisian's home state of New Mexico, "Registered Driver" hits particularly close-to-home. Ghostly in the backseat, his father appears and disappears with each lurch, while glass crackles with every collision. A helpless victim, the backseat passenger represents every innocent bystander, defenseless against the consequences of a potentially devastating accident. The artist also leaves no doubt about the brazen appeal of driving a muscle car dangerously fast.
Two other video offerings complete this show of new works by Sarkisian, known for upending video as an art medium. "Dusted" is a head scratcher: A cube (and five projectors) traps a man and a woman, naked and filthy in their own muck. An accompanying sound track whispers, stream of consciousness-wise, a litany of names. It's a relief to go back and consider the tranquil "Puddle," a single-projector piece that depicts violet paint dripping slowly onto the floor. Its quietude is a relief after racing cars and boxed-up people. Sometimes Sarkisian plays it a bit too close to the ubiquitous video game -- but that's also why this exhibition is so much fun.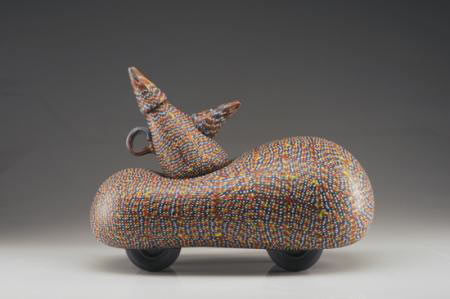 Richard Marquis, "Teapot Cartoon Car," 2010, blown glass, granulare technique, wood, 9 x 12 1/4 x 7", at Bullseye Gallery.
In the late 1960s, Richard Marquis traveled to Italy to study glass sculpture under master blowers on the Venetian isle of Murano. After completing his studies, rather than staying in Venice and practicing the secretive techniques he had learned there, he returned to the United States and shared his knowledge with students here and around the world. This democratizing impulse was a powerful lightning bolt in the perfect storm that electrified the contemporary studio glass movement in the 1970s. In his work now, as then, he combines disparate practices -- blowing, kilnforming, fusing, and wheel-cutting among them -- to create objects that blend immaculate execution with an obsessive temperament and impish humor.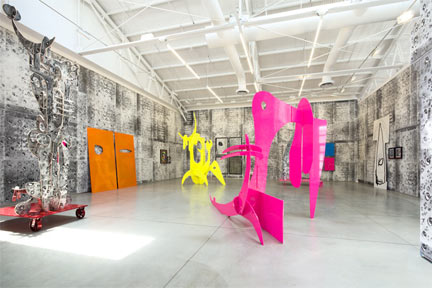 Aaron Curry, installation view, 2010, at David Kordansky Gallery.
Following his Hammer Project from late 2008/early 2009, Aaron Curry's "Two Sheets Thick" pushes his sculpture and 2-D work into an even more immersive mode of surrealism. The contrast from the dull tones of the walls - covered in black-and-white silkscreens - to the bright colors of the towering freestanding sculptures creates a boldly charged environment, one made intriguingly slippery by the transition from the walls to the floor. The walls are papered with repeating patches of water rivulets, which are extended into a couple of the sculptures, which in turn stand somewhat mock-triumphantly on powder-coated aluminum bases with pushcart wheels (painted the same colors as the stands).
There seems to be a lot of self-referential quoting going on, though mainly on a formal level: The reflective rivulets become faux metal in the aforementioned sculptures, and crop up again in smaller mixed media, black-and-white collages. Other small works are either brightly-colored abstractions that, based on one smaller collage, appear to be culled from "Monsters, Inc." stills, or are limited to black and white patterns; this all heightens the sweepingly graceful back-and-forth between the saturated and the dull. The two bright, neon-colored sculptures, which have a Guernica-in-3D feel, are custom-fit to the installation, and would struggle to not come off as overly-derivative modernist relics on their own. But that's completely fine. Curry thrives as an installation artist as much as a sculptor - each piece is meant to live in concert.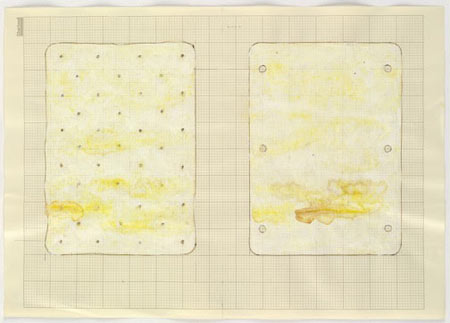 Rachel Whiteread, "Untitled (Double Mattress Yellow)," 1991, acrylic, ink and watercolor on graph paper, 11 5/8 x 16 1/2", at Nasher Sculpture Center.
Using varnish and resin, Rachel Whiteread creates shiny yellow and green patinas on the surface of her drawings. They are surfaces that not only invite touch but also invoke the spatiality and architectonic of the artist's sculptures. Both a preparatory drawing and record of unfolding thought, "Untitled (Green Bath)" [1995] is a drawing on graph paper of a boxy tub connected to the artist's three-dimensional casting of an old tub completed a year later. A slip of shiny jade-green resin covers the cubic form of the tub while glossy yellow varnish gives shape to forms somewhere between a flipper and coffee stain that pop out along the far left edge of the tub.

Whiteread's drawings are at once deeply personal and head-on public. They bring to bear a force of the diaristic on her sculptural work that, though fathomless in terms of poetic layering (think here Bachelard's "The Poetics of Space," the linguistic "trace" and a general sense of haunting and ghostliness), is often identifiably commonplace. In "Drawing for Water Tower II" [1997], a yellow varnish-covered water tower perches atop a row of 19th-century midrise buildings covered in white correction fluid creating a formal play of the precious against the stolid. This show reinforces the subtle lyricism of Whiteread's elegantly dumb three-dimensional objects.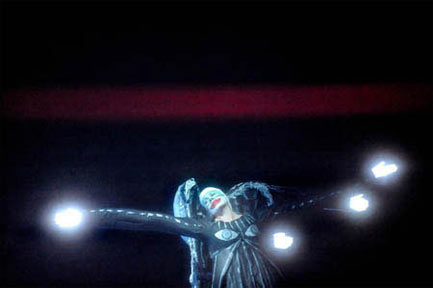 Monika Rittershaus, from "Das Rheingold," 2010, fine art ink jet print on silver rag, 35 1/2 x 53", at Ruth Bachofner Gallery.
"Der Ring des Nibelungen," Richard Wagner's epic four opera cycle recently completed its ballyhooed run in Los Angeles. Staged and directed by Achim Freyer, this production's elaborate and unconventional staging has been beautifully documented by photographer Monika Ritterhaus. Already a renown theatre photographer, Ritterhaus served as the exclusive photographer for L.A. Opera's "Ring," and what we see here captures its dramatic lighting, costumes, and staging in one crisp and elegant image after another. Allowing the layers of the performance to come through, the photographs allude to not only the depth of the drama, but to the complex relationships formed on stage.
Each image is carefully composed, taking into consideration that its an isolated moment of a long work. The individual frames convey that they are but an instant within a much larger narrative. Ritterhaus' "Ring" is more than a series of publicity stills, and although they sell one on the performance they record, they stand as works of art in their own right.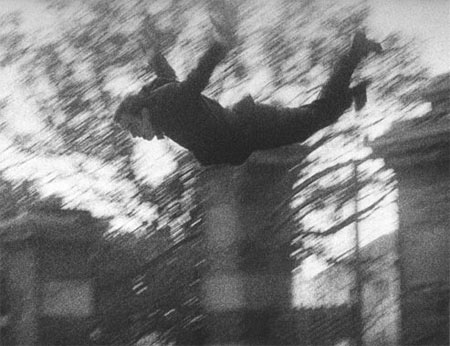 Yves Klein, "Le saut dans le vide (The Leap into the Void)," artistic action, silver gelatin print, 10 3/4 x 13 7/8", at The Menil Collection. Photo: Harry Shunk-John Kender. © Yves Klein, ADAGP, Paris Photo: Shunk-Kender © Roy Lichtenstein Foundation
The somewhat tongue-in-cheek "First Manifesto of Nouveau Realism" included statements like, "If one succeeds at reintegrating oneself with the real, one achieves transcendence, which is emotion, sentiment, and finally, poetry." Striving passionately to put the "re" back in realism, artists like Yves Klein, Jean Tinguely and Niki de Saint Phalle suggested that by integrating real objects and other discarded and perhaps useless materials into artistic objects, and thus altering their intended purpose, an increasingly industrial and consumer-based culture could be momentarily altered.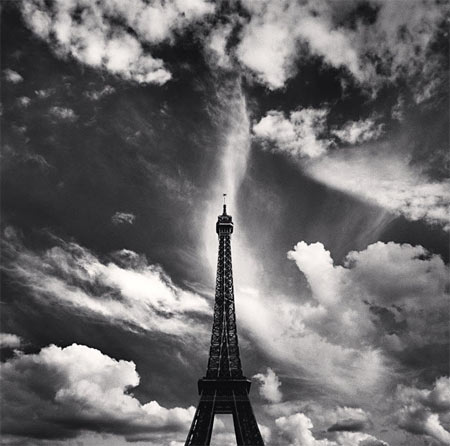 Michael Kenna, "Eiffel Tower, Study 6, Paris," 2007, sepia toned silver gelatin print, 7 3/4 x 7 1/2", at Stephen Wirtz Gallery.
In these days of economic hangover, beauty may seem an extravagance, but it's one we can't afford to neglect. Preston Sturges's film comedy, "Sullivan's Travels," follows a director of film comedies who decides to make instead a social documentary on the Depression entitled "Brother, Where Art Thou?" (later appropriated by the cinephile Coen Brothers). Arrested, he discovers at a jailhouse movie screening that even prisoners need laughs. Similarly, beauty in visual art tends to be eclipsed in hard times, as art critic and philosopher Arthur Danto has pointed out. It acquired a stigma after the Great War when Dadaists saw the idealism of the perfect as a bourgeois lie, and avant-gardists followed suit.
Michael Kenna's latest show of black-and-white landscape photographs, which are typically modestly sized (under eight inches square), are poetic meditations on history and place, or the suggested human presence amid nature. They assert without apology that we need beauty. Indeed, in an age of frequently arcane conceptual art, they would seem to be impervious to aesthetic fashion, even timeless. Shown here are two recent bodies of work focused on eternally picturesque locales that have been painted countless times: the fog-shrouded Huangshan Mountains of eastern China's Anhui province; and the Venice of Canaletto, Titian, Tintoretto and Turner. (Kenna's photos of the latter are published in "Venezia," a recent Nazraeli Press book.) Additional photos capture the magic of Versailles, Giza, and Italy's Emilia Romagna and Veneto regions.

- Dewitt Cheng

Calling all HuffPost superfans!
Sign up for membership to become a founding member and help shape HuffPost's next chapter