My name is Maya Penn. I'm a 13 year--old artist, animator, designer, philanthropist, environmentalist and girls rights activist. I am the CEO of Maya's Ideas, a company I started in 2008 when I was just 8 years-old. I create handmade artisan crafted eco-friendly accessories and clothing. Ten to 20 percent of my profits go to local and global charities and environmental organizations. My items are sold all over the world to Denmark, Italy, Australia, Canada and more.
A lot of people ask me, why is your business eco-friendly? I did some research and found out about how some dyes in clothing or the process of even making the items was harmful to the people and the planet by generating a great amount of toxic waste. I thought: How can helping the environment tie into my business? I immediately knew Maya's Ideas had to be eco-friendly.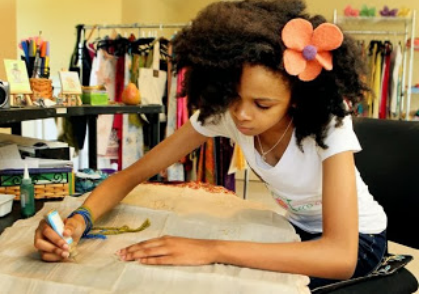 Photo credit: Phil Skinner
I've been drawing since I could hold a crayon and I've been making flip books since I was 3 years-old. Animation has always been my first love. I love to use creativity to give back and encourage others to find their voice and what they're passionate about. What I love about art whether it's through painting, acting, dancing or music is that you can tell a story and a spark a movement through the creative spirit that is art. Art comes in many forms and it's a way we can express ourselves.
Doing what you love makes the work easier. And remember, you have to work hard and be committed. It will be worth it in the end. If you have a passion, then listen to that passion. Pursue it and don't let anyone or anything stand in your way. You have the power to move forward, and just go for it!
Art and my passion for protecting the environment is my spark.
Calling all HuffPost superfans!
Sign up for membership to become a founding member and help shape HuffPost's next chapter