I have been advised on a number of occasions not to mix art and politics -- always heated subjects. But in the last few days I went to two museums where these subjects were mixed to maximum effect.
On Sunday afternoon the Hammer Museum auditorium was jam-packed with Angelenos eager to meet with two stars of American art and politics. Thunderous applause greeted Mark Bradford and Anita Hill when they walked on stage, smiled, sat down and started their conversation.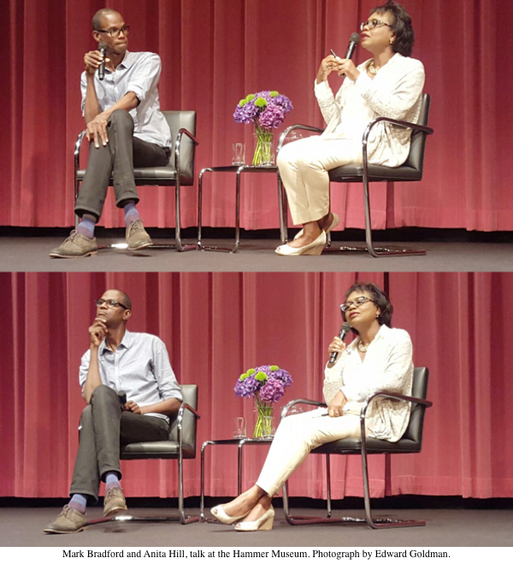 Let me introduce them. Mark Bradford is one of the best-known contemporary American artists, a recipient of the so-called "genius" award from the MacArthur Foundation as well as a recipient of the National Medal of the Arts. Currently the Hammer Museum displays his exhibition, "Scorched Earth."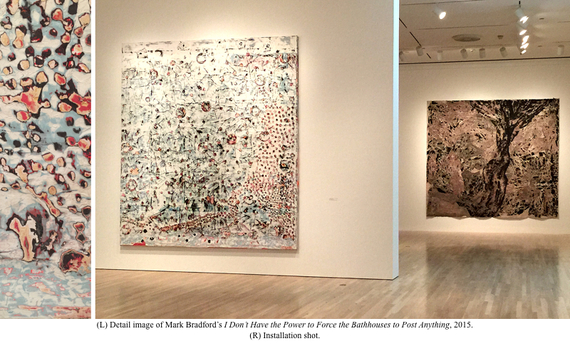 Anita Hill, now a law professor at Brandeis University, was embroiled in a huge national controversy a quarter century ago when she testified before the Senate during the confirmation hearings for Supreme Court Justice Clarence Thomas. The Senate Committee chose to ignore her testimony on being sexually harassed by Thomas during her employment. It was remarkable then and still remarkable now - the kind of eloquence and dignity with which she speaks about the experiences that made her a symbol of gender equality and discrimination issues in the workplace.
Both Mark Bradford and Anita Hill spoke about their very humble beginnings and about the persistence and perseverance with which they embraced education. Mark graduated from CalArts and Anita from Yale Law School. After receiving his diploma, Mark continued to work at the hair salon run by his mother, while Anita accepted a position working for Clarence Thomas at the U.S. Department of Education's Office of Civil Rights.
At this point I want to salute the Hammer Museum for having one of the most engaging and daring programs of public events and cutting edge discussions that have taken place here in our city in recent years. It's difficult to think of another cultural institution where the subject of conversation would be the LA riots, cultural racism and homophobia, as was the case this past Sunday. If you would like to watch the full video of this Hammer conversation you can access it here on my Art Talk website.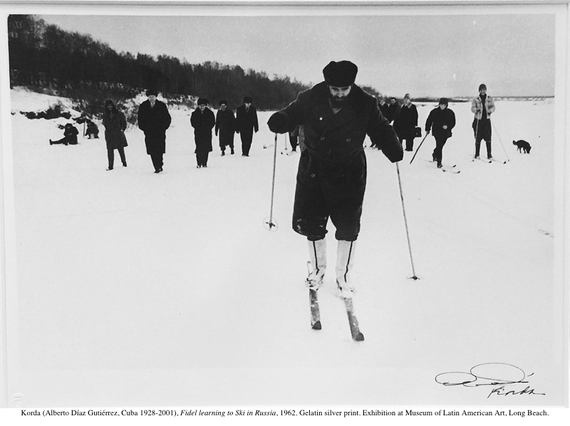 And now let's switch to Long Beach to see a small but very intriguing exhibition, "KORDA: Revolutionary Photographer," at the Museum of Latin American Art. The Cuban photographer, Korda (1928-2001), is best known for iconic images of Ché Guevara and Fidel Castro. But here at MOLAA I encountered for the first time a few informal portraits of both. It's impossible not to giggle seeing Fidel learning to ski during one of his first visits in Russia in 1962.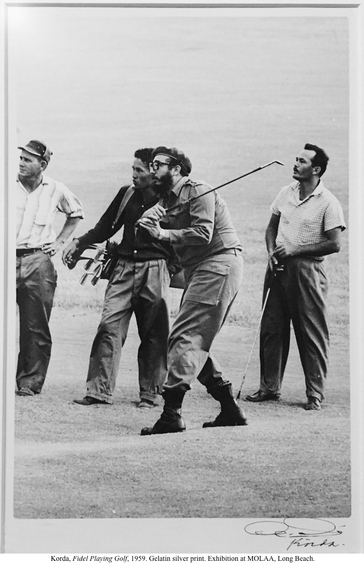 And in another two photos, we see Fidel and Ché on a golf course in 1959. "Fidel was reading an American newspaper story about President Eisenhower playing golf. This sparked an interest in Fidel, and he asked Ché to accompany him to a golf course outside of Havana to play a round."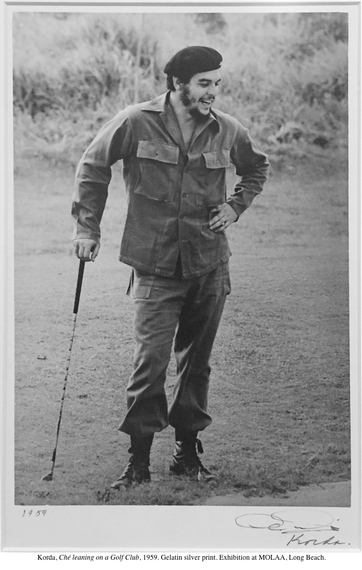 Now, half a century later, with the diplomatic relationship between the USA and Cuba restored at last, it's impossible to look at these images and not think about the shortcomings of politics and lasting eloquence of art.
To learn about Edward's Fine Art of Art Collecting Classes, please visit his website. You can also read The New York Times article about his classes here, or an Artillery Magazine article about Edward and his classes here.
Edward Goldman is an art critic and the host of Art Talk, a program on art and culture for NPR affiliate KCRW 89.9 FM. To listen to the complete show and hear Edward's charming Russian accent, click here.
Popular in the Community