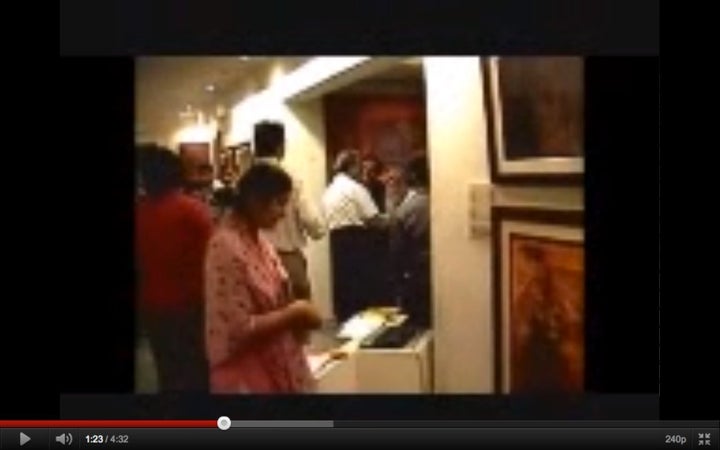 If someone were to create a job description for a fine artist, the list of responsibilities might be very long indeed. There's making the art, of course, but then comes the part of letting others know that the artwork exists and is worth buying. (This is where the list lengthens.)
Artwork must be photographed, perhaps framed (and matted), crated and shipped; it may need to be promoted to the media, dealers, curators and critics, and advertised to the public. A Web site might be created, which then must be updated on a regular basis. A considerable amount of time may be spent with designers and publishers of brochures, post cards and prints; telephone calls (and follow-up calls) ought to be made, personal notes should be written, and the people who are to receive the portfolios, brochures, cards, phone calls and notes have to be researched or found by networking. That's a lot for any one person.
It was certainly too much for Brooklyn, New York painter Robert Zakanitch who, in 2000, contacted Pat Hamilton of Los Angeles to help promote his work to museum curators around the United States. "It's not part of my temperament to go and schmooze and be impersonal about it," he said. "You need a thick skin to do this, which I don't have. Someone says something about my work, and I take it personally instead of just smiling and keeping the conversation going. I pay Pat to be a buffer between me and the art world."
Among the services that Hamilton performed was producing a brochure about Zakanitch's work, which she sent to more than 200 museum directors (followed up by a much larger number of telephone calls to the same people), the result of which was a touring exhibit of the artist's work that traveled to five institutions in the course of a year. For another artist, Robert Dash, a painter in Sagaponack, New York who is represented by Manhattan's ACA Galleries, Hamilton promoted the artist's work to a variety of media outlets, leading to reviews of Dash's shows in Art Forum and ARTnews magazines.
One might have thought that Robert Dash's gallery would handle the job of aggressively pursuing reviews in major art publications and that Dash himself would not need to pay Hamilton a $1,500 per month retainer to hound the magazine critics and editors, but "ACA has a larger roster of artists -- far too many, to my mind -- and they can't attend to me and my work nearly as much as I would like," he said.
Art is often thought of as a go-it-alone profession, but many artists use studio assistants to create the work and a battery of other help (business managers, career advisors, artist representatives, Web designers, publicists and extraneous others) to promote and sell the finished pieces. Each type of help is specific, but there is sometimes a blending of roles -- some career advisors write press releases or arrange for shows, for instance, while some business managers negotiate sales agreements.
All of these helpers are middlemen, acting in the space between the artist and the collector. Publicists in the art field work with other middlemen -- the media (press, radio and television), as well as those who sell art (dealers) or present it (curators), preparing press releases, visual images and biographical materials (occasionally venturing into the creation of a catalogue or coffee table art book -- again, as a promotional tool), following up with telephone calls and personal appeals. "It's not brain surgery," said New York City publicist Robyn Liverant, "but you need to know who to contact and how to present information to people, and then follow-up. It's very labor-intensive work."
In the case of Robert Dash, an artist contracted the services of a publicist because his gallery was not publicizing shows to his satisfaction. Another painter, Christopher Evans of Long Island, New York, hired Manhattan publicist Shannon Wilkinson, because he was having trouble handling the media attention for a September 11th-inspired painting of the World Trade Center towers that was exhibited in the New-York Historical Society.
"At the museum, there was a press preview, and I got interviewed again and again," he said. "I didn't feel in control: I realized the press and media can go in a direction that I, the artist, didn't want to go. They were making it seem as though I'm trying to capitalize on a tragedy, and a number of the questions I was asked were very aggressive. The next day, I called Shannon."
The job of a publicist is to not only to tout some person or object to the world but also to "position" the client in the world, establishing that individual's or thing's uniqueness. To Shannon Wilkinson, getting a lot of attention earns a person a "buzz," and other people think it "cool" to be around that individual or what the person creates.
Working with a publicist can be quite expensive, and the results are neither assured -- no publicist will guarantee that an artist's show will be reviewed or that the artist will be profiled in a newspaper or magazine -- nor necessarily even measurable. Walters' career has prospered during the three years that he has worked with Phillips, but are these sales attributable to the work of the publicist or the natural progression of an increasingly successful artist's career? No one can definitively say. What is clear is that Phillips charges a monthly retainer of $2,500 per month, or $30,000 per year.
"If you want the car to run, you've got to put gas in the tank every month," Phillips said. A lot of months can go by before any results take place, "results" defined as something written about the artist. Phillips noted that he "worked for three years to get an Associated Press story of Curt Walters," making that a very costly article for the artist, which may not have been read by art collectors. Shannon Wilkinson has a range of fees -- per project ($5,000) and a monthly retainer ($4,000) -- depending upon the type of work required, although she stated that "you never know for certain if something will happen."
Gary Welton, a painter in Long Island, New York, hired Wilkinson to promote a show at a university gallery, and the catalogue that she created for that exhibition became the basis for subsequent exhibitions of his work. However, these shows have not been accompanied by a number of sales that would pay for the work Wilkinson did and the costs of producing the 2,000 copies of a catalogue. Claiming that "I'm not in a position right now to spend more money on publicity," Welton said that "if I know it would produce income for sure, I wouldn't hesitate the spend the money."

Popular in the Community