On May 19 in Paris on 32 Rue de Lille, the RCM Galerie will have a Vernissage, a private opening, of the show stopping kinetic art by the renown artist Ron Mallory. Perhaps I'm a bit biased in my enthusiasm because I'm the former Mrs. Ronald Mallory. In the early 70s when we were married, he was a struggling artist and I was a model. We traveled in a fast, frequently star-studded crowd. While we lunched with Princess Grace and Prince Rainier on Sam Spiegel's yacht and chacha'ed with the Shah of Iran in the King's Club in St. Moritz, I continued to be amazed and stunned by Ron's steadfast dedication to his art. He nobly has never allowed his gift of mingling with rich collectors to whom he sells his art or his jet-set-life-style cause him to sell out his values. It has been written that he is a latter -day Manet.

Today Ron Mallory lives in Mexico in the modest town of San Miguel de Allende where he creates before jetting to London, Paris and Milan to sell his art to collectors and international galleries. Recently the Whitney showed his work in their new museum in its retrospective which was a great honor for him. The Whitney is not the only museum enthusiastic about his work which is also in M.O.M.A., San Francisco Museum of Modern Art, and the Smithsonian to name a few.
The greatest tragedy for Ron Mallory was when his magnificent mural of the Andrea Doria in the Windows of the World at the WTC was destroyed in 9/11. Devastated, he found it difficult to create again, but after playing classical music for hours on end, he was able to find the courage to return to his muse who called him through music. He thought about the success he had experienced and vowed he would enjoy this again. And he has.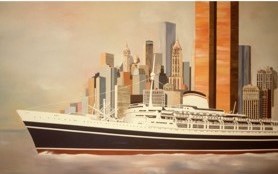 Ron Mallory has exhibited among some of the most renowned artists of his time, such as Claus Oldenburg, Robert Rauschenberg and Robert Irwin. These contemporary artists of the 60's & 70's, explored light and space through the "art of technology". Like them, Ron Mallory was drawn to the ever-lasting exploration of different elements. An architect by trade, later a painter, he experimented with textures until he finally discovered his medium; mercury. He has worked with this medium for over 30 years now, and continues to rediscover it time and time again, perfecting his technique.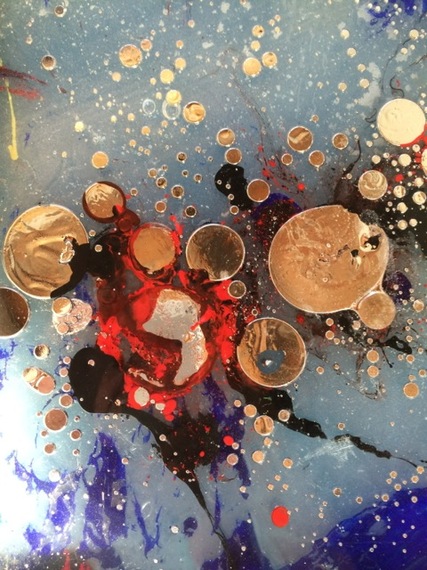 Ron Mallory's work can best be described as moving shapelessness in space and time. He creates with mercury "kinetic art"; the art that contains moving parts, generally powered by wind, a motor or an observer. Kinetic energy, in scientific terms, is the energy possessed by a body by virtue of its motion. Such is the work of Ron Mallory who has not only adapted procedures of the emerging New York minimalists, but he has taken these measures to different heights. They are works of exploration of randomness and chance rather than industrial works of calculation and precision.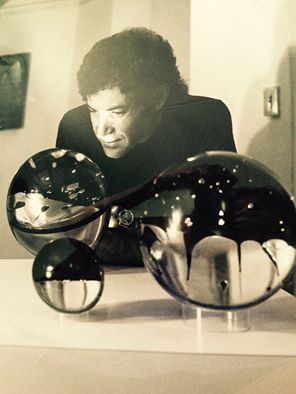 In 1971, Ron Mallory and I fell out of romantic love when I met and became engaged to Claude Picasso, but I never fell out of love with Ron Mallory's work which outshines anything created by Claude Picasso, but comparing Ron Mallory to Pablo Picasso is a different matter. Though I am certain Pablo Picasso, whom I had the good fortune to meet, would be impressed by Ron Mallory's mercury masterpieces which move magnificently of their own accord.
http://malloryhollywoodeast.blogspot.com/
Calling all HuffPost superfans!
Sign up for membership to become a founding member and help shape HuffPost's next chapter