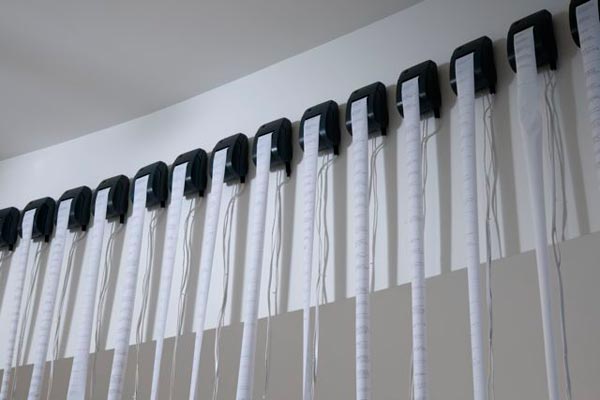 "Murmur Study," Christopher Baker, 2009; Installation with thermal printers pulling live information from Twitter.
What better place to have an exhibition of art and technology than the greater Bay Area? It's the heart of tech innovation and home to Silicon Valley. We got a sneak peek at the 2012 ZERO1 Biennial, "Seeking Silicon Valley," which will kick off in September.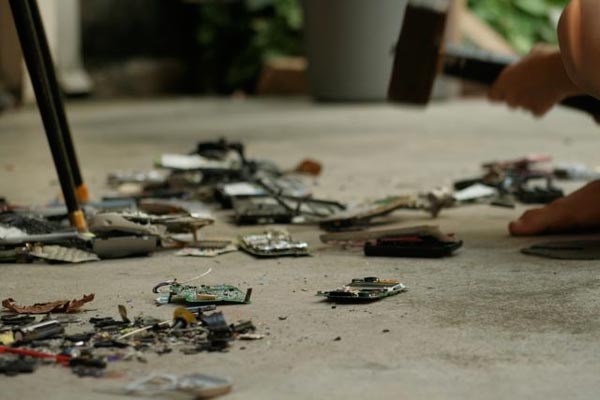 "Mobile Crash v2," Lucas Bambozzi, 2012; Immersive audiovisual installation with live twitter feed; Image courtesy of Lucas Bambozzi and Lucas Gervilla.
The show features more than 100 esteemed exhibitions, performances, public art projects, and panels.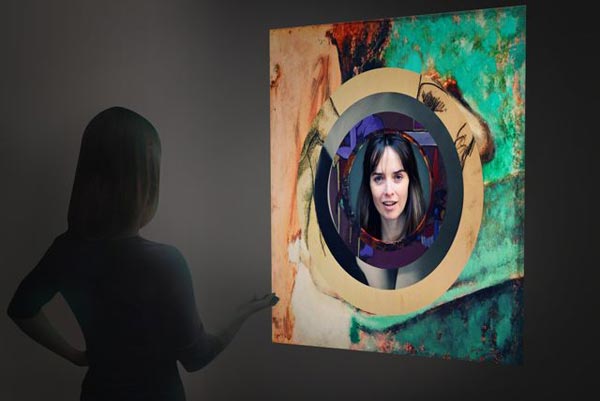 "Tunnels Around the World," Maurice Benayoun, 2012; Telematic installation.
"From Sao Paulo to Liverpool to Moscow to Seoul, biennials play on the scene in very many ways, but they need to look at the regional conditions from which they emerge," ZERO1's Executive Director Joel Slayton said during a preview of the exhibition. "Where else in the world would we hope to stage the biennial? This is the right time, this is the right place."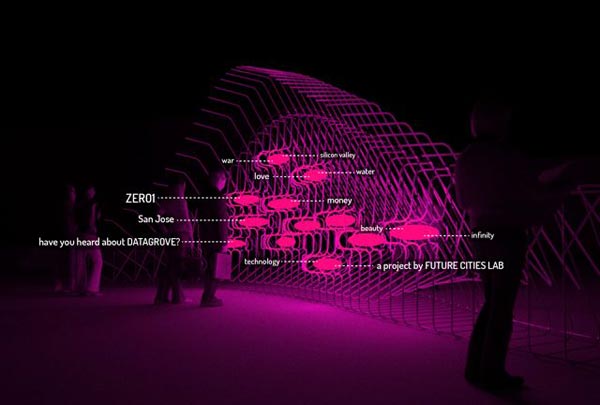 "Future Cities Lab Datagrove," Future Cities Lab, 2012; Interactive installation in public space.
This will be the fourth biennial put on by ZERO1, which is an arts non-profit that works with artists, scientists, designers, architects, and thinkers from around the world.
Among the artists showcased at the biennial are digital artist and designer Jer Thorp who has been commissioned to create a data-driven installation at eBay's San Jose campus; German photographer Michael Jajjar who designed a dot-com boom and bust landscape called nasdaq_80-09 that mirrors the high peaks of Argentina's Andes mountains; and Mexican-born media artist Rafael Lozano-Hemmer who will showcase an interactive video and sound piece called Frequency and Volume at the San Francisco Museum of Modern Art.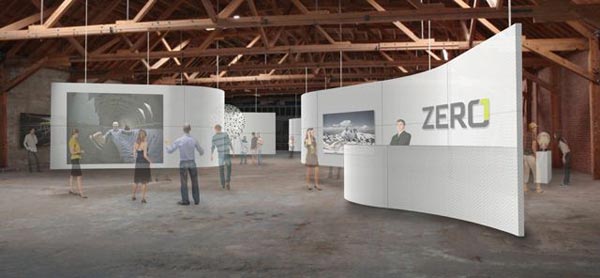 Christopher Haas; Exhibition Design for "Seeking Silicon Valley" exhibition at the ZERO1 Garage.
"Silicon Valley is as much an idea as a place," Curator and Director of Programs for ZERO1 Jaime Austin said at the preview. There's little to see when driving through Silicon Valley other than expansive office parks, she added, but inside these buildings it's teeming with innovation.
"All the creativity that Silicon Valley has to offer is often hidden behind closed walls," Austin said. The thought for ZERO1, she concluded, was to invite artists to engage with data and riff on this theme of idea and place.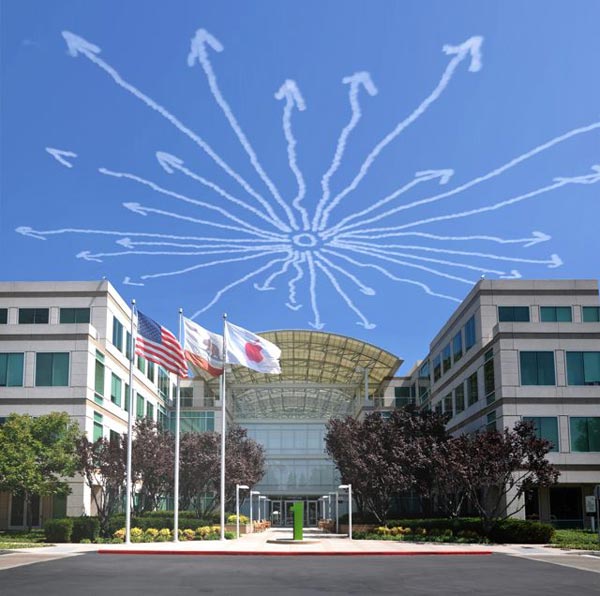 "Signs Over Semiconductors," Will Pappenheimer for Manifest.AR, 2012; Site-specific augmented reality exhibition throughout Silicon Valley.
The ZERO1 Biennial will run from September 12 to December 8, 2012. Art will be showcased at more than 40 locations, including the San Francisco Museum of Modern Art, Berkeley Art Museum, eBay, UC Berkeley's Center for New Media, and Stanford's Center for Creativity and the Arts.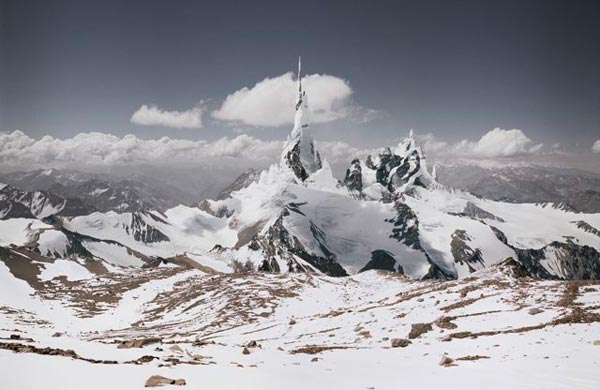 "nasdaq 80-09 (from the High Altitude series)," Michael Najjar, 2008-10; Interactive installation.
There will also be a biennial hub in downtown San Jose called the ZERO1 Garage designed by San Francisco architect Christopher Haas that will showcase 24 artists from 11 countries.
Support HuffPost
The Stakes Have Never Been Higher
Related
Popular in the Community