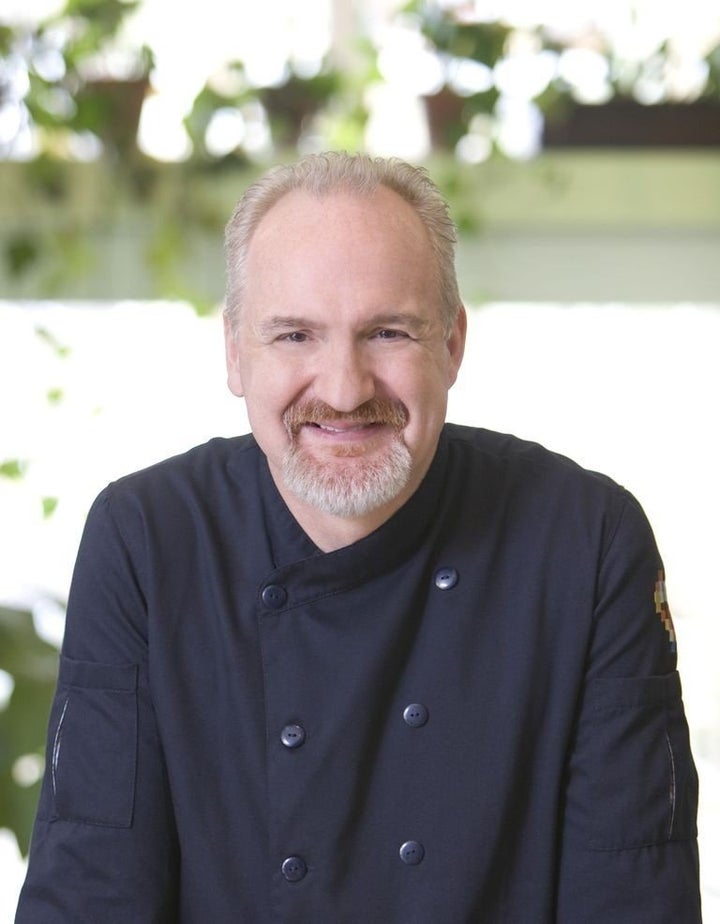 You might know Art Smith from his appearances on Bravos's "Top Chef Masters." Or maybe you know him from when he served as Oprah's personal chef. Or perhaps you saw him on Lady Gaga's Thanksgiving special last November and heard he's serving as head chef at Joanne Trattoria, owned by Gaga's parents.
Or maybe you don't know a thing about him. But regardless, this Friday you can get become a little better acquainted with the openly gay celebrity chef when he appears on Stageit.com, a new online venue that allows musicians to stream exclusive live concerts. Smith will be the first chef to appear on the site and he and his husband Jesus Salguiero will stream their "Queer in the Kitchen" party live from their Chicago home.
According to a press release, Smith will be "[dishing] in the kitchen with stories of cooking for celebrity clients and you will learn the secrets to his famous fried chicken and his hummingbird cake served to every star in the solar system." Extra special guest Shaun Sperling, aka the Voguing Bar Mitzvah Boy, will drop by and Jesus will create a painting while Smith fries up his chicken. Proceeds from the event will benefit the Human Rights Campaign. To find out how to attend, click here.
We caught up with Smith to find out a little bit more about his upcoming Stageit.com performance, his relationship with Lady Gaga, who he'd like to cook for and more.
The Huffington Post: What made you want to do "Queer in the Kitchen"?
"Queer In The Kitchen" came from my huge response from my competing on Bravo's "Top Chef Masters." Hundreds Thousnds of LGBT people worldwide loved me being openly gay on the show and loved my famed "Cake Gate," where my wedding cake fell during competition -- but still it tasted good. The show also introduced the world to my husband, Jesus, and our "Big Fat Gay Wedding."
I took a hard stance against Chick-fil-A's hateful comments about the LGBT Community and threw a "Flick The Hate Chicken Fry" for Equality Illinois and wrote many op-ed pieces. Fried chicken is my calling and so I want to "keep the hate off the plate." What I learned making fun of haters was more fun than screaming.
All kinds of people have shown their love for me, so why not show them a very personal side of me and my family? Come into my house, which is two blocks from President Obama's house. We've thrown some of the gayest, most fun celebrity parties in our home full of critters and our sassy house manager, Iris, along with a former gay stripper florist. And let's not forget Oprah's party guru, Debbie Lilly, drag queens, boys, politicians and other folks. A mosh pit of gay fried chicken and fun people celebrating the common thread: a love of comfort.
How has being queer shaped your approach to cooking? Do you think you'd be a different chef if you weren't queer?
I started in the private sector being chef to Gov. Bob Graham of Florida at 23. I came out at 24 and was accepted in 1984 by the Florida First Family before my own family. The four girls loved me -- I helped to pick out their prom dresses and weed through the boyfriend selection.
Being gay as a chef just meant for me humongous flower arrangements worthy of the Rose Bowl for Oprah Winfrey. She asked, "Art, don't you think we have too many flowers?" and I said, "No, Ms. Winfrey, you're the queen!" I threw out the florist and took on the job of arranging the flowers and picked flowers and my dear husband Jesus up at the floral shop. He played shy for a year before we had our first date but one pizza, one love and 13 years later -- here we are!
Food has no gender it just has to taste good. PRETTY HELPS! Gay, straight, whatever floats your boat -- cooking is pure passion and skill. I consider being a gay chef a plus -- it enables me to be outrageous and free.
You recently competed on "Top Chef Masters." What was the most important thing you gained from your time on the show?
Regardless of whether it was the first season of "Top Chef Masters" or the fourth, it's a new game, but what I know for sure is it's better to be remembered than to win. I've already won in my career and with our not-for-profit organization, Common Threads, which helps teach low-income children how to cook. After my appearance on the show I received a large (six-seven figure) grant for the organization. Common Threads, which a gay married couple founded, can now go beyond 7,000 kids -- it can affect entire school systems. Did "Top Chef Masters" do that? Yes, they brought it first to national attention with "Top Chef Chicago," the first time Common Threads kids were cooking with Top Chefs. Then upon my arrival it was my charity I cooked for on "Top Chef Masters." Gayle Simmons, star of "Top Chef," is a godmother to the charity and so is "Top Chef" Judge Chef Michelle Bernstein, godmother of Miami Common Threads.
How is cooking for celebrities different from cooking from "real people"?
Cooking for celebrities is like cooking on camera -- everybody sees them and the food. I've always understated the food to make both the stars and the meal more real. I learned that from Oprah. You eat simple to keep yourself grounded. There's something charming about home cooked food being enjoyed by entertainment moguls. Oprah loves her chopped salad and her special ocassion fried chicken. Gaga loves her father's Italian cooking at home and Joanne's. President and Mrs. Obama love my hummingbird cake but enjoy simple, clean food. They're all real people just living life out loud.
You've lost an incredible amount of weight and have become an inspiration for many people. What tip would you give people who are trying to change their eating habits but are worried about making the transition?
I was coached by two beautiful trainers, Aussie celebrity trainer Az Ferguson and Joey Thurman, one of Chicago's hottest trainers. Az taught me to find my happy and make time for health. He told me the secret to weight loss was simple, whole clean food. I lost huge amounts of weight. Joey is teaching me to maintain. My life is crazy. I fly all over the U.S. to my five restaurants and travel around the world now as a Chef Ambassador for Madam Secretary Hillary Clinton's Chefs in Diplomancy. Pretty did help me get past that last sit up and running that last mile of a marathon, but being focused about my health after a type 2 diabetes scare made me see my life and name in a tombstone: Chef Art he made great fried chicken and hummingbird cake [laughs].
Type 2 diabetes is not funny, however. I lost my grandfather and, recently, my father to this silent killer. Your body will tell you [you want other things] but don't allow it to. You be the voice of your health, consult your doctor and surround yourself with a support group. As my dear friend First Lady Michelle Obama says, "Just get moving." I've put my diabetes 2 in remission but if I fall off the wagon, it will return and the next time it maybe impossible to reverse.
Lady Gaga is a friend of yours. How has she inspired your cooking?
Stefanie Germanotta (aka Lady Gaga) is a gorgeous, amazingly talented young women who taught me what it is to be family and celebrate with good food. I have to admit Gaga's fennel tomato sauce is incrediable -- zesty, delicious and healthy. Her Little Monsters have love and embraced Chef Monsters. They follow me worldwide.
What celebrities are at the top of your list of people you're dying to cook for?
Celebrities I've cooked for have included many of the nicest famous Royals in the world, from the Late HRM Princess Diana to Duchess of York Sarah Ferguson and soon Queen Noor of Jordan. I would love to cook for HRH Queen Rania and HRH King Abdullah of Jordan.
I've cooked twice for His Holliness the Dali Lama. I love his laugh and his kindness eminates. Former President Nelson Mandella of South Africa a sweet, regal giant of a man who brought a nation together and loved my oxtail stew. The late Nobel Laurent Wongari Mafai loved my bread pudding -- she was a real Johnny Apple Seed.
I've cooked for all kinds of people but I wish to cook for people who I might, in some way, cast a spell over them with my food. Perhaps President Chavez of Venezuela [will eat my food and then] will listen to his people and see great change. My Venezuelan husband Jesus and I traveled to Caracas and loved it but saw it from a bullet proof car and dined behind tall walls covered in barb wire. I hope that the President of Iran will take a stance against nuclear weapons and our world may be safe.
We all wish for a life full of love from that special person regardless of gender or sexuality -- and full of delicious food shared with our other beloveds. Come celebrate with us and enjoy life from a queer point of view, but celebrated with food that transends all cultures and genders and sexualities.
Calling all HuffPost superfans!
Sign up for membership to become a founding member and help shape HuffPost's next chapter