On that fantasy planet where Oprah Winfrey is President of the United States, her personal-chef-turned-restaurateur Art Smith is surely the chicken-frying Secretary of State. His philosophy of the table as a meeting place for all people, regardless of identity or political creed, would be a welcome platform for unity in a very real, fractured world. It's easy to forget that before the fame of Top Chef Masters and wooing daytime media's interviewer-in-chief, Smith was also a gay, fifth-generation Southerner who turned his passion for food into success, despite coming up in an ultraconservative community. To those who know Art Smith, it's unsurprising that he did it all with kindness -- and a healthy dose of charm.
No wonder Smith's influential clientele includes the likes of Michelle Obama, Martha Stewart and Lady Gaga. It's that same ability to traverse social boundaries and strike at the heart of a person that make him an effective ambassador for marriage equality. Since marrying his husband, artist Jesus Salguerio, in 2010, Smith has become an impassioned advocate for the legalization of same-sex marriage. His Oprah-adjacent status in Chicago has made him a central figure of the Illinois campaign for marriage equality -- caché Smith is taking with him in a transition back to life on his family's Florida farm. Last weekend, Smith and New York City-based Big Gay Ice Cream raised awareness for marriage equality in the panhandle state by hosting a sundae soiree, dubbed "The Big Gay Ice Cream Social," in South Beach. Here, Smith discusses why Florida is the next burgeoning battleground for LGBT rights in America and why he's determined to lead the charge.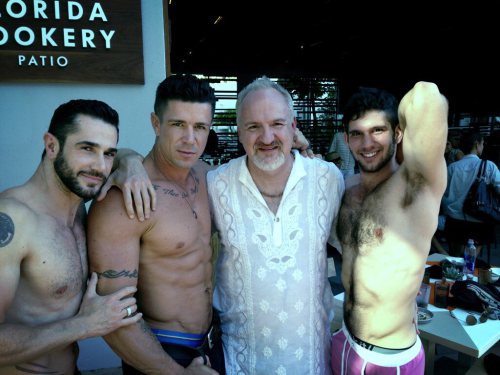 On Michelle Obama as an ice cream flavor:
She's warm and comforting, but sophisticated -- French vanilla.
Oprah Winfrey:
Butter pecan.
Martha Stewart:
You know, I used to cook for her. If Martha's gonna make ice cream, she's got to find a cow -- it's the side of her we all love. Burnt carmel.
Lady Gaga:
Spumoni -- she's very Italian and very colorful. There's all these bits of things she's going to surprise you with.
Paula Deen:
I just love her, Paula Deen. Delicious, sweet strawberry.
Ellen DeGeneres:
I don't think of her as ice cream. I think of her more as chocolate sorbet. She's cool. She's fun.
Jesus Salguerio:
Sometimes he's just drunk with love -- and he can be very smooth. Rum raisin.
Art Smith:
Neapolitan -- I'm many flavors!
On working at KFC in high school:
It was my first restaurant job. I would take the money and have parties while my parents were out of town. I came from this ultraconservative family that didn't believe in parties.
On the meaning of family:
For me, family is not defined by being blood related. Family is whomever you choose to bring into your life. I look at our book, Back to the Table, and I think about how Jesus and I were so forward about who we are -- and that was 12 years ago, when it was pretty radical. But the reality is, that philosophy isn't very far from what I was taught as a child.
On the politics of "family values":
When you come to the table, you come as one. It doesn't make any difference. Even in the most conservative of families, everyone is welcome to the table. You speak your mind at the table -- but it's downright polite. When you go into a Southern home, the first thing people do is offer you something to eat and drink. It's not about politics. Because, normally, you do not bring that up.
On growing up gay in the South:
I never felt any sense of discrimination from my elders. They always respected me. It was among the younger kids that things were tough. My father always wanted to toughen me up. I was raised, like many Southern kids, by an African-American woman, and, sadly, we were torn apart because my father thought that Leila was turning me gay. He'd always say, "She's ruining you." I think he was just bothered that his son wasn't as masculine as he wanted wanted him to be. But he loved me. And I'm grateful to have inherited a wonderful farm, which is my next big project. He believed in the preservation of our family farm, so I choose to remember the good and forget the bad. I had an amazing mother and grandmothers who also raised me and were very supportive. They cooked for me. I believe that what I am is because of all the great women that were in my life.
On two inspiring women -- Ellen DeGeneres and Lady Gaga:
When Ellen first came out, I don't know if it was that easy for her. But look at how Ellen is so loved now. Yes, she's a lesbian, but no one cares! She's funny and entertaining and successful. She's a bright light. We need those heros, not only for the LGBT community but for the general public. They need to see that gay people can have normal relationships. I know plenty of gay men who have been together longer than Jesus and I have, and we've been together for 13 years. Being public is a way for us to change people's minds, for them to see us for the commonality of our humanity. I'm not going to apologize for who I am. I was born this way, like my friend Lady Gaga says. I'm proud to be gay and I've never wished to be anything else. Show people who you are. Be authentic. That's what's going to create change.
On turning his wedding into a protest at the foot of the Lincoln Memorial:
It was a big, bad gay wedding. It was crazy-over-the-top and wonderful. Part of the reason we did it was to demonstrate marriage equality in Washington D.C., in the capital. At the time I was like, this is too much. But the repercussions of it have created so much good.
On his dramatic weight loss:
When you lose 120 pounds, you feel like you've conquered the world. I feel sexy and powerful. I'm a lot more sassy now and a lot more flirty. Feeling better about myself, it's like coming out. Let's face it, gay men have a lot of closets, and I came out of a closet of not feeling great about myself.
On his relationship to gay fame:
You have to keep in mind that since the age of 22 until I was about 45 years old, I served as a personal chef to the governor of Florida and to other well-to-do types. When you work for someone that powerful, you're there to serve and not to distract. I didn't speak out and I didn't speak to the press. But when you leave that business, you're not under the pressure to be private. Top Chef Masters was basically my coming out of the professional closet. It was fairly well known that I was gay the first time I did the show, but let me put it this way -- the second time around I reminded them of it. It was a way for me to inspire people. I have so many young LGBT kids that say to me, "Chef Art, we love you. Thank you for being brave and strong and open."
On founding Common Threads, an educational organization for children:
Jesus and I had an idea to teach kids about cooking, and that through cooking we could teach them many valuable lessons. Most importantly, just how to love each other. We started with 15 kids and now we've taught 20,000-plus kids this year. If we can do that, we can do the same for LGBT rights. Can I do it alone? No. But together we can make a difference.
On penning the sentence, "For our world is a quilt, it's people the fabric, all joined together by common threads":
In the very beginning of our relationship, Jesus and I were sent to New York by Oprah after the terrorist attacks of 9/11. Both of us were taken back from the shock of it. We had gone to the international memorial and seen all the people of the world who had perished in the towers. Jesus found people there from his own country. But my biggest fear was that the people of my country would look upon the world as a bad place, and that they'd forget that for all the ugly in this world, there is beauty. We must not forget that. Every mother only wishes the best for her child. It's so important that we not lose sight of that and that we teach our children to care as much about a child in a different part of the world as they do themselves. That's what Common Threads is about -- bringing people together. I'm such a believer in hope. But in order to have hope, we must teach hope.
On fighting for marriage equality in Florida:
Returning to the farm in Florida, I wanted to return to a state that embraces who Jesus and I are as a couple and recognizes our marriage. We have to be focused. We have to be loud. We cannot be passive. I think the community really needs to stand up and say, we must have this. Florida is an amazing, diverse, wonderful state but one of the problems is, due to its size, the politics are very divided. Tallahassee in the north is more conservative while Miami in the south is more liberal. But I'm a big believer that fried chicken takes no sides. I've said, listen, if you love my food, you need to love my marriage. Jesus and I have been there for all these great people, supporting them in their elections and their efforts. Well now its time for them to come to our side of the plate. I believe we can make it happen, because I plan to make it happen.
Photos from the Big Gay Ice Cream Social: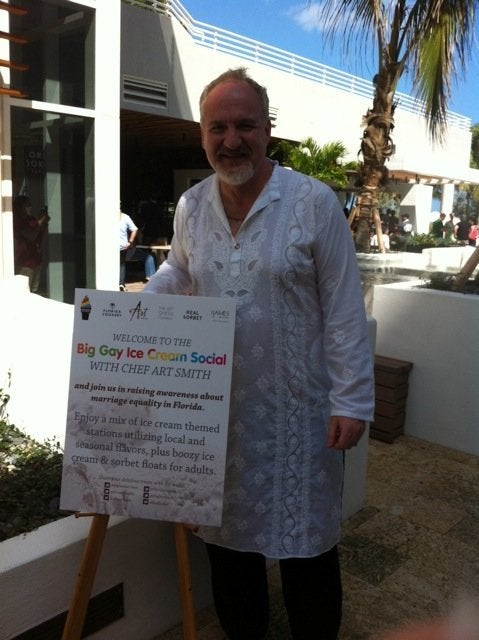 The Big Gay Ice Cream Social At The James Royal Palm
Popular in the Community