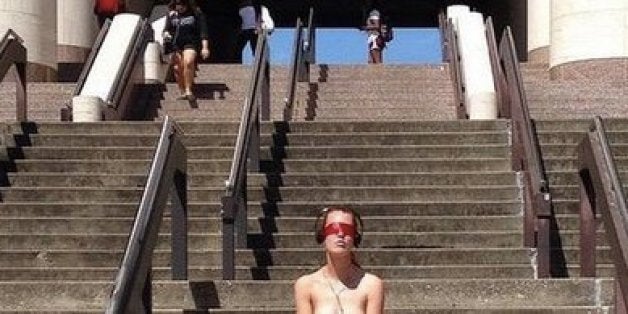 With headphones covering her ears and a blindfold on her face, 22-year-old Monika Rostvold spent 45 minutes on Monday morning sitting almost naked on the steps of the Alkek Library on the Texas State University campus.
Social media platforms like Snapchat and Twitter were soon abuzz with photos and video of Rostvold, and websites geared towards college-aged men were quick to comment on the woman's behavior.
"This is what crazy looks like," joked Total Frat Move. BroBible's headline read: "There's A Naked Girl Stoop Chillin' Outside The Library At Texas State For God Knows What Reason."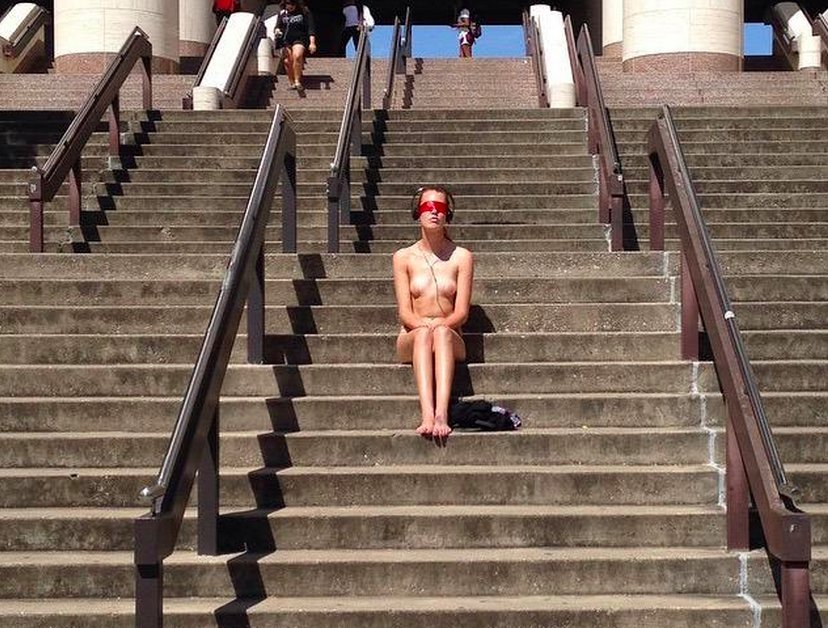 "I wanted people to view my body as beauty and power and not a sexual object. The fact that it is Sexual Assault Awareness Month I wanted to create a piece about the standards that exist in our society," Rostvold told the San Antonio Express-News. "Being a victim and having friends who are victims of sexual assault I wanted to take control of my body by eliminating my presence and exposing myself."
The student said her performance was a protest of the objectification of women's bodies.
"The message I was trying to get across was that we shouldn't be seen as sexual objects," Rostvold told Cosmopolitan. "We're beautiful and we're powerful, and people should just respect our bodies in that way."
Rostvold, who wore pasties and a nude thong during the performance, said she looked into federal, state and college nudity restrictions beforehand.
"I talked to a defense attorney about it just to make sure that it would be okay because I didn't want the cops to arrest me for me just trying to spark a conversation," Rostvold told KTSW 89.9.
According to the San Antonio Express-News, Rostvold was approached by campus police, but was not told to leave. Texas State Police Sgt. Daniel Benitez told the news outlet that he "did not find Rostvold's performance to be illegal."
Rostvold said she endured some negative backlash in the wake of her performance, but added that the positive feedback has been immense.
"People have come to me on Facebook and written me messages thanking me for making it aware that we're not alone in this," she told Cosmopolitan.
On Tuesday, Rostvold took to Instagram to thank her supporters.
"I just want to say thank you to all the kind people out there for letting me spread the word through art," she wrote.
Calling all HuffPost superfans!
Sign up for membership to become a founding member and help shape HuffPost's next chapter
BEFORE YOU GO
PHOTO GALLERY
Images From 'Surviving In Numbers' -- A Project Highlighting Sexual Assault Survivors' Experiences