One of the most amazing and original landmarks that we Angelenos are rightfully proud of is the Watts Towers, built by Italian immigrant construction worker Simon Rodia. Rodia spent decades using broken bottles, ceramic tiles, and what have you, to make these Towers connect with the blue skies and touch our grateful hearts.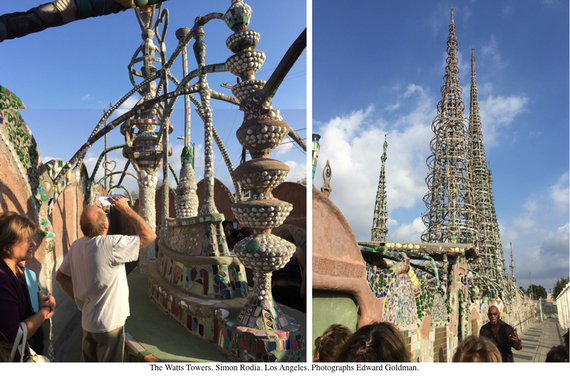 Last Saturday, I went there with a group of friends, some of who had never been there before. We all marveled at Rodia's persistence and perseverance, the humbleness of his materials, as well as his great vision, inspired by gothic architecture of Old Europe.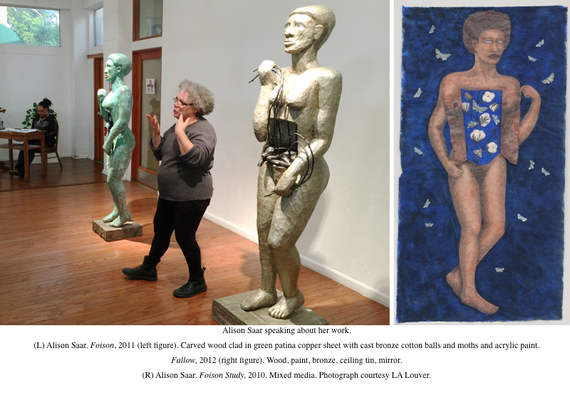 Another reason for us to go there was to meet with well known Los Angeles artist Alison Saar to hear her talk about her exhibition, "hot house," at Noah Purifoy Gallery, which is a part of Watts Towers Arts Center.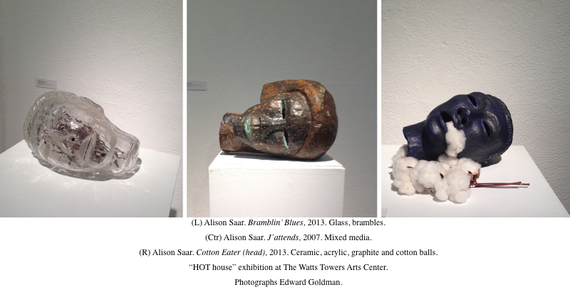 I've been a big fan of Saar's works for decades, and this exhibition of her sculptures, prints and drawings once again shows her ability to work with the most humble of materials to create figurative images with their references to Greek, African and Native American mythologies.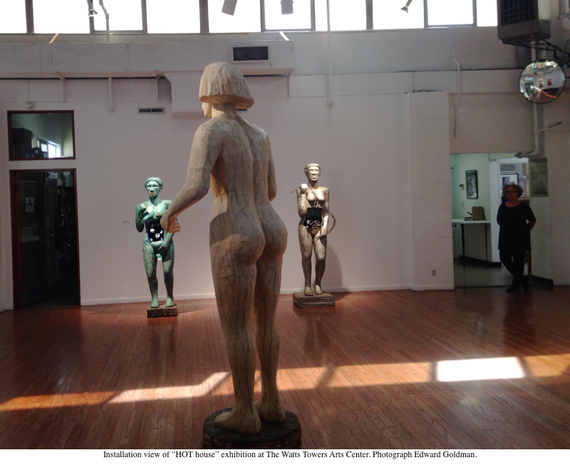 Not many artists can show their work next to Simon Rodia's Towers and not be dwarfed and dismissed by his vision. Alison Saar took her chances by showing artworks in the shadow of the Watts Towers, and proved that her art not only holds its own, but also fosters a conversation with the famous Towers. To admire the Watts Towers from a distance and not actually step inside of its structure is to miss its magic. The same goes for Alison Saar's artworks, which has its secrets and surprises revealed only when you come in close and literally peer inside of them.
And here is another pairing of two artists -- one legendary, another simply famous. I am talking about Mikhail Baryshnikov and Willem Dafoe, who appeared this past weekend at the Center for the Art of Performance UCLA, at Royce Hall.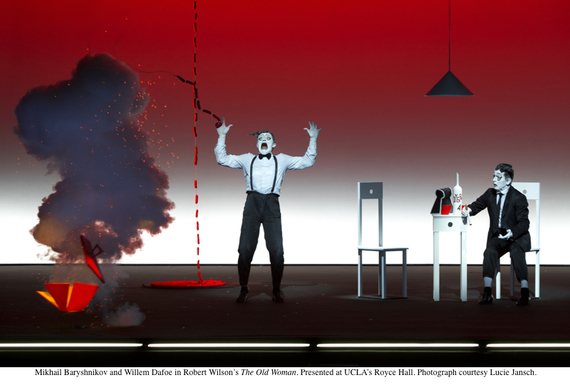 This highly stylized production, The Old Woman, by avant-garde theater director Robert Wilson is based on the 1939 novella of the same name by Russian writer Daniil Kharms. Boy, Baryshnikov, who is 68 years old, can still dance like an Angel -- though in this role, more like a Devil. And he acts, and he screams and who knew he could sing? And the one and only Willem Dafoe does all of the above in splendid unison with Mikhail!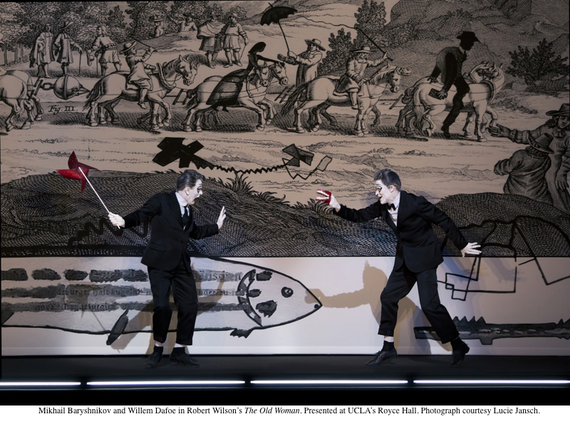 Actually, the third person on the stage is Robert Wilson himself. His minimalistic, avant-garde and constantly evolving set design, costume and makeup, is nothing short of remarkable. We've seen museum and gallery exhibitions of his art, but for me, the theater stage is the most convincing and persuasive display of his unique talent.
To learn about Edward's Fine Art of Art Collecting Classes, please visit his website. You can also read The New York Times article about his classes here.
Edward Goldman is an art critic and the host of Art Talk, a program on art and culture for NPR affiliate KCRW 89.9 FM. To listen to the complete show and hear Edward's charming Russian accent, click here.
REAL LIFE. REAL NEWS. REAL VOICES.
Help us tell more of the stories that matter from voices that too often remain unheard.