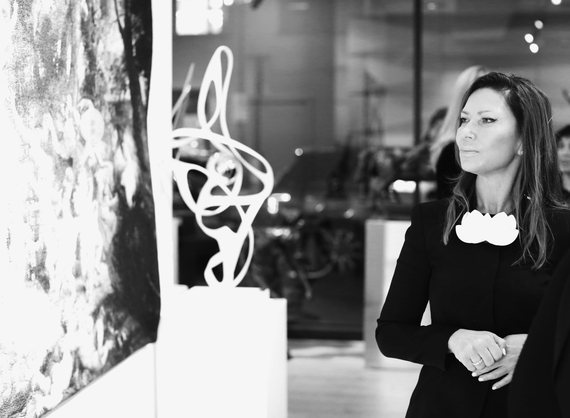 Nowadays communication has been entirely appropriated by the digital world. We have the tendency to conceive or identify everything around us in a systematic way, through our computers and mobile devices.
When I left Ufa to live in Amsterdam, art was my therapy. Although no one can deny that Soviet Russia was a difficult and terrible part of human history, the one positive that came out of it was a strong sense of belonging to a community, a strong attachment to people. It helped me to connect with others and to solidify my identity in a new environment.
I'm convinced that collaboration can stand against the monotonous and shallow model of modern communication. Collaboration, as a tool, is creative and inclusive. Allowing relationships to be formed, opening the potential for a microcosmos of social unity.
Having these thoughts in mind, I started the project "3045 Variations on The Feast of Venus". With this project I'm inviting artists from all around the globe to make their own interpretation of Rubens' "The Feast of Venus". The participating artists have total freedom in their choice of medium. All artworks will be accepted and form part of the final exhibition in London.
The ideology of the exhibition is to create a group dynamic, a change of energy, regardless of the variations being artistically successful or not.
I'm very thankful that a lot of artists from different backgrounds and cultures have contributed to this project. We have had global interest in the project with submitted works from Canada, Greece and the UK. It's encouraging to see that my fellow artists and creatives are willing to engage in such a project, and that an inspiring dialogue can be sparked through the medium of collaborative art.
The submitted artworks have now become a social organism and a cultural exchange. The ideas, experiences and possibilities that result from this process are boundless.
Objectively, the benefits of participating in the arts (by any individual and not only artists) are very well depicted in Use or Ornament, a study by Matarasso about the social impact of participatory arts programmes. It rightly argues that social practice reduces isolation, allows individuals to take more risks and develop sociability, contributing to employability.
As an artist I am interested in how far the idea of a reinterpretation of Rubens' work could be taken and how the "Variations" can contribute towards the Baroque Master's legacy.
Aside from the 3045 Variations of the Feast of Venus, I'm working with a small group of artists on a site specific project in Grosvenor Gardens, London. The idea is to make works in buildings that are due to be renovated or knocked down. I envisage using building materials and the run-down interior to create installations that are unique to the space.
My aim is to use creativity to unite people, transcending culture, location and bias to create a dynamic community of like-minded people. In 100 years' time I hope that art is used more commonly as an incubator for inclusion.
Inga will be exhibiting her 3045 Variations on Rubens' The Feast of Venus project at DreamSpace Gallery from Monday 25 April to Friday 13 May 2016. The exhibition will include participating artists works too.
Pioneers for Change is a seed-bed for innovative thought. An activator of personal potential. A catalyst for collective energy. A community to drive social change.
Our annual, international Fellowship is open to anyone aged 28 - 108 years old. We gather change-makers -- a business person, a community person, an investor, a thinker or doer -- who are willing to harness their talents, energy and resources as a force for good. Pioneers for Change is an initiative of Adessy Associates.

Adessy Associates believes a better world is possible, and inspires and equips organisations and individuals to make positive change happen and contribute to a sustainable future. We focus on benefit for people, planet and profit and our bespoke services harness sustainability, innovation, consciousness and purpose. We are proudly B Corp certified.
About Inga Krymskaya
Inga is a contemporary visual artist. Born in Ufa, capital of the Bashkiria region of Russia, Inga left her native land during the Perestroika and moved to the Netherlands in 1993. Having lived in Amsterdam for the past 23 years, she is now London-based. With a grandfather of Tatar origin and a Jewish grandmother, she is fascinated by issues around identity and spirituality - something that was suppressed during Soviet times.
Calling all HuffPost superfans!
Sign up for membership to become a founding member and help shape HuffPost's next chapter