Thanks to all the galleries mentioned here for the images borrowed from their websites.
It was past time, last weekend, for me to catch up with some of the art galleries in Los Angeles. In addition to my curiosity about the current exhibitions, I had my Art of Outrage podcast on my mind. In search of a suitable new subject for my bi-monthly contribution to Artscene Visual Radio, I found what looked like the ideal opportunity in a new exhibition at the Hammer Museum, Nine Lives: Visionary Artists from L.A. I'd been attracted initially by a flier with an image from the artist Llyn Foulkes, whose highly idiosyncratic and uncompromising work I have admired for decades.
Foulkes's work did not disappoint: it's fierce, darkly brooding, intense--and sometimes just plain funny. When the artist shoots Mickey Mouse in the belly button and a puff of cotton wool emerges from the hole, well, you have to laugh at the outrageous absurdity of it, don't you? My interview with this seminal artist will be broadcast shortly on "The Art of Outrage." "Nine Lives" itself proved to be a challenging and sometimes controversial look at artists (most of them in the iconoclastic tradition of Llyn Foulkes, the aesthetic granddaddy of the show), whose work remains thankfully off the mainstream beat. As is my custom with group exhibitions, I'll refrain from writing more about this one because it's impossible to give thoughtful and considerate attention to nine wildly different artists in so short a space. But readers in the area are encouraged to go see the exhibition for themselves.
From the Hammer, I drove on down to L.A. Louver Gallery in Venice to see "Poltergeist," a new show of work by the artist Rebecca Campbell. I have known her work chiefly as a painter until now: in the past, she has used often large canvases to recall moody scenes from a strict Mormon background that evoke all the inner emotional conflicts of childhood. Drawing on that same fertile resource in her current exhibition, she expands her medium to include the installation itself: the visitor crosses the threshold through a pair of wide front doors, brought in for the occasion from the artist's childhood home in Utah and surrounded by a "wall" of individually painted "bricks"--each one a tiny painting in itself.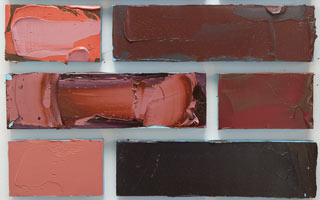 The "wall" has a nice title of its own: "I'll Huff and I'll Puff." The wolf at the door of childhood!
Inside, the visitor is greeted by the spreading branches of a large, actual tree, its trunk and limbs fiberglassed and covered with a layer of black velvet, its branches settled by a colony of charming bluebirds (shades, again, of Disney!) fabricated from glass.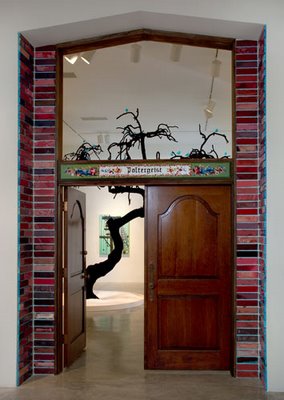 Nearby stands a floor-to-ceiling installation that looks at first sight like a hologram, home to a glittering swarm of golden bees.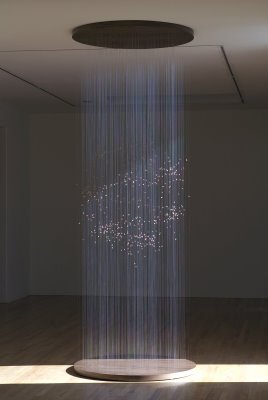 Closer inspection reveals that each of these tiny sculptural elements is strung on a single one of hundreds of nylon threads, creating a shimmering, cylindrical chamber that hums with concentrated energy. Elsewhere,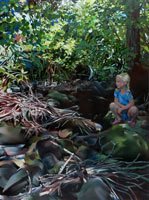 the large-scale painting of a girl-child is installed as a kind of altarpiece, (the above, clearly, is not an installation shot) with a wooden railing surround and shag carpet designed to suggest gradated steps into the shrine...
To enter into the space that Campbell has created here is to step out of "our" time and into hers, an imaginary space-time continuum that combines experience, memory and imagination into a seamless, magical environment which is at once very real in its physicality and yet, at the same time, clearly of the mind. The visitor is invited to find a path in the mind-space of a human being who is at the same time wholly other and wholly ourselves. It's an Alice-Through-the-Looking-Glass experience that I found quite enchanting.
I saw a good deal more on my rounds--too much to mention here. The state of art in Los Angeles is still vital, despite a "market" in the doldrums. A good time, then, for art, if not for the comfort of artists. I do want to mention, though, as a lover of this medium, two painting shows that I found different and bracing. Both artists are playing in the wide-open area between representation and abstraction, inviting us to join them in exploring the infinite possibilities of meaning and tantalizing us into the journey with gorgeous, restless surfaces and textures. The first, at Angles Gallery in Santa Monica, was a bravura display of work by the Bulgarian-born artist Iva Gueorguieva. Here's one of hers called...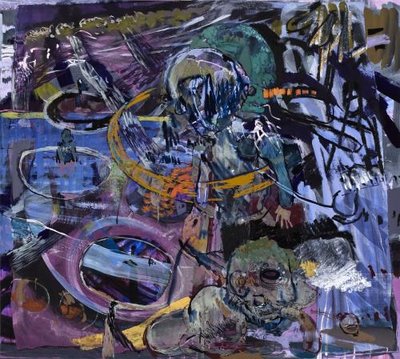 ... "After The Boy Takes Everything", 2008, in acrylic, oil stick, casein and collage on clayboard. It's a big painting, 45 x 50 inches, chock-a-block with activity and colorful play. The figure of the boy emerges clearly as the central image, and what goes on behind--as in many of these paintings--is somewhere between apocalypse and science fiction fantasy, nightmare and dreamscape. Along with the sheer virtuosity of paint, there's plenty of humor here, and oddly assorted narrative threads, if you look for them. An adventure for both mind and eye.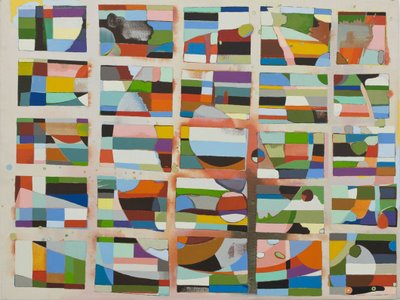 ...entitled "UN Interpreter", 2009, oil on canvas over panel, 36 x 48 inches. It's a fine example of the way in which Eberhard uses color to divide up the surface of the canvas, creating images that, here, refer to the flags of many imagined nations and, overall, of the globe itself. I love the historical reference to Paul Klee, that Swiss painter of the early 20th century whose whimsical-seeming paintings held the bite of irony and the embrace of the universe in small. Read this one, if you will, as a vision of harmony in a world that too often lacks it.
And then there's Kim McCarty, whose opening at Kim Light Gallery I attended Friday night. In her recent work, Kim has been using the difficult medium of watercolor to evoke images of children, male and female, on the cusp of blossoming into adolescence. They are risky, too--always flirting with the onset of sexuality. The children she paints are naked, vulnerable, open to exploitation and yet, importantly, manage to assert their innocence. They run the risk of provoking the viewer's inappropriate prurience, and at the same time ask us to think about our vulnerability, as children, to the adult world.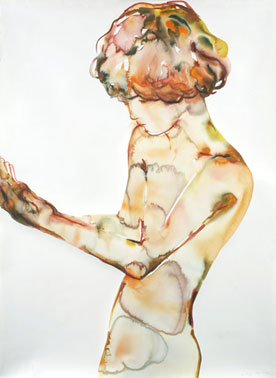 I was happy to see that Kim is also opening a new path for herself, in applying the same watercolor techniques to plants and flowers. Here's one of her irises: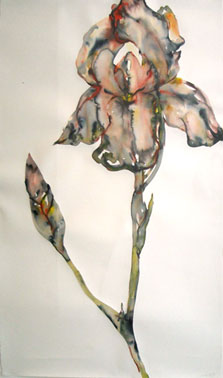 The presence of these paintings alongside those of many of those depicting children sheds a good deal of light upon the latter. The pictures, like the medium in which they are painted, are all about evanescence and entropy, the moment of stasis and the moment of change, a freezing of time that never seems quite frozen, still in flux. There is a tenderness to this work, a feeling of compassion that we share because we, too, are subject to the continuing, inevitable flow of change that we experience in our lives.