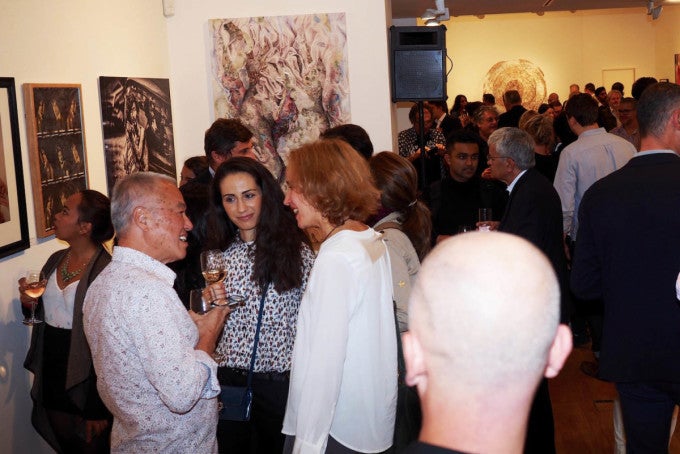 As 2016 comes to an end, the art community is getting ready for what 2017 has in stock for us. I specifically wanted to highlight London, as its one of the major art centers of the world.
The city will kick off the New Year with its famous "Lumiere Festival" held in January. In February the National Portrait Gallery will be home to some of the best "Picasso Portraits". Between the end of winter into spring another show America After the Fall: Painting in the 1930s will be on display at the Royal Academy of Arts . The show will feature top works from well known American artists such as Pollock, O'Keeffe & Edward Hopper just to name a few.
London is also home to some of the best emerging art shows and prizes in Europe. In a bid to understand these shows and the general London art market I recently had a chat with Jimmy Lek, the founder and organizer one of the popular art awards called ArtGemini Prize.
1) How and why did you start the ArtGemini Prize?
After some research on the UK art competitions I found that nearly all of them are localized not international. So I decided to start an international art prize for all artists in the UK and across the world. The inaugural prize, which attracted 748 entries from across the world, was launched in 2012 with a £5000 cash prize.
2) What do you like most about this show that you founded?
The great diversity of art work submitted from all over the world - from Australia to China, Russia to South Africa. It is a kind of a celebration to promote creativity and excellence from around the world.
3) Why did you choose London for this show?
London is the cultural center of the world with a rich diversity of arts, museums and galleries. I also know London pretty well since I have lived and worked here for many years.
4) What are some of the challenges of organizing ArtGemini Prize?
Finding a sponsor for a suitable exhibition venue in central London is a major issue. Another challenge is looking for art professionals to join the judging panel which selects the winners.
5) What are some of the key aspects that you look for when reviewing submissions from photographers and artists?
Selection is done by an appointed panel of judges consisting of art professionals. They look for works that displays originality, technical skill and emotional impact.
6) Have you ever helped your contestants sell their works?
Yes - all selected works at our finalists' exhibition are for sale. In addition selected artists are also invited for other available exhibitions like the Singapore Art Fair 2014 and AAF Singapore 2015.
7) Do you like painting, drawing or shooting?
Although I don't paint, I enjoy attending exhibitions and art fairs especially graduate shows. I also talk to lots of artists about their work. When I'm in Singapore, I attend local exhibitions and auctions.
8) Outside your show what are some of the artists whose works you enjoy the most and why?
It is satisfying to visit young emerging artists at their working studios and see their work in progress. Sometimes I collect pieces that capture my interest. We also support selected charity each year. Next year we intend to support homeless artists.
9) Why should people participate in this competition?
By participating artists have the opportunity to win cash prizes and to exhibit and sell their works in London. In addition it gives them good exposure and network to enhance their careers. Our 4th edition ArtGeminiPrize 2016 attracted 941 entries from 34 countries.
10) What are the long term goals for the ArtGeminiPrize?
The mjor long term goal is to grow and have more entries from across the world so as to be at par with overseas art prizes in countries like China and India. Plans are currently underway to launch a new Photography prize in collaboration with GreenRooms Hotel, London next year.
REAL LIFE. REAL NEWS. REAL VOICES.
Help us tell more of the stories that matter from voices that too often remain unheard.
This post was published on the now-closed HuffPost Contributor platform. Contributors control their own work and posted freely to our site. If you need to flag this entry as abusive,
send us an email
.