The first lady of the United States gave Marc Brown a call after the publication of his popular 1991 children's book, Arthur Meets the President.
Barbara Bush, wife of President George H.W. Bush and creator of the Barbara Bush Foundation for Family Literacy, wanted to include the democracy-themed story ― which features an aardvark family going to Washington D.C. ― in the National Archives. Brown, still half-a-decade away from premiering the first episode of his animated "Arthur" television series, was happy to help. And over the next few years, the author joined Bush's literary initiatives by attending various events and meeting families across the country.
When "Arthur" the TV show, which launched in 1996, became a success during the Bill Clinton administration, the original President book became an animated segment where Arthur Read's family met an amiable Clinton in the White House. They all shared a pizza.
As the second Bush administration took power and Laura Bush revived Barbara's literary initiative in the White House, Brown again joined the effort.
Part of this experience involved taking shots of vodka in Russia with Vladimir Putin.
"Laura Bush invited me to go to Russia with her and represent the country at the first children's book festival that then Mrs. Putin was trying to replicate what Laura was doing in Washington," Brown told The Huffington Post in a rare interview about the creation of his beloved aardvark character.
"And so that was very interesting to go over there and actually have dinner with President Putin ... He made a big entrance. As I remember it, we were in the Kremlin and the entire room was covered in gold leaf. There were first ladies from all over the world and each one would give a toast. We all had to drink vodka shots after each toast and so things were getting a little fuzzy."
A representative for Laura Bush relayed the details to her for HuffPost and the former first lady apparently recalled the incident with fondness and laughter.
The second Bush administration eventually ended, and the Obamas entered the White House. The animated "Arthur" series remained on PBS and continued to be as popular as ever. The show introduced a lovable Obama character, of course.
"Arthur" has always been a bipartisan story for kids all over and across America ― teaching morals of love, friendship and acceptance any parent could get behind. And so the rise of Donald Trump to the presidency of the United States has created a conundrum for the show, which celebrates 20 years on the air this year.
"I am terrified that this maniac could actually become a leader of this country," Brown told HuffPost before Election Day.
Over the course of 2016, Brown spent his free time drawing cartoons depicting Trump as the emperor with no clothes. In one cartoon Brown sent to HuffPost, a naked Donald wears a crown while sitting atop a gold throne.
He's on a cellphone talking to Putin and says, "Vladdy, it's me, Donny. Got a little cash flow problem over here ..." Another depicts a traditional Christian church where the steeple's cross has been changed to a golden "T."
"With all the work that I have done and invested with children being successful ..." said Brown, "I worry about what would happen with children."
It remains unclear whether this will be the first presidential administration during the history of "Arthur" that has no involvement with the program. HuffPost tried following up with Brown after the election, but did not get a response.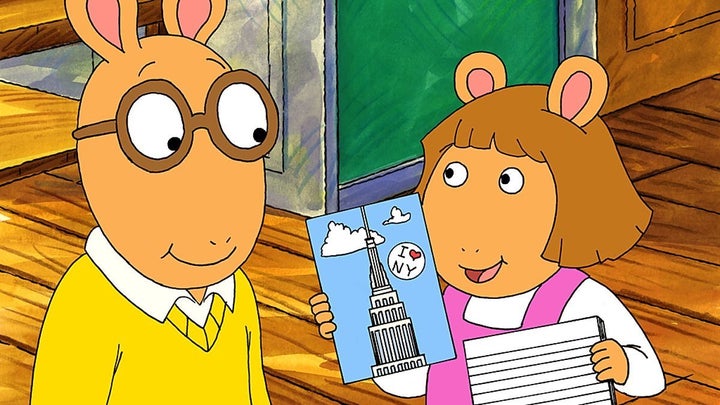 Unlike the popular children's show "Sesame Street," which teaches basic fundamentals such as the ABCs and counting, "Arthur" is geared toward a demographic that is just starting to form opinions about the world and is searching for a way to live. Similarly, "Arthur" sets itself apart from the Disney and Nickelodeon shows that tend to favor pure (typically slapstick) comedy over substantial ideas about morality and how to be.
The first lines of the now iconic theme song told young viewers, "Everyday when you're walking down the street / Everybody that you meet / Has an original point of view." A song from the show that became almost equally as recognizable touted the joys of having a library card. "Arthur" constantly pushed its audience to go explore and then report the cool things they found out to strangers who could soon become friends.
Brown's creation was, and still is, overtly pro-education and pro-inclusivity.
Arthur and his friends are animals of all shapes and colors because Brown cared deeply about the ills of stereotyping people. "I wanted all kids to be able to relate to any of the characters," said Brown.
Just recently, while guest-teaching a class of college students at the University of Wisconsin, a student asked Brown if the character Francine is gay. "You know, I thought about it, I said, 'Well, she could be, of course she could be,'" explained Brown. "And so they kind of liked the idea that Francine could be gay."
Despite these super-sized doses of positivity and teaching moments, "Arthur" has still found a way to resonate with restless kids. Amid the lessons, the series has referenced shows such as "South Park" and "Beavis and Butt-Head," as well as a notable episode-long cameo from the Backstreet Boys at the height of their fame. "It was fun," A.J. McLean of the boy band told HuffPost. "It was weird to see yourself as an aardvark."
The show knew exactly what it had to do to both win at the ratings game and achieve its goal of truly affecting children. "Collectively, what we wanted to do with the show was to use animation and television ― two very seductive mediums ― to engage kids and make them want to read," said Brown.
"That was this underlying agenda, but also, we were hoping that we could get parents and caregivers wanting to watch the show with kids so there might be conversations that we could start between them ... you [as a parent] can share your values, it's such an opportunity."
This cross-generational appeal of the show has led some viewers to return to "Arthur" as grown-ups.
Earlier this year, countless memes based on stills from the animated show notably propagated online. Fans would take a screenshot from "Arthur" and write their own dialogue and jokes for the characters.
A parody of this "Arthur" meme phenomenon even found its way on the new and critically-acclaimed FX show "Atlanta."
Brown is well aware of these memes, which had fans sharing a certain image of Arthur's fist and jokingly questioning why the animal characters would wear headphones on the sides of their heads rather than their actual ears.
Arthur's glasses also notably just float on his head without any support.
"I'm really having such a good time watching Arthur and all his friends pop up on BuzzFeed all the time," said Brown. "It's very interesting that I've been able to sustain these characters through an entire generation, a little longer actually ... 40 years?"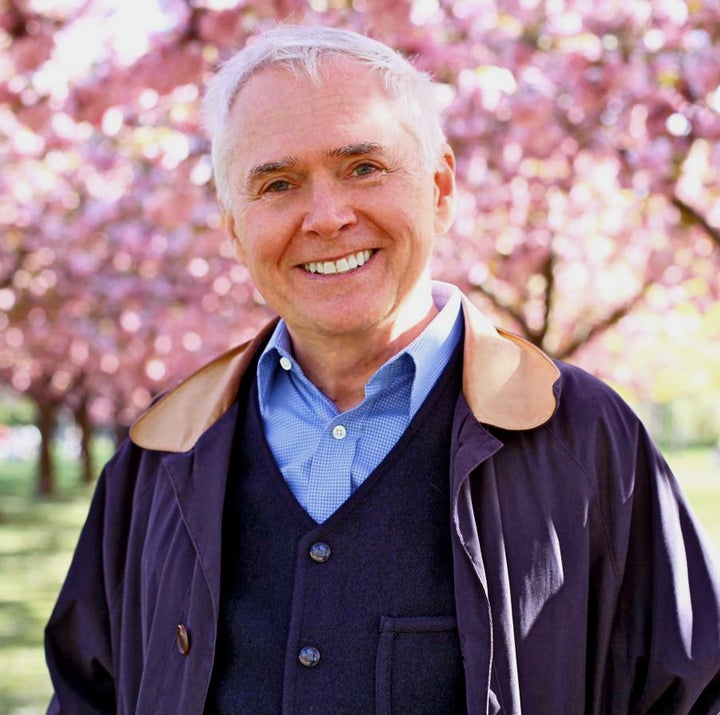 Despite its longevity, Brown actually struggled for years before his true breakthrough came with the publication of the first book in the Arthur series, Arthur's Nose, in 1976. He briefly held a job at a television news station in Erie, Pennsylvania, where his creative ideas weren't exactly respected. Trying to pitch something nobody had ever done before, Brown came up with an idea to turn the weather person into a weather fairy. In his vision, the weather fairy would descend into the scene via a swing and Brown himself would hide in a wishing well to help talk about the weather.
"So, there was no reaction from my boss," Brown recalled. "I was explaining how perhaps it could have a little mechanical squirrel [give the weather fairy] a magic marker to do the weather maps ... I finished and left his office and then the next day there was a little pink slip of paper in my mailbox informing me that I was no longer needed," Brown laughed.
"I think I learned early on that perhaps I needed a career where I was more self-directed."
The genesis of Arthur came right after Brown lost a teaching job and his son, Tolon, asked for a bedtime story. "I don't know why, I sometimes think maybe I was thinking alphabetically, and aardvark popped into my head," said Brown.
This idea that just popped into his head went on to dominate Brown's life for over four decades and continues to do so today. The prevalence of "Arthur" in his life has come at great reward, but also existential cost.
"I have been frustrated by having such good fortune, to have this wonderful adventure with 'Arthur,'" explained Brown. "I never ever expected the television show to last as long as it has and PBS shows no sign of it ending anytime soon. But as an artist, personally, I have had to put a lot of things I wanted to do on the back burner ― styles I've wanted to experiment with and other kinds of books I've wanted to write."
Brown is clearly proud that he's gotten to call the shots for so many years and had such success doing so, but it's also been a sacrifice. Creating a property geared toward educating children doesn't necessarily earn critical attention from peers and adults, except as a parenting tool.
But our world, now perhaps more than ever, needs more people like Brown. Luckily, he helped raise a generation that continues to share his beliefs of acceptance, curiosity and the will to do what's right.
We can all dream of becoming president, but if you can even influence the person that eventually does take over that job ― and for the better ― well that's a pretty amazing place to start.
"Kids are my boss and, you know, I really like my job."
Listen below to Chance the Rapper's cover of the "Arthur" theme song. "Ohhhh, I love his version," Brown said of the musician's song. "I was just blown away, it was so powerful and beautiful and dreamy."
Before You Go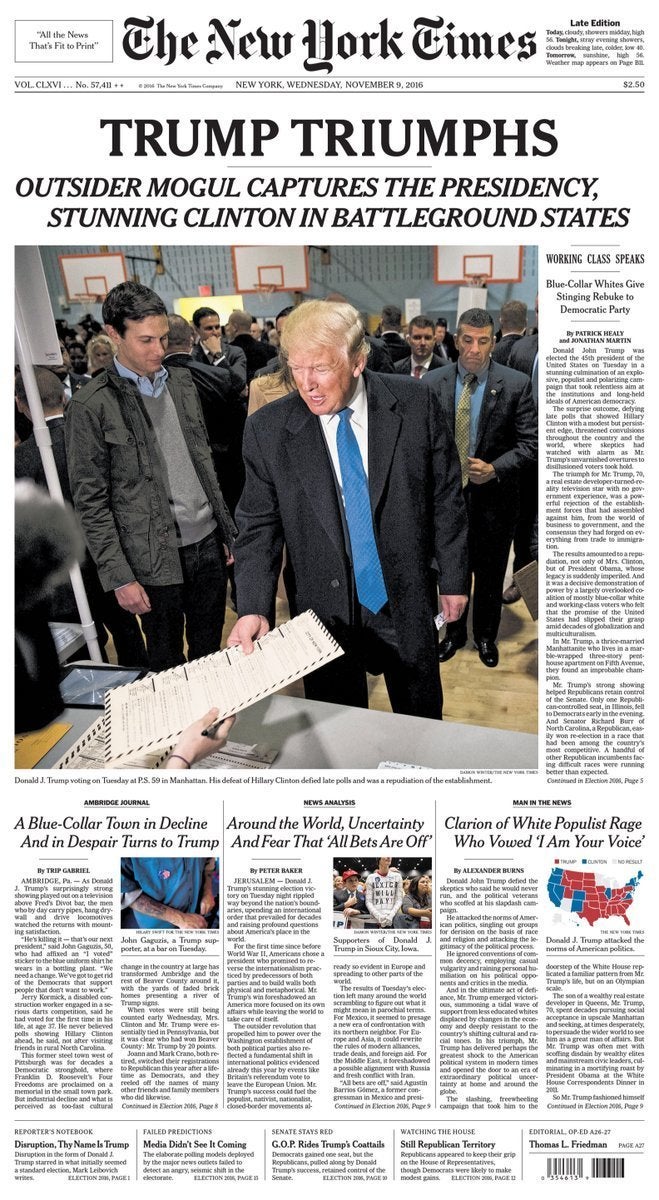 Newspapers React To President Trump
Popular in the Community