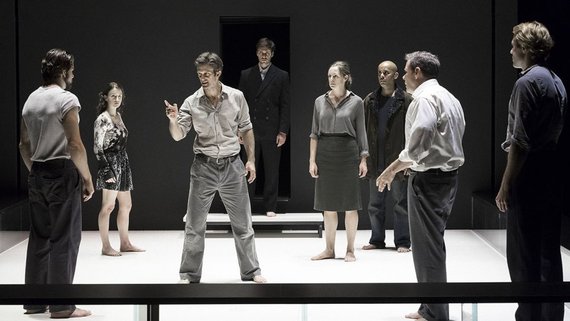 Frederick Weller (center) in "'A View From the Bridge" at the Ahmanson Theater in Los Angeles

Last year, the 100th anniversary of playwright Arthur Miller's birth, saw a remarkable revival of five of his plays. "A View From the Bridge" and "The Crucible" opened on Broadway. A staging of "Incident at Vichy" took place Off-Broadway. The New Yiddish Rep staged a Yiddish version of his most famous work, "Death of a Salesman" (with English subtitles). Miller's lesser-known play "Broken Glass" opened at the Westport Country Playhouse in Connecticut.
Ivo van Hove's production of "A View From the Bridge" generated the most interest because of the unusual staging. It got rave reviews in London (winning the Olivier award) and had a similar reception last year in New York (winning the Tony award). That production recently opened at the Ahmanson Theater in Los Angeles and I saw it on Thursday night. I've seen the play at least five times and it is my third favorite among Miller's plays, after "The Price" and "All My Sons."
I wasn't crazy about some aspects of van Hove's version. The set was too spare and the performances were too stylized. Even so, I was impressed with all the actors, especially Frederick Weller as Eddie Carbone, with the exception of Thomas Jay Ryan's characterization of Alfieri, the lawyer who serves as the play's narrator and one-person Greek chorus, whose voice and posture lacked the moral gravitas that the role requires. Miller intended the character of 18-year old Catherine to be sexually innocent and naive, but the director's insistence that Catherine (played extremely well by Catherine Combs) constantly jump into her uncle Eddie's arms and wrap her legs around him strains credulity. I was also disturbed by the low-level music constantly humming during the play, and the occassional drum sounds, which all seemed designed to alert the audience to various turning points in the play and the overall theme of doom and tragedy. In other versions I've seen, the director trusts the actors and audience to get the point.
The play centers on Eddie Carbone, a longshoreman who lives in Brooklyn's Red Hook working class and mostly Italian neighborhood in the 1950s with his wife Beatrice and his 18-year old niece, Catherine. From the start we see that Carbone has too much affection for the niece, who has lived with the Carbones since her parents died when she was very young. Beatrice is clearly jealous of Catherine, who has finished high school and is enrolled in a secretarial school. When she's offered a job as a secretary in a nearby business, Catherine encourages her to take the job and move out, but Eddie wants her to stay in school and stay in their home.
The Carbones' lives are disrupted when two of their relatives from Italy -- brothers Marco and Rodolpho -- arrive in the U.S. as illegal immigrants. Back then, Italian Americans were expected to welcome their relatives into their homes, help them find jobs, and protect them from immigration authorities, and Eddie pledges to do so. But when a relationship begins between Rodolpho and Catherine, Eddie becomes jealous, but tries to mask his feelings by expressing concern that Rodolpho only wants to marry Catherine so he can become a U.S. citizen. Catherine is in love with the good-looking and easy-going Rodolpho and doesn't buy Eddie's accusations. So Eddie tries to persuade her that Rodolpho is homosexual, although he never uses that word. (He says that Rodolpho "ain't right" and other euphemisms). Eddie can barely contain his lust for Catherine. At one point, Eddie and Rodolpho get into a heated argument in front of her. But instead of punching Rodolpho, Eddie kisses him on the lips in order to expose and shame him for what he perceives as his rival's homosexuality. The situation spirals out of control after that and, as we're led to feel from the very beginning of the play, ends in tragedy.
Indeed, most critics have viewed "A View From the Bridge" as a story of personal and family tragedy, as it certainly is. But there's much more to the play, including a political undercurrent that is easily missed if one isn't familiar with Miller's biography, including his personal and political experiences. Indeed, the play's back story is as fascinating as the play itself.
It begins in 1947, when Miller was doing research for a screenplay in Red Hook,which is near the Brooklyn docks and where a lot of longshoremen and their families lived. That screenplay eventually became "The Hook," which was based on a true story about the battle within the longshoreman's union. Miller finished the screenplay in 1950 and wanted his friend Elia Kazan to direct the film. Kazan had directed Miller's first two blockbuster Broadway plays, "All My Sons" in 1947 and "Death of a Salesman" in 1949.
In 1951, Miller and Kazan traveled to Los Angeles to try to get a Hollywood studio to finance the film. Harry Cohn, the president of Columbia Pictures, expressed an interest in making the film but insisted that the "enemy" in the film be changed from corrupted union leaders to Communists, which he viewed as a greater threat to the dock workers. This was the McCarthy era. All the major Hollywood studios were trying to demonstrate how patriotic and anti-Communist they were. But Miller refused to change the script and the project died.
A few years later, Budd Schulberg, a novelist and screenwriter, worked with Kazan on a screenplay for "On the Waterfront," which made Marlon Brando famous and earned an Academy Award. "On the Waterfront," is a total rip-off of "The Hook." What had changed between Miller writing "The Hook" and Kazan directing "On the Waterfront" is part of Cold War and Hollywood lore. Kazan and Schulberg, both former Depression-era Communists, had become "friendly witnesses" before HUAC, informing on ("naming names") their former friends and fellow Communists, for which both (especially Kazan) earned decades of hatred among liberals, progressives, and radicals in Hollywood. Miller, in contrast, was also called before HUAC but refused to name names.
"On the Waterfront," which came out in 1954, was clearly meant to justify Kazan's decision to name names and became an informer. The hero of the film, Terry Malloy, played by Brando, informs on his his friends (including his brother), who are corrupt leaders of the longshoreman's union. The film portrays Malloy as a brave and heroic figure, who (with the support of his girlfriend and a local priest) testifies before a government committee against the corrupt union bosses, who were clearly meant as a stand-in for corrupt Communists.

Meanwhile, Miller was writing his own play about the Red Hook neighborhood that he'd first visited in 1947. He wrote it in 10 days in 1955 as a one-act play (which was staged in New York that year), and the following year expanded it to a full-length play (which opened in London in 1956 before coming to New York City). He based it on a story he'd heard in 1947 that reminded him of the plot of a Greek tragedy. An Italian-American longshoreman had turned in to authorities two illegal immigrants, relatives he had been sheltering in his home, in order to stop one of them from marrying his niece. He was banished and later killed. In that neighborhood, there was a clear code of honor: one doesn't inform on illegal immigrants - most of whom were family members of the Italian Americans. If you inform on your fellow Italians, you will be disgraced and, some cases, killed for violating the code.
That was the origin of "View From the Bridge," which debuted on Broadway in 1955, a year after "On the Waterfront" opened in movie theaters. Although "View from the Bridge" has no explicit political references, when it opened in September 1955 many critics recognized Eddie Carbone as a stand-in for "informants," "rats" and "stool pigeons" -- people who betrayed their friends during the Red Scare witchhunt.
Carbone, however, is not a one-dimensional figure. He's not simply a "rat." He's also a tragic character, which means that despite Miller's antipathy toward Kazan (they were never friends again) and other informers, he had some empathy for the situation they were in. Toward the end of "A View From the Bridge," Eddie tries to do the right thing by telling his niece to get the two immigrant brothers out of the house right away. He realized that he'd done the wrong thing by calling the immigration agents (to force Rudolpho to leave the country). He wanted Catherine to get them out of the house before the immigration agents arrived, but he couldn't tell her why, which would expose the fact that he'd called the immigration agents. By that point in the play, Katherine no longer trusted Eddie, so she didn't do as he asked. The result is that the immigration agent came to the house and told the older brother, Marco, that he'd be deported back to Italy. Ironically, Rodolpho could stay in the U.S. because he was going to marry Catherine.
Schulberg and Kazan took different sides than Miller in the metaphorical battle during the McCarthy era. Miller's "View from the Bridge" portrays informing as evil, while Schulberg and Kazan's "On the Waterfront" portrays informing as virtuous.

Obviously "A View from the Bridge" isn't simply a metaphor about McCarthyism and informing. A few years earlier, Miller had an affair with Marilyn Monroe, which ruined his marriage. "A View from the Bridge" reflects Miller's recognition that sexual passion can become a self-destructive obsession. (He later married and then divorced Monroe). One can also view Eddie's feelings for Catherine as a version of incest.
Eddie's antipathy toward Rodolpho is clearly due his jealousy due to his own passion for his niece, who is thus off-limits to him. But the argument he made to his wife Beatrice, and to Katherine, was that Rodolpho was homosexual. However, we also learn that Eddie had stopped having sex with his wife, about which she complains to him and which she suspects is due to his passion for Catherine. But it could also be possible that he stopped having sex with Beatrice was because he was a latent homosexual. When he kissed Rodolpho, we're supposed to think it was to shame him and to show the others that Rodolpho was gay. But he could simply have make that accession to his face, in front of others, to send that message. He didn't have to kiss him. So Miller might have been suggesting that he was not only angry at Rodolpho for "stealing" Catherine away from him, but also angry at himself for his suppressed homosexual feelings. That Eddie and Beatrice, both church-going Italian Catholics in the 1950s, have no children also suggests that their lack of sexual intimacy may have as much to do with his sexual orientation (or perhaps impotence -- sexual as well as social and political) as his lust for his niece.

Sidney Lumet directed a French-Italian film version of "A View From The Bridge," which was released in 1962. It starred Raf Vallone as Eddie, Maureen Stapleton as Beatrice, and Carol Lawrence as Catherine. It didn't do well at the box office but it made a bit of film history. It was the first film screened in America that showed a kiss between men. In 2005, Barry Levinson announced that he would direct another film version of the play with Anthony LaPaglia as Eddie, Scarlett Johansson as Shannon, and Frances McDormand as Beatrice, but it was never made.
So, whatever happened to "The Hook," the screenplay that Miller wrote in 1950 but which was never made into a film? It was finally produced last year, not as a film but as a play, by a British theater company. The British production got a lot of attention, not only in England but also in the U.S., although it has not yet been staged in the U.S. Miller died in 2005, so the British producer and director got an American playwright to revise Miller's screenplay into a play. The review of "The Hook" in the New York Times provided some of the play's history, but didn't mention that "On the Waterfront" was a rip-off of "The Hook" years ago. Another review, in a British publication, said that the two were "similarly plotted." The reviewer can't quite bring himself to say the Kazan and Schulberg stole Miller's idea.
Until the days they died, Schulberg and Kazan claimed that they wrote "On the Waterfront" independently from Miller's original version of "The Hook," but that is obviously a lie. Some articles about the "On the Waterfront" take Schulberg and Kazan's side in this dispute, while others see the clear line between the two stories. What's remarkable is that Miller never publicly rebuked Kazan or Schulberg for the heist.

Both Kazan and Schulberg were already major figures, but "On the Waterfront" solidified their reputations.
Prior to "On the Waterfront," Kazan had won plaudits as both a Broadway director ("All My Sons," "Death of a Salesman" and "A Streetcar Named Desire," among them) and a Hollywood director for such films as "Gentlemen's Agreement" (1947) about antisemitism, "Pinky" (1949) about racism, "A Streetcar Named Desire" (1951), which gave Brando's his first big break in film, and "Viva Zapata" (1952). After "On the Waterfront" (1954), he directed "East of Eden" (1955), "A Face in the Crowd" (1957), "Wild River" (1960), "Splendor in the Grass" (1961), the autobiographical "America America" (1963), and "The Arrangement " (1969). During his career, he won two Oscars as Best Director, won three Tony Awards, and four Golden Globes.
Schulberg was already well-known for two highly-acclaimed novels - "What Makes Sammy Run?" (1941) and "The Harder They Fall" (1947) -- before he joined forces with Kazan with "On the Waterfront." "What Makes Sammy Run?" about upward mobility among working class Jews, was turned into several TV dramas as well as a successful Broadway play and later a musical. "The Harder They Fall" was turned into a wonderful 1956 film noir about the moral bankruptcy of boxing, starring Humphrey Bogart, based on the life of heavyweight boxer Primo Carnera. Schulberg won the 1954 Academy Award for his "On the Waterfront" screenplay, while the film also captured the Oscars for Best Picture, best Director ( Kazan), Best Actor (Brando), Best Supporting Actress (Eva Marie Saint), and several others. Schulberg also wrote the screenplay for the 1957 film "A Face in the Crowd," which is one of the greatest unsung films of all time, anticipating the political power of television. It Andy Griffith in a remarkable dramatic role as a country singer, radio, and TV star who uses his celebrity to influence the political views of his followers and whose support candidates for political office seek. Many people this year have rediscovered the film because the Griffith character is a lot like Donald Trump.
Like Eddie Carbone, Kazan and Schulberg faced opprobrium from Hollywood liberals and progressives for naming names They may have suffered emotionally from the widespread hatred, but it didn't harm their careers. Nor did the fact that their best-known collaboration was based on an idea that they pilfered from Arthur Miller have any negative consequences on their fame and fortune. But perhaps if Kazan and Schulberg hadn't stolen "The Hook" from Miller, the great playwright would not have felt compelled to write another waterfront story, "A View From the Bridge."

Peter Dreier teaches politics and chairs the Urban & Environmental Policy Department at Occidental College. His most recent book is The 100 Greatest Americans of the 20th Century: A Social Justice Hall of Fame (Nation Books). He profiles Arthur Miller in that book.
Calling all HuffPost superfans!
Sign up for membership to become a founding member and help shape HuffPost's next chapter