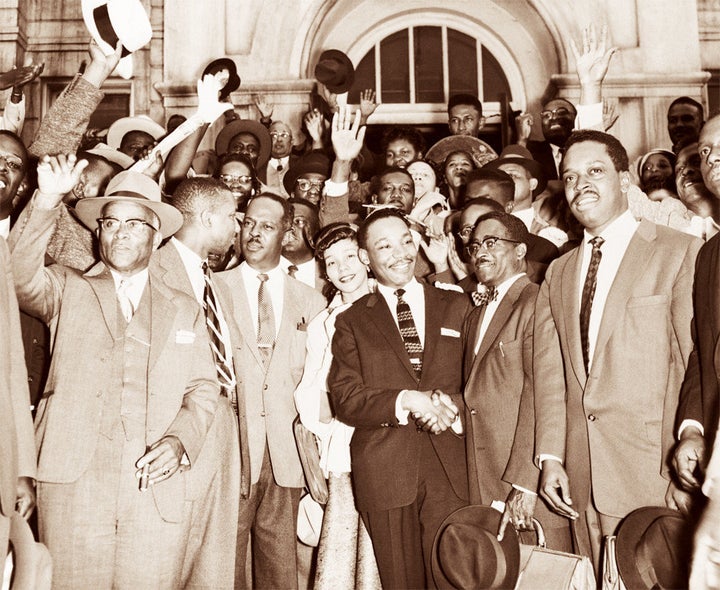 Throughout our nation's worst racial tensions, Birmingham Civil Rights attorney Arthur Davis Shores was a pioneer who dared to step into the white man's courtroom, bravely representing civil rights cases for some 25 years before Dr. Martin Luther King, Jr. arrived in Birmingham in 1963 with the Southern Christian Leadership Conference. A quiet gentleman with a deep Christian faith, Shores worked tirelessly for equal rights. Shores was notably one of the attorneys who smuggled scraps of paper from Dr. King's jail cell -- the now infamous "Letter from a Birmingham Jail." In this excerpt from 'The Gentle Giant Of Dynamite Hill: The Untold Story of Arthur Shores and his Family's Fight for Civil Rights,' his daughters Helen Shores Lee and Barbara S. Shores write of their father's involvement in this historic moment in civil rights' history.
On April 3, 1963, during the Selective Buying Campaign, the SCLC staged sit-ins inside several downtown whites-only lunch counters. Three days later, police arrested 45 protesters as they marched from the Sixteenth Street Baptist Church to Birmingham's city jail. The next day, police arrested even more protesters, whom Daddy represented in court. The city charged $100 for each person's bail, and Daddy, Mr. Gaston, and others raised much of the bail money so these protesters could leave jail and go home.
In light of the protests, Judge W. A. Jenkins Jr. ordered that the civil rights leaders, including Dr. King, Ralph Abernathy and Fred Shuttlesworth, organize no future protests in Birmingham.

On Good Friday, April 12, 1963, police arrested Dr. King and placed him in a Birmingham city jail cell in solitary confinement. The small cell held a metal-slatted cot with no mattress, a toilet and sink, and a mirror on the back wall. The cell had no overhead light or other light source. He spent most of his imprisonment in the dark. King later called those long hours and days in solitary confinement "the most frustrating and bewildering" he had ever lived.

On the second day of King's confinement, Bull Connor in City Hall granted three attorneys permission to visit Dr. King. They were Norman Amaker from the NAACP, Orzell Billingsley, and our father. Perhaps one of them took Dr. King the ad that ran in the Birmingham News where eight local white ministers referred to King as a troublemaker. In any event, King read the ad and felt that he had to somehow respond to it.
Letter from Birmingham Jail
Dr. King had no paper, so he wrote his response around the edges of the newspaper ad and on pieces of toilet paper in his cell. Later, Daddy or one of the other attorneys brought him a notepad. King could only work in the daytime when he had enough scant light to see. When he finished the response, our father and his other attorneys secretly slipped the assorted bits and pieces of the letter from King's cell and into the hands of NAACP's Wyatt Walker. Walker and his secretary, Willie Pearl Mackey, pieced together the scraps of paper, and Mackey typed out the rough draft of the letter.

Andrew Young recalled that Willie Pearl Mackey "had a terrible time reading Martin's handwriting. Most of the letter was brought in installments delivered from the jail by our attorneys, Clarence Jones, Ozell Billingsley, and Arthur Shores, during their trips to jail to visit Martin." When Mackey had finished typing the draft, one of King's lawyers smuggled it back to Dr. King to edit and make corrections. Then one of the lawyers carried it back to Walker.

In his response, on April 16, 1963, Dr. King addressed directly the eight white pastors ("My dear fellow clergymen") who had written the newspaper ad. Using passages and characters from the Bible, he eloquently explained his reasons for coming to Birmingham (because he found injustice in the city), and he outlined both the process and the goal of his visit and activities, carefully describing the four basic steps of his nonviolent campaign: collection of the facts to determine whether injustices exist; negotiation; self-purification; and direct action. He also called Birmingham the most segregated city in the United States and mentioned its ugly record of brutality, including the Negroes' unjust treatment by courts and the unsolved bombings. He told the clergymen: "The purpose of our direct-action program is to create a situation so crisis-packed that it will inevitably open the door to negotiation."
His response ran to more than 7,000 words in length. By May 13, 1963, the American Friends Service Committee (Quaker) had received permission from the SCLC to print the letter for wide dissemination and published 50,000 copies of the document in pamphlet form for national distribution. Other publications printed King's Letter, including the Christian Century, the Saturday Evening Post, the Birmingham News and Atlantic Monthly, among others.
Almost a half-century later, theologians are still calling King's Letter from Birmingham Jail "towering" and "magnificent." In his letter,
King clearly cataloged the injustices faced by African Americans. He called "white moderates" to task and forcefully reminded them that justice delayed was justice denied. And most famously, citing Augustine, he claimed that "an unjust law is no law at all..." King had reason, justice, facts, and conviction on his side -- as well as the gospel. He did not need vitriol, and he did not employ it.
Police released Dr. King from his Birmingham jail cell on April 20, 1963, some eight long and dark days after they arrested him.
Taken from 'The Gentle Giant Of Dynamite Hill: The Untold Story of Arthur Shores and his Family's Fight for Civil Rights' by Helen Shores Lee and Barbara S. Shores with Denise George. Copyright © 2012 by Helen Shores Lee and Barbara S. Shores. Use by permission of Zondervan.
Related
Before You Go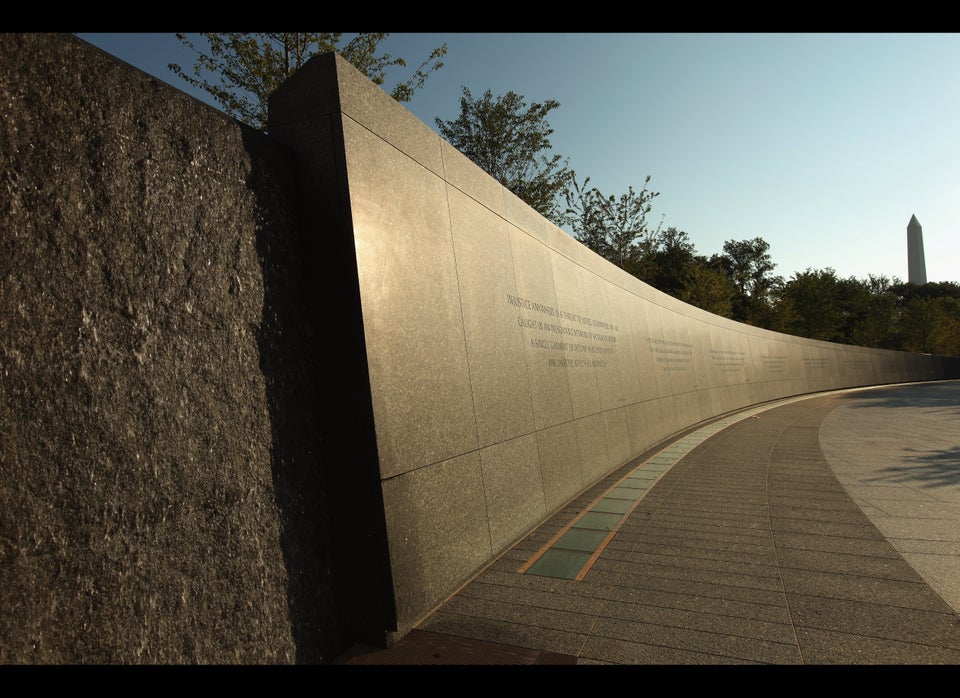 Martin Luther King Jr. Memorial
Popular in the Community