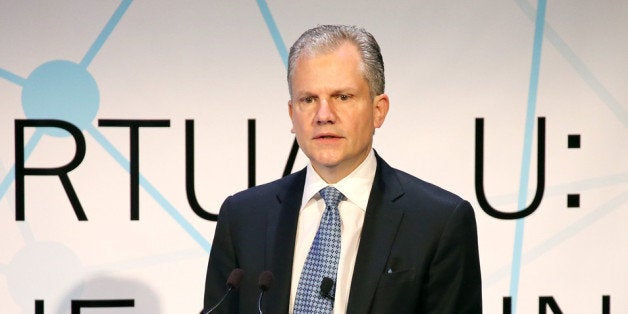 NEW YORK -- Arthur Sulzberger Jr., the chairman of The New York Times Company and the paper's publisher, said Thursday that last year's sale of The Washington Post was a "shock out of the blue" and tough for him personally, while reiterating that his own paper was not for sale.
Inevitably, the Graham family's decision in August to sell the Post to Amazon chief Jeff Bezos shifted attention to the Ochs-Sulzberger family, the longtime stewards of the Times. Sulzberger said he and Michael Golden, the company's vice chairman and his cousin, held a family-wide phone call before telling colleagues in a memo that they were not selling the paper.
Sulzberger revealed Thursday there is a succession plan to groom six members of the 5th generation of the family for potential top leadership positions, including chairman and publisher.
"The family is united around its ownership and its responsibility to maintaining the New York Times and its journalistic integrity and its journalistic independence," he said.
The Times chairman was on stage with chief executive Mark Thompson for a wide-ranging discussion about the paper's future, both journalistically and commercially. Alex Jones, director of the Shorenstein Center on the Press, Politics and Public Policy at Harvard and author of the definitive book on the Times family trust, moderated the talk. Topics included the Times' difficult dealings with China and its expansion of video and mobile-first offerings, including the new product NYT Now.
Times executive editor Jill Abramson was seated in an audience that also included Daily News editor Colin Myler and ProPublica founding editor Paul Steiger. She joined the conversation when it turned to threats to investigative journalism amid the Obama administration's crackdown on unsanctioned leaks and its unprecedented use of the Espionage Act in leak cases.
Abramson said her "single biggest concern as executive editor" right now is the Obama administration's pursuit of seven criminal leak investigations. In one of them, Times investigative reporter James Risen has been compelled to reveal a source. Risen is taking his appeal to the Supreme Court.
While the Times faces journalistic threats at home, the paper has also run afoul of the Chinese government, after publishing critical investigative reports focusing on ties between the country's financial and government elite. The Times website has since been blocked in China and journalists trying to report in the country are facing increasing obstacles.
"We're not going to back down or back away from the kind of journalism that we all believe in because it's difficult," Thompson said. "There are many countries in the world, China's an example, where that kind of journalism is not welcome -- not yet welcome."
Thompson said Abramson and her staff will continue "to paint a broad and faithful picture of China" and noted there are readers in China who are accessing the paper's Chinese-language site through a virtual private network (VPN), despite government censorship.
"We think what we're doing in China will continue to command interest and respect and will be valued in China," Thompson said. "That will lead to potentially, ultimately, commercial success for The New York Times."
Calling all HuffPost superfans!
Sign up for membership to become a founding member and help shape HuffPost's next chapter
BEFORE YOU GO
PHOTO GALLERY
New York Times