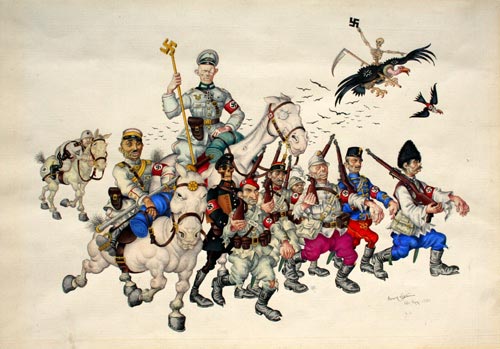 He was a master of political art, a brilliant draftsman/artist whose evocative works had all the power of Goya's "The Execution" and Picasso's "Guernica." Above all he was the 20th century reviver of the medieval craft of the miniaturists and illuminators of sacred texts, a multi-patriot who devoted his enormous talents to the struggle for freedom and against political evil, an artist who so forcefully depicted the battle to defeat the Nazis and their Axis allies, that Eleanor Roosevelt declared him a "one man army against Hitler."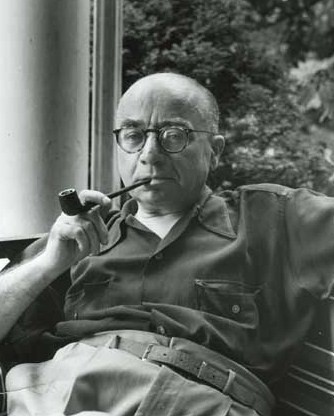 He was Arthur Szyk (pronounced Shick), the Polish born American-Jewish artist whose unique and exquisitely detailed miniatures and pen and ink cartoons (including some never before seen sketches and studies) go on exhibit April 13th - April 25th at the Broome Street Gallery,498 Broome St, NY, NY, . Open free to the public,and with a gala opening featuring Szyk's daughter, the exhibit will include two lectures on Szyk's work on April 18th and 20th by Irvin Ungar, of the Arthur Szyk Society .
Born in Lodz in 1894, Szyk was a both a Polish nationalist and a fervent Zionist Jew. He was expelled from high school for drawing anti-czarist cartoons and later volunteered to fight as a guerrilla during the Polish-Bolshevik War in 1921. He went on to devote many of his works to the rebirth of Poland. Forced to leave Europe in 1939, he immigrated to America where his virulent anti-axis drawings and political caricatures soon began appearing on the covers of Colliers, Time and Esquire, and in the NY Post and publications around the country. He was a particular favorite of GIs who sometimes pinned his biting anti-facist drawings alongside photos of their favorite movie stars.
Szyk was also among the first political cartoonists to attack racism and the harsh inequities then facing American blacks. But he was also entranced by the hope that America represented to him. Some of his finest illuminations were devoted to The Bill of Rights, The Declaration of Independence and detailed portraits of heroes such as George Washington and Thomas Jefferson, some of which are now in the collection of the Library of Congress in Washington.
Still it it was the fate of his own Jewish people that drew much of Szyk's attention during and after World War II: the sufferings of the Jews under Nazi occupation, the heroic resistance in the ghettos, and above all the rebirth of the Jewish state,. His illuminations of sacred texts include his crowning glory masterpiece: Passover Haggadah (1940), an edition of which was produced on vellum and which the Times Literary Supplement declared "worthy to be placed among the most beautiful of books that the hand of man has ever produced."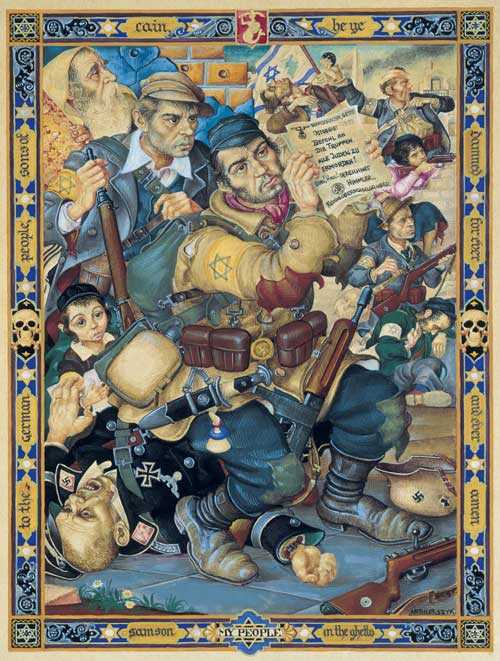 (The Arthur Szyk Society)
Sadly this courageous artist of democracy died prematurely in 1951 at his home in New Canaan, Connecticut - shortly after he, like so many other defenders of democracy, became a target of Sen. Joseph McCarthy.
Thanks in large measure to the efforts of Irvin Ungar of California's Arthur Szyk Society, his work has captured new attention in recent years, including a seminal exhibit at Berlin's Deutsches Historisches Museum in 2008-2009 as well as one at Washington's Holocaust Memorial Museum. The upcoming Broome Street Gallery exhibit should help Szyk reach an even a wider audience. But the great illuminator is more than worthy of a major retrospective of his works in New York at MOMA and/or The Jewish Museum. The time has come!
"Arthur Szyk: Methods of a Master Illuminator"
Exhibition and all events are free and open to the public.
April 13-25, 2010
Tuesday - Sunday, 11:00AM - 6:00PM
Broome Street Gallery
498 Broome St, NY, NY
Tel 212-226 6085
The Arthur Szyk Society
www.szyk.org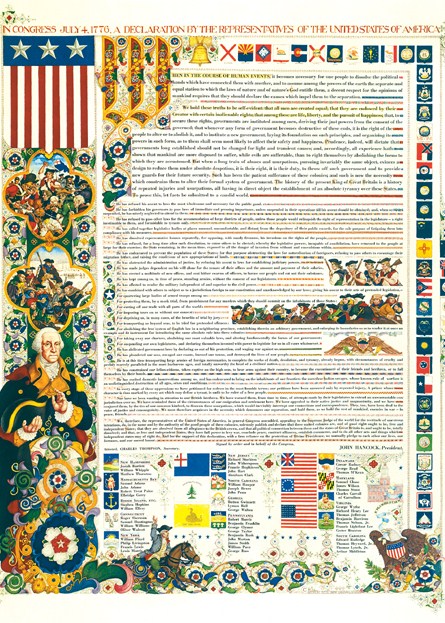 (the Arthur Szyk Society)
Support HuffPost
The Stakes Have Never Been Higher
Related
Popular in the Community