Artichokes are such an indulgence that it's hard to think of them as vegetables. But great news, guys -- they are. So when one's in need of an excuse to eat hollandaise, there's no better hollandaise-scooping vessel than an artichoke leaf. Or even better, an artichoke leaf lovingly described by the recipe author as "lightly grazed with herbs and gorgonzola," with breadcrumbs attached to each leaf "even through a solid hollandaise dip." Dip on, we say.
Herb Gorgonzola Artichokes With Parmesan Hollandaise
From How Sweet It Is
Makes 4 artichokes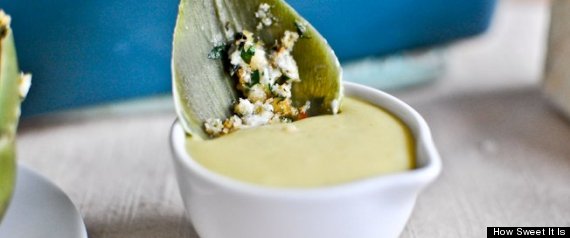 For Artichokes
4 whole medium artichokes
3 tablespoons freshly chopped cilantro
3 tablespoons freshly chopped basil
2 tablespoons freshly chopped parsley
1 1/2 tablespoons fresh thyme, coarsely chopped
3 tablespoons panko breadcrumbs
1 1/2 tablespoons extra virgin olive oil
1 1/4 ounces crumbled gorgonzola cheese
pinches of salt and pepper
1. Cut the stem from the bottom of the artichokes so it can sit upright, then trim off the tops of the pointy leaves with kitchen shears. Fill a large pot (one big enough to fit all 4 artichokes) with water, bring to a boil, then place the artichokes top-side down in the pot. If they keep turning over, place a plate on top to help keep them top-side down. Boil for 15-20 minutes. Remove and let drain upside down on a plate.
Preheat oven to 375 degrees F.
2. In a bowl, combine bread crumbs, herbs, gorgonzola, salt and pepper, mixing together with your hands. Add in olive oil and using a spoon, mix until completely combined. Then use your hands to really bring it all together. Separate it into four equal parts, then lightly pull open each artichoke and stuff a bit into each. Place top-side up in a baking dish, then pour about 1/3 cup of water in the bottom of the dish. Bake for 20 minutes, then remove, serving with hollandaise.

Parmesan Hollandaise
1/2 cup + 2 tablespoons unsalted butter
2 large egg yolks
1/2 tablespoon fresh lemon juice
1/2 tablespoon water
2 tablespoons freshly grated parmesan cheese
salt + pepper
1. In a small saucepan, combine egg yolks, lemon juice and water, then set aside. In another saucepan, add butter and heat over low heat until melted. Immediately remove and set aside for 3 minutes. While the butter is cooling, heat the other saucepan with the egg yolks over low heat, whisking constantly until foamy and then smooth. I whisked for about 5 full minutes, as you want the yolks to be slightly paler in color.
Skim the foam off the top of the butter.
2. Remove yolks from heat while still whisking, and add in butter a drop at a time, constantly whisking for about 30 seconds after. I added about 10 small drops (whisking after each), then moved to adding about 1 teaspoon at a time, whisking again. It takes a long time but is totally worth it. About 3/4 of the way through, you should notice the mixture really thickening and lightening in color. The recipe recommended leaving the white solids of the butter in the saucepan, but my butter was still pretty melted so I added almost all of it – this did not affect the final outcome. Once all butter has been added and sauce is thick, whisk in parmesan cheese and taste. Season with salt and pepper if desired. Hollandaise is only good for about an hour after it is made, so consume it quickly!
This story appears in Issue 42 of our weekly iPad magazine, Huffington, in the iTunes App store, available Friday, March 29.