Meaning, in the art of Boback Emad, is unstable, tentative and exploratory. Emad, who has a one-person exhibition up at The Midway Gallery in San Francisco on view until April 22nd, was born in the U.S. to Tehran parents, then spent his early years in Pre-Revolutionary Iran, before fleeing the country just as the Shah was being ousted. He found himself in a new world without family and without any clear map of his terrain. His work reflects his loss of home and familiar landscape. Though mostly consisting of common, symbolic imagery, Emad uses universal shapes to explore the personal. His art searches for stability, for the necessary decoding and reconstruction of a lost iconography.
Emad identifies with the steel structures of Mark di Suvero and Alexander Calder, but unlike the dynamic abstractions of these great predecessors, Emad's work has a fragmentary and fragile presence. In a recent aluminum sculpture, Foresight, the shape of a sphere hinges apart as if barely able to maintain its original form. Pieces fit but never hold still. Much like life, Emad's work asks the viewer to consider serious questions about solidity and absolutes. His art tells us that nothing is certain, nothing is whole.
Take for example the tar piece There is a Mark on my Heart. The process of Emad's creation, of melting tar to a molten state then applying a blowtorch to the tar until it runs to the fluid consistency of water, speaks of the violence of formation. Emad's heart, the symbol of life and love, is oozing and dripping. The tar when it dries is frozen into the shape of a wound.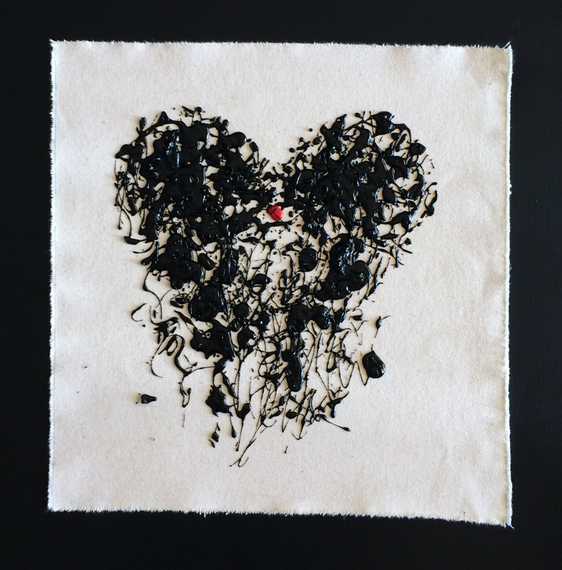 There is a Mark on my Heart, 20"x20". Tar on canvas
Emad's visual language of such highly charged yet familiar imagery--hearts, X's and O's, and crosses--are examples of his inquiry into the deconstruction of both cultural and architectural forms. At its most primitive and unemotional core, revolution is deconstruction. Emad's art uncovers the private within the sphere of the public. It is the reconstruction of artifacts of deep emotions, a way of maintaining and capturing the pieces of his heart, the shapes, and the figures that populated his world, as they were breaking apart. In depicting the atomization of structures, Emad interrogates the undependable nature of love and home. In his fearless portrayal of destruction, he endeavors to find balance; to find a quiet resting place between chaos and containment.
In both the tar piece
My Three Queens
, and the stainless steel sculpture,
Reclining Figure
, Emad works with elements constructed of three shapes. Each shape is separate and yet identical; each is singular and yet they are all attached. They vary in size, but not in form. At their base, they unite. And so what is splintered is also undividable. What was once cut has now re-rooted.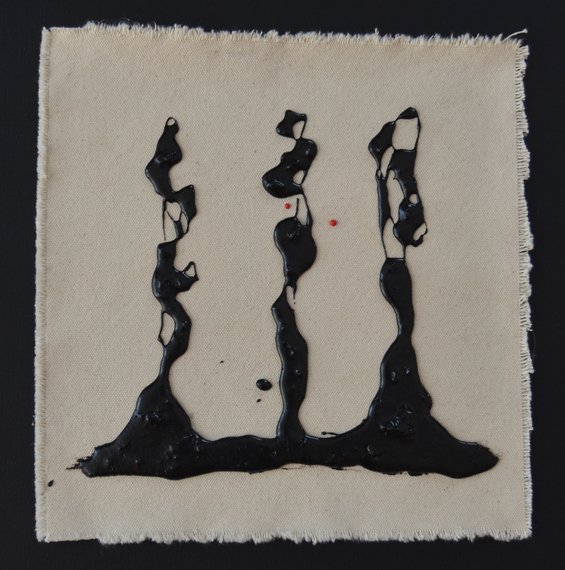 My Three Queens, 10"x10". Tar on canvas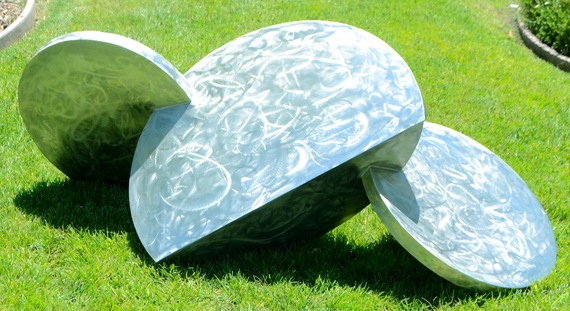 Reclining Figure
, 3'x3'x6'. Stainless Steel
Instead of definitive meaning, Emad presents his viewers with glimpses: some too close for comfort, some as distant as galaxies. Still, all his glimpses ask us to consider what is below the surface of the familiar. Beyond mere depiction, his art is about challenging viewpoints and raising unanswerable questions. What are we looking at? Where do we find truth? Does anything ever hold still? Are we safe?
All images courtesy of Boback Emad
REAL LIFE. REAL NEWS. REAL VOICES.
Help us tell more of the stories that matter from voices that too often remain unheard.