Having grown up with a potted pine for a Christmas tree that was dragged on and off the deck the start and end of each holiday season, when recently enlisted to do a Today Show segment about artificial Xmas trees, I went to task.
According to the American Christmas Tree Association, 75.2 million American households will be displaying an artificial tree this year. That's a staggering number of fake trees. What I learned during my own research and social media survey is that folks are passionate about their artificial trees and that a myriad of decisions come into play before buying one.
The top reason for survey participants include allergies followed by the mess and maintenance of live trees and the cost value. At zulily, we love a great deal, so a Christmas tree that you can reuse each year is a huge plus that resonates with us. The below is a roundup of the best deals and latest innovations currently available in artificial trees.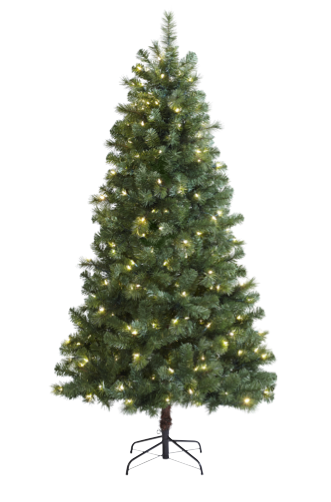 1. The Mood Tree
Increasingly artificial trees come pre-lit with advanced circuitry such that if one bulb burns out, the remaining circuit stays aglow. For people who have sought to find that one malfunctioning bulb, we know this is huge and can save you hours! People also love pre-lit trees for the fact that they can put them away and pop them back up with all of the lights on the tree. But this new tree from Lowe's takes it one step further with color-changing LED lights - both warm white and multi-color, that you can change with the push of a foot pedal. Kathie Lee Gifford coined this "a mood tree!" Also trees in the past were cumbersome to construct and put away, but this tree has a two-hinged construction for easy storage. It retails for $159, but it's $59* on sale. So this is our innovative budget buy.
A word of caution from survey participant Brigette Polmar: Note what type of replacement bulbs your tree requires and if they are widely available or brand specific (the latter may be hard/costly to obtain).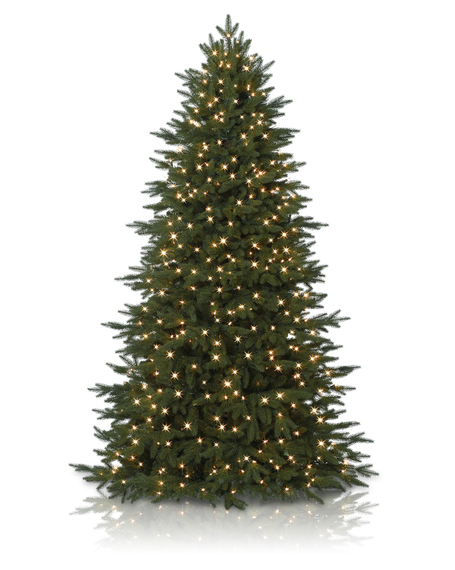 2. For Reals
Now artificial Christmas trees have come a long, long way since their aluminum cousins in "A Charlie Brown Christmas." In the past limitations included the quality of the green color, fake-looking needles, painstaking assembly (anyone still feeding each branch separately into the trunk?) and no add ons or options like an outlet at the treetop for light-up tree toppers. The reason we selected this tree from Balsam Hill was to show you just how realistic they've become. The trademarked True Needles are full and tapered at the end. Plus unlike real needles, you don't need to water this tree, the needles don't drop and are fire retardant. At zulily, we love products that make your life easier and artificial trees certainly reduce hassle and bring ease to your holiday. Normally this 7' unlit tree is $399, but it's on sale for $199. There are advantages to unlit trees too. Lots of people like to pile on the lights and string them themselves in certain ways to highlight certain ornaments.
Fun fact: Remember, if you forget to take off and store an ornament from your artificial tree, says survey respondent Brandy Yearous, you'll still have it next year! It won't be lost!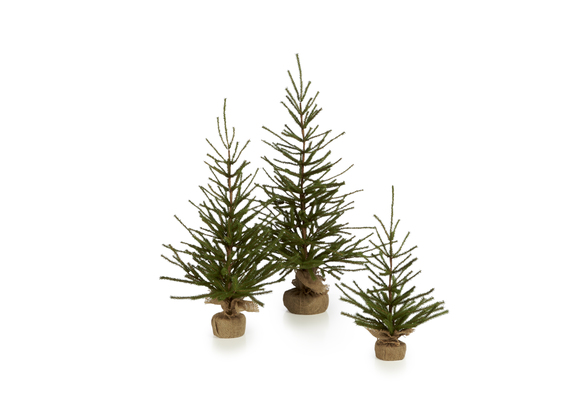 3. Woodland Feel
Of those surveyed there were two things people missed most about live trees. The first was the scent, which can be easily remedied by buying handmade candles in a pine or fir fragrance. Second? The thrill of hunting for a tree with the family. But as one family wrote in: "We still go to the tree farm and have the experience of eating candy canes, drinking cocoa and walking through the trees," says Karin Arnold Manning. Give your local farmers patronage by buying boughs or an indoor wreath that you can place decoratively in your home and enjoy the benefits of the fresh green fragrance this way. These burlap-wrapped, unlit trees provide a really natural feeling, and come in three different tree heights no taller than 4' to accommodate smaller spaces. The Valencia family said that though they had many opportunities to upgrade their artificial tree they keep it humble, like a "Charlie Brown" tree, to remind them of the reason for the season.
Decorative Trees:
Decorative Christmas trees are all the rage, and as you look at these from Treetopia, you can see why: They immediately evoke a fun, playful emotion.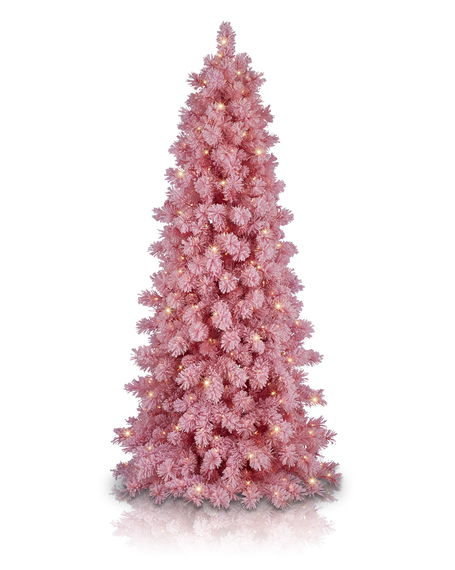 4. Flocked
For anyone who remembers the flocked Christmas trees of the '60s... they're back! And we think they look better than ever. Everyone knows that typically flocked trees will cost you, but this one is an incredible value, normally $428, it's on sale for $258! Its full and lush appearance will command a room.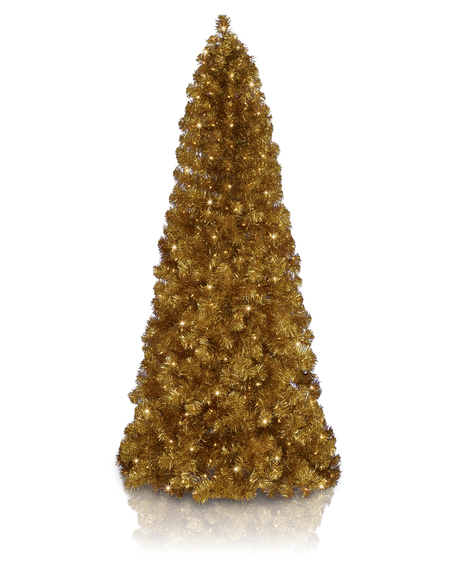 5. Go for Gold
Metallic trees really add pizzazz and sparkle to your home decor, giving you that old Hollywood glamour. This gold slim style, 6' tinsel tree (normally $238, on sale for $138) is great for small spaces and does come in three heights: also 4' and 7.5.'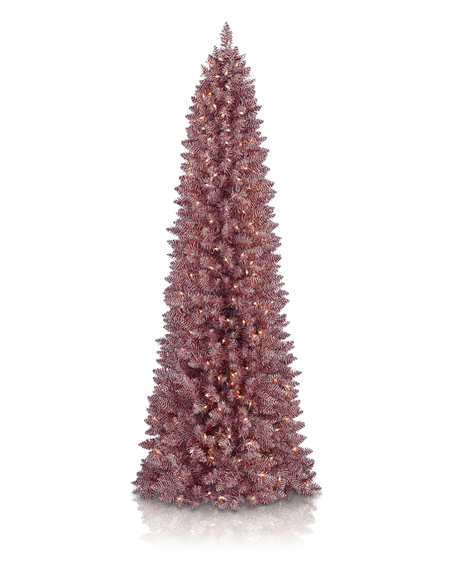 6. Starlight Mint
Whereas lots of people do white trees, this is a little twist -- like a Christmas peppermint candy in white and red. It only comes in 7' with a slim 30" across silhouette, so again great for tighter spaces, and a brand new color combination that really makes a statement. Normally $248, on sale for $158.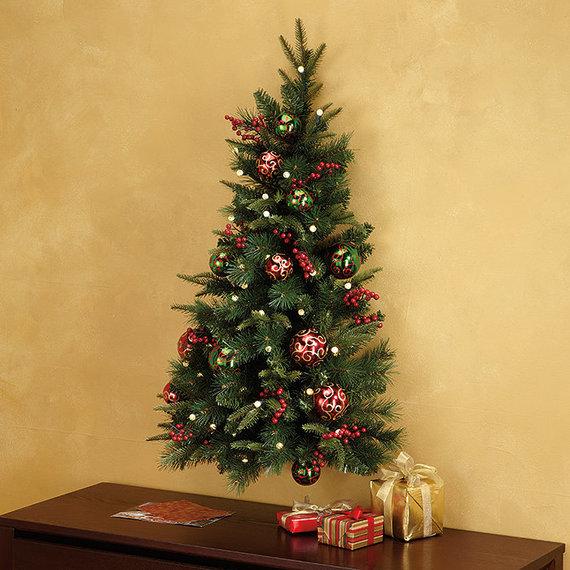 7. Wall Tree
Some trees come in very small packages. For folks with limited square footage to decorate like an apartment or condo who still want a tree, this is your ideal solution... this new pre-lit and pre-decorated hanging wall tree from Brookstone. It hangs on the wall, it's cordless and powered by batteries. You set a timer and it stays lit for six hours and then it's off for 18 hours. Even if you have plenty of space, you could put it in an entryway, above a buffet or over a table for a festive holiday look without compromising space. Normally it's $129.99, but it's on sale for $90.99.
A checklist of what you should look for:
Shape and size: measure your wall height and space BEFORE you go in-person shopping or ordering online. People typically buy too big, and once you get a fake tree, you're stuck with it. Generally fake trees come in the following sizes... pencil, slender/slim, medium and full.
Style: just like with live trees, you'll have choices of trees like fir, spruce, redwood, etc.
Color: consider the hue you want. Think like Kermit: there are so many shades of green. And beyond that, you'll be dazzled by pink, blue, metallics... and even black ombré!
Density: how full or spaced out do you want your branches? Your needles?
Take a small box of ornaments with you that are medium to heavy in weight. Check for drooping factor as different trees have different branch and tip strength.
Extras: comes with lighting -- and how that lighting turns on, on/off foot pedal, electrical connection for tree topper, if the stand has wheels so you can roll your tree around if you wish and move it from room to room, if storage bags are included or if the company expects you to put it back into the box it was manufactured in.
A longer warranty like a 10-year versus a three-year or five-year, may be an indicator of a higher quality tree.
*Sale prices reflect press time.