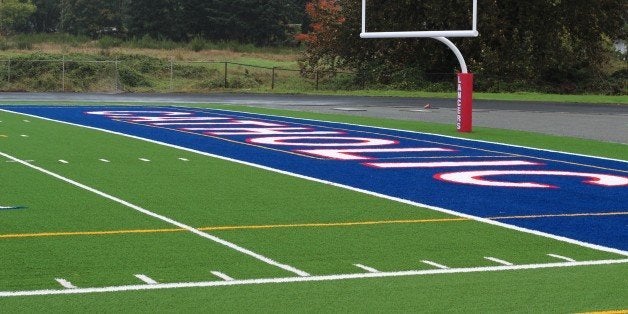 Massive bags of tiny black rubber crumbs, the remains of some 40,000 old tires, lined the parking lot of Kennedy Catholic High School in Burien, Washington, earlier this week. The fake dirt was all set to be unloaded onto the school's brand-new synthetic turf sports field. But Mike Prato, principal of Kennedy Catholic, put a last-minute halt to the plan.
"We've been waiting 48 years for this field," Prato told The Huffington Post, "but we need to be sure we're providing a safe environment for our student athletes."
Prato's surprise move comes in the wake of an NBC Nightly News report last Tuesday concerning the potential health hazards of so-called crumb rubber, a key ingredient in approximately 10,000 synthetic turf fields at schools, parks and professional stadiums across the country.
The Huffington Post reported on the issue in May, when Amy Griffin, associate head coach of the University of Washington women's soccer team, came forward with her suspicions about the black bits. A number of players in her soccer community had been diagnosed with rare cancers. And as word spread, her anecdotal list of cases grew. It now includes dozens of current and former American soccer players, many of whom are goalkeepers.
Griffin can't prove a link, but she and other advocates know that the coarse sand-sized pellets can carry a number of carcinogens. Which has led to questions: Could breathing in gases released from a hot field, or ingesting the rubber particles, or frequent contact between skin and turf play a role in the illnesses? It makes sense, they say, that goalkeepers would bear the brunt of the risk: They spend more time on the ground, in closer contact with the crumb rubber, compared to other players.
Athletes who spoke with HuffPost recalled having no health concerns at the time they were playing on the new generation turf, which is designed to simulate natural grass in look and feel. Green plastic ribbons are suspended in a deep, cushioned layer of the recycled tires. Many state laws prohibit burning tires, or even disposing of them in landfills, because of the potential release of toxic chemicals. So reusing them is economically and environmentally an attractive option.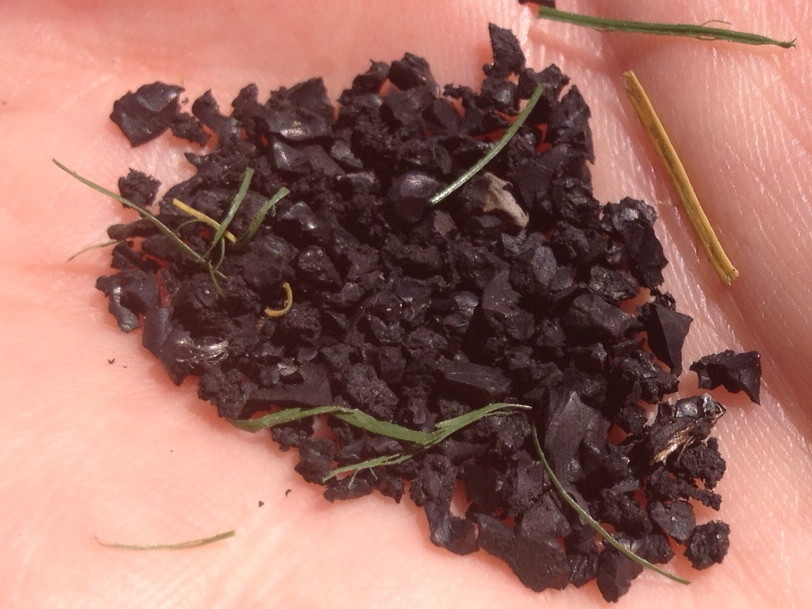 Crumb rubber contains carcinogens, warn advocates. (Lynne Peeples)
Industry representatives maintain that the ingredients in their synthetic fields pose no health concerns. "As NBC factually reported, 'There is no research directly linking crumb rubber exposure to cancer,'" the Synthetic Turf Council said in a statement.
Dr. Joel Forman, a pediatrician and environmental health expert at Mount Sinai School of Medicine, agreed that "there is not evidence to rely on regarding cancer risks," but he also underscored "significant gaps in the data." He called the crumb rubber a "potential" cancer risk.
"The fact that it's not proven doesn't mean it's not true. It's just really hard to prove," he said, noting the difficulty in accurately measuring a person's exposure, especially when cancer can appear years or even decades later. The cancer cluster highlighted in the film "Erin Brockovich," for example, was never definitively proven.
"Sometimes you can't wait for more study and have to make choices that are precautionary," he added.
That sense of caution is starting to gain ground in the minds of coaches, parents and athletes across the country and across a range of sports. And Prato isn't the only one changing his plans.
Jay Gillian, mayor of Ocean City, New Jersey, stated this week that, due to health concerns, he had "discontinued the planned project" to install crumb rubber at a stadium in his city.
Similar concerns have also added fuel to a fight over the upcoming Women's World Cup, to be held next year in Canada. Unlike the Men's World Cup, which was played on real turf, the women's games are scheduled to take place on synthetic fields.
The health concerns have only surfaced recently for Prato, as well. "At no time did it ever dawn on me that this infill could have properties that would make it harmful to students," he said, noting that all the vendors he met before choosing the turf for the school had offered the same crumb rubber infill. Now, the possible danger is a topic of dinner-table conversation at his home. Prato said his seventh-grade daughter reminded him how she often finds the black bits in her hair, nose and socks after a practice or game.
Despite the inconclusive information currently available, Prato said that he felt he had no choice but to spend the extra $20,000 on an alternative infill. Nike Grind, which is made of ground rubber athletic shoes, is set to be delivered to the school on Friday. The product's marketing materials tout used shoes as a non-toxic choice, noting that they are "subject to and routinely tested for compliance with stringent consumer product chemistry standards that far exceed the requirements for sports surfaces."
Especially in a climate like that of the Pacific Northwest, synthetic turf can make a lot of sense. Its durability allows for year-round, all-weather use for more players. And that can mean more exercise and healthier kids.
Forman noted that he sees kids suffering from the complications of obesity every day.
"It's a balance. Each community needs to think through this on their own," he said. "My greatest concern is for younger kids playing on these fields. They are more vulnerable and have greater contact with the recycled tire infill ... Alternative infills, which haven't been rolling down the roads the way tires have, do seem like a better choice."
The traditionally wet weather has meant Kennedy Catholic's grass field was never in shape for varsity competition. On Oct. 23, Prato said, the Kennedy Catholic Lancers are scheduled to play that long-awaited first home football game.
"We were willing to not play if we didn't have the right infill," said Prato, choking up as he talked about the messages he's received from parents thanking him for his decision. "It was an easy call."
Popular in the Community