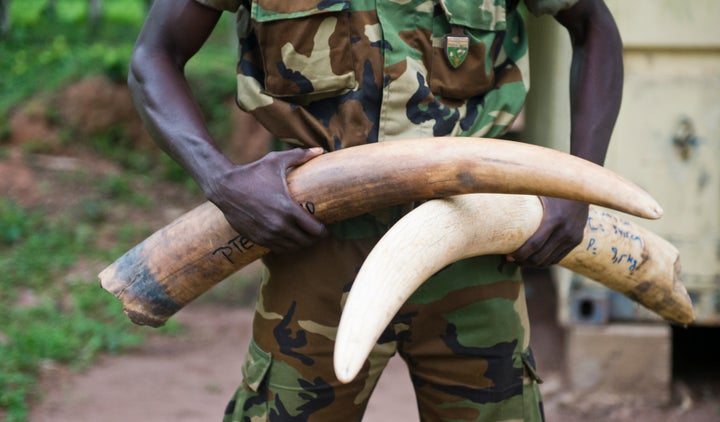 Each year, tens of thousands of African elephants are killed for their tusks by poachers as part of the ivory trade, which continues despite being largely illegal. With more elephants being killed than born in recent years, it is estimated that the species could be extinct within just a few decades. With park rangers struggling to fend off the poachers, solutions to the problem have been difficult to come by.
In an effort to get to the bottom of the illegal ivory trade, the National Geographic's Bryan Christy had an unusual idea.
Christy approached taxidermist George Dante at the American Museum of Natural History and asked him to design fake elephant tusks that closely resemble those the U.S. Fish and Wildlife Service had previously confiscated. The fake tusks would be equipped with GPS and satellite-based tracking capabilities, allowing Christy to follow the tusks' journey and, potentially, gather information to help officials locate and identify poachers.
Christy documented the tusks' journey in a lengthy National Geographic cover story and a documentary. The tusks were inserted along a route Christy understood would take them out of Garamba National Park. They continued into the Democratic Republic of the Congo. The tusks went on to Central African Republic and wound up in the Darfur region of Sudan, where they were last tracked.
The tusks' path corroborated interviews Christy did claiming that militias and terrorist groups were behind much of the ivory trade in East Africa, particularly Joseph Kony's Lord's Resistance Army.
The What's Working Honor Roll highlights some of the best reporting and analysis, from a range of media outlets, on all the ways people are working toward solutions to some of our greatest challenges. If you know a story you think should be on our Honor Roll, please send an email to editor Joseph Erbentraut at joseph.erbentraut@huffingtonpost.com with the subject line "WHAT'S WORKING."