The shape of traditional makeup brushes are what we should really blame for common beauty mistakes. We cram too much product onto the stiff, flat bristles, only to end up over-powdering our faces or drawing on exaggerated eyebrows.
Not only is this a classic example of bad makeup application technique, but it is such a waste of money.
Matthew Waitesmith, a longtime makeup artist and educator and Artis founder, has always stressed the importance of how products are applied. "The same set of products can give a result that looks like a glamorous cover of a magazine or can make someone look like a circus clown," he told HuffPost Style.
As such, the former senior vice president at MAC Cosmetics "felt it was time for a better way to apply makeup." Waitesmith set out on a mission to reinvent the tools not just for professionals, but for novices, too. His results are nothing short of spectacular.
The first 10-brush Artis collection, called Elite Mirror, was released last May to much fanfare for its mirror finish and curvy design. Last month, Waitesmith unveiled Fluenta (pictured below), a more linear collection inspired by the shape water takes as it flows over an edge ("fluenta" comes from the Latin word meaning "flowing water.").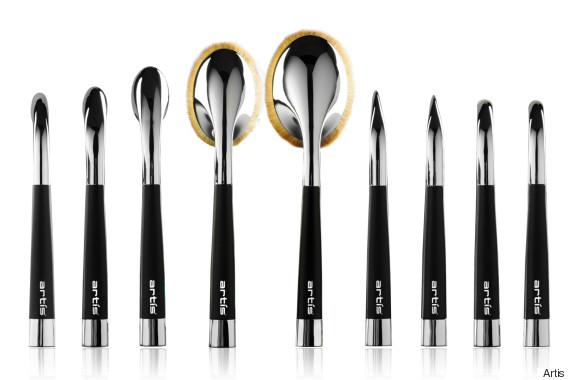 All Artis brushes have futuristic-looking, perpendicular fibres that are actually based on ergonomics. "If you didn't have a brush to apply an eyeshadow, for example, you would place the pad of your index fingertip onto the powder surface and then replace that finger pad on your eyelid and move it sideways. That same ergonomic approach is how and why Artis brushes are designed the way they are," explained Waitesmith. He added, "The fibre bundle shapes in the collection (ovals, circles, lines) are the shapes I would use to draw a face on paper, so why not have the shape of the brush match the shape you want to draw on the face during makeup application?"
The design, coupled with the CosmeFibre (a patented man-made fiber that feels as soft as teddy bear hair) and easy-to-grip handle, allows for better control and precise application. "You don't need to keep picking up and applying more and more product, and you don't need to keep bouncing the brush up and down onto the skin in short strokes. You just need to relax, and glide the fibers continuously across the skin surface lightly and gently. Like the brush is ice skating or floating just on the surface of your skin," said Waitesmith.
So what's next for Artis? Waitesmith has a collection in the works based on the shape and curve of the human finger. "The finger is the first tool an artist had to create, and it is pretty remarkable in its abilities," he told us. "A tool should make something easier to do, not harder. And it's time the makeup brush did the work."
Shop the Artis Elite Mirror Collection ($32-$350) at ArtisBrush.com and the Fluenta Collection ($36-$400) at select Neiman Marcus stores and NeimanMarcus.com.
Artis provided samples for review purposes.
Related
Before You Go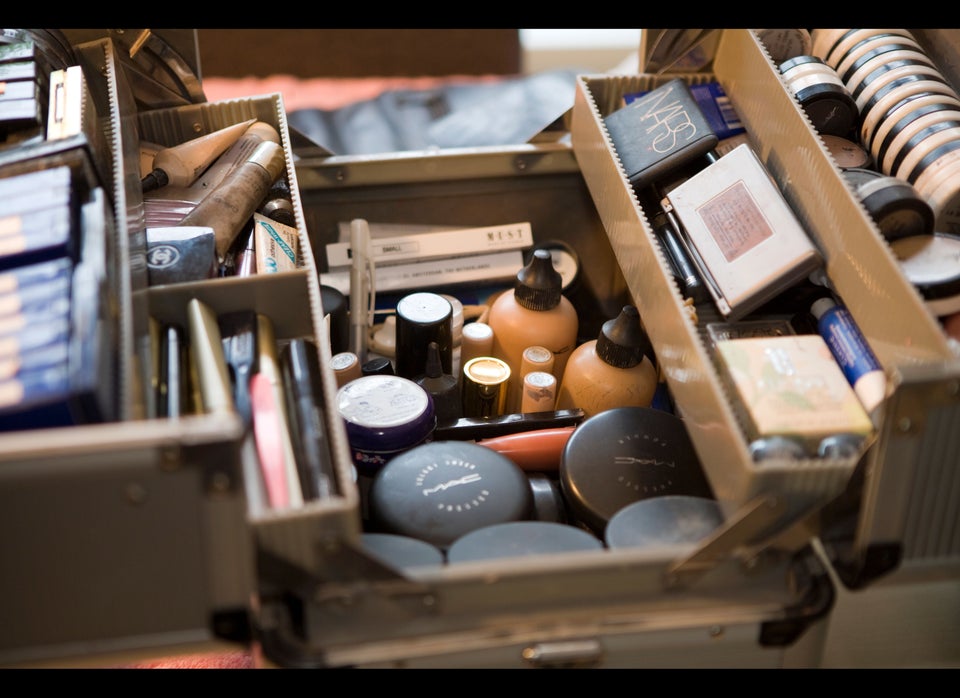 10 Ways To Store And Organize Your Makeup