Peruvian-born clothing designer Violeta Villacorta has been focusing on sustainable design since 1993. National and international magazines and the MOCA Geffen Museum in Los Angeles have showcased her signature bohemian eco-clothing collection, and she has dressed luminaries in the music and film industries. With ORG by vio, she combines her love for design, fine handcrafted adornment, the environment and indigenous culture by working in collaboration with Amazonian rainforest artisans.
Villacorta started paying attention to global issues as a student at the United Nations International School (UNIS) in New York, which she describes as "pro-creativity, pro-multiculturalism, pro-higher consciousness, pro-alternative thinking." This background inspired her to create a sustainable handcrafted clothing line in 1993.
Villacorta became involved with Amazon Watch in 2000 because she wanted to work with communities that had been affected by extractive industries such as gas, oil, timber, and gold mining. Amazon Watch, a leading nonprofit, has been working to protect the Amazon Basin and indigenous rights for more than two decades. Executive director Atossa Soltani is a "primary inspiration," and Villacorta continued to contribute financially to the organization when she accepted a coveted role as senior designer at Patagonia, a position she held for six years.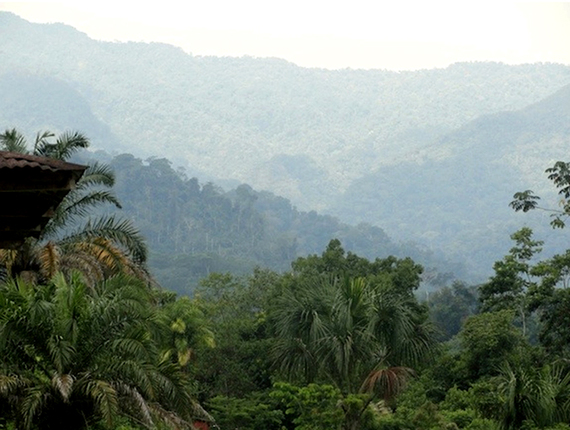 "Peruvian Rainforest" -- Designer Violeta Villacorta's friend and inspiration Atossa Soltani, founder and executive director of Amazon Watch, has been championing protection of the Amazon Basin and indigenous rights for two decades, leading successful campaigns to convince oil companies and international financial institutions to adopt stronger environmental and social standards. "Atossa Soltani's dedication to the protection of the Amazon and its peoples is inspiring, powerful and unwavering." - Violeta Villacorta
Villacorta spent most of 2009 looking inward for inspiration. "In the stillness, I listened for insights that would guide me to my true purpose and mission," she says. "At the United Nations International School and the Fashion Institute of Technology, I was immersed in a richness of cultures and global awareness. Although I adopted a green consciousness early in my personal and professional life, it was no longer enough to create earth-friendly goods or live 'green.' I was moved to incorporate my values and skills in work with indigenous Amazon communities -- especially women."
The 2009 Bagua massacre, in which 33 Peruvians were killed and hundreds injured while peacefully protesting to protect their tribal land resources, triggered Villacorta's calling. She transcribed "countless hours of footage that was so graphic and so painful to watch and hear for her friends at Amazon Watch and emerged even more determined to work directly with affected communities, "within my creative realm, rather than through political activism." ORG by vio was born.
"I knew I needed to use my skills and somehow work for the Amazon jungle and work with these talented women," she says. "The women are like family, like sisters. They have so much talent and so much to offer. To give them another alternative through the creative field was something that really interested me, and doing something creative with them that brings in money to the community is beautiful."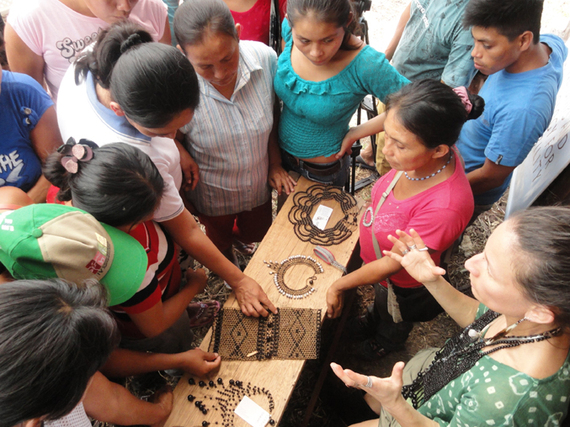 "Violeta Villacorta with Amazon Women" -- Designer Violeta Villacorta works with Yanesha women of the Palcazú Valley, Perú, a place she describes as "a beautiful gem in the middle of the Peruvian rainforest," during the group's first workshop and the community's first bio jewelry collaboration. She describes the trip as a "wonder-filled journey into Yanesha Territory."
Through ORG by vio, Villacorta shares tools that allow women in indigenous communities to maintain their traditions while creating income and livelihoods. She works hand in hand with the artisans, in person on location and virtually, emailing sketches and designs for collaborative projects and featuring their original works on her website and others.
Her goal is to bring together communities that have been exploited. "Extractive industries send in people with talents of persuasion who tell convincing stories," Villacorta explains. "Some love the promises, and some don't want any part of it, and the friction can really tear the communities apart." Villacorta believes that "the creative force is a unifying energy."
In 2010, Villacorta began working on creative artisan projects with the Cofán or A'i people native to the Napo Province in northeast Ecuador and southern Colombia, whose ancestral land, community health and social cohesion have been severely damaged by several decades of oil drilling. In 2011, she visited the Awajún community in Peru and began collaborating with women artisans who create jewelry and accessories from seeds and other plant fiber materials.
Blending elements from multiple cultures to create a look she calls "bohemian chic," Villacorta loves the use of seeds from Amazonian jungle plants as well as plant fibers, managed wood and other plant materials. She is also looking forward to working with natural tree rubber.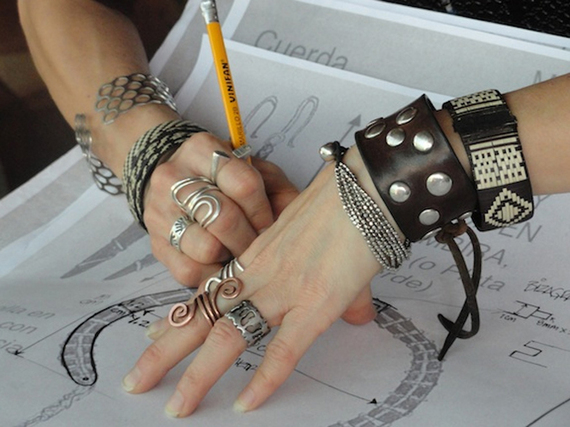 "Violeta Villacorta Working on Designs" -- Violeta Villacorta working on designs for Yanesha Bio Jewelry Project
The versatile ORG by vio collection can be worn with a wide variety of looks -- from jeans and a shoulder-baring top to simple, elegant ensembles by designers such as Eileen Fisher or edgy super-stylers such as Stella McCartney. Villacorta would love to see the collections, especially the higher-end jewelry, in stores such as Fred Segal, Anthropologie and Barney's.
"I'm a big-city girl," she says. "If I lived in the jungle, I would miss the city, but I also love the Amazon, which is true jungle heaven. So, in a way, my designs are also a blend of these two jungles."
The beads used to create ORG by vio wearable art are actually seeds from flowering plants, bushes, trees and vines native to the Amazon rainforest. "The plant world -- and jungles even more so -- is all about the spirit of abundance, so it is a designer's paradise," Villlacorta says. "When you're looking for colors and shapes and sizes to work with, there's never a lack of choices."
"The communities swap and buy beads from each other all the time," Villacorta adds. "Some beads have meanings, and others are just used because they are lovely to look at. The beautiful red bead with the little black dot is said to bring good luck, for instance. The one that looks like a deer's eye is given to people for protection."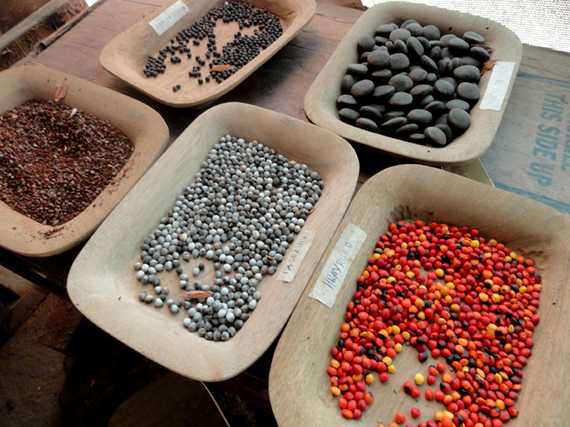 "Amazonian Seed Beads" -- The beads used to create ORG by vio wearable art are actually seeds from flowering plants, bushes, trees and vines native to the Amazon rainforest. "The plant world -- and jungles even more so -- is all about the spirit of abundance, so it is a designer's paradise. When you're looking for colors and shapes and sizes to work with, there's never a lack of choices." - Violeta Villacorta
Supporting women as they create something that brings respect and money to the community also helps create balance between genders. "In the past, in many of these cultures, men and women worked side by side," she says, "but once they were contacted by ministries, that really changed. Women were no longer respected and listened to."
During her meetings with the artisan communities, male leaders are still the most visible and vocal, Villacorta says, but women can attend, and when they do, they gravitate toward her. "The entire project really started because the women could relate to and trust another woman," she says.
As ORG by vio projects grow and thrive, Villacorta is witnessing something rare and remarkable. "The young people are hungry for their roots," she says. "They want to learn everything about their traditional artistry. They want to master the art and the craft of it. And while they learn they're also exposed to other precious traditional cultural concepts like shamanism and plant spirit, and they want to learn that too. More and more, they want to learn about the way of the jungle."
Elders, Villacorta says, are eager to pass on what they know. "The elders are very happy that young people are interested in what they have to offer again," she says. "They had been told that what they knew was not important any longer. No one wants or deserves to hear that." She feels "humbled and grateful" to be part of rekindling multi-generational reconnection.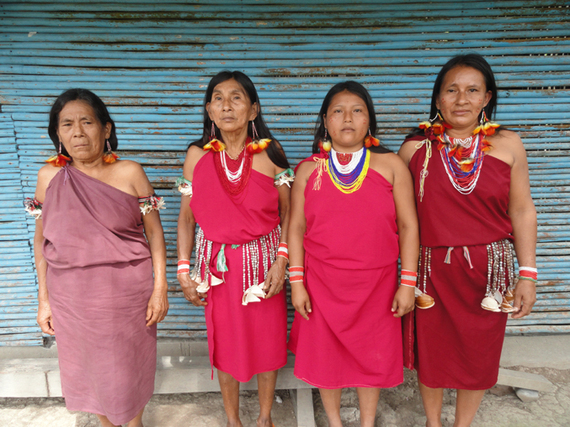 "Yanesha Artisans at workshop First Day, Yanesha Territory, Perú" -- Violeta Villacorta and many other established designers find inspiration in indigenous cultures all over the world, and she believes they should get more credit. "The cultures that conceived and developed these looks over hundreds, maybe thousands, of years seldom if ever receive any benefit from having inspired the designers. Many of these communities need our support." - Violeta Villacorta
Establishing sustainable chains of trade with indigenous women is an ambitious challenge to take on anywhere in the world. In the Amazon rainforest, it's more like an anthropological jungle adventure movie, with a femme power protagonist and a colorful cast of women and girls hoping to heal and protect the paradise they live in and steward. Though Peruvian-born, Villacorta is still considered "foreign" -- thus suspect -- and must rely on complex, convoluted channels of introduction when searching for ethnic tribal partners. Her big heart, intelligent sincerity, and focus on collaborative-based progress has opened many doors.
Despite the challenges, she remains passionate. "When we align ourselves with our true purpose, all the pieces fall into place effortlessly and the real work begins," she says. "I believe that the cooperation of people is an indispensable element of building sustainability and creating powerful opportunities and partnerships around the world."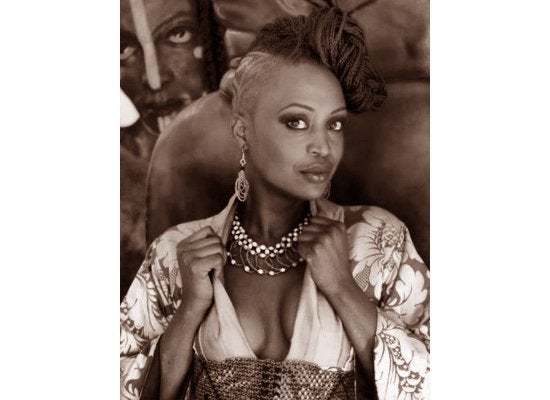 ORG by vio
ORG by vio stands for "Organic Rainforest Goods (ORG)" by "Violeta & Indigenous Organizations (vio)."
Related