You know what they say: One person's trash is another person's treasure. In recent years, artists working on the edge have been busy transforming discarded materials into wearable art. Through exquisite attention to detail, these artisans are able to make finely crafted pieces coveted by museum curators, celebrity stylists and private collectors alike.
But these collector's items aren't just interesting to look at; they are also conversation pieces that invite people to think -- and debate -- the bigger ideas of our consumer, throw-away culture.
"Metamorphosis" jewelry is showing up on Hollywood A-listers like Juliette Lewis, Tyra Banks, Reese Witherspoon, Sheryl Crow and Jessica Alba, and hipster green guys like Stephen Tyler, Steph Jones and John Leguizmo -- a great gift for the earth-conscious, style-conscious people on your list.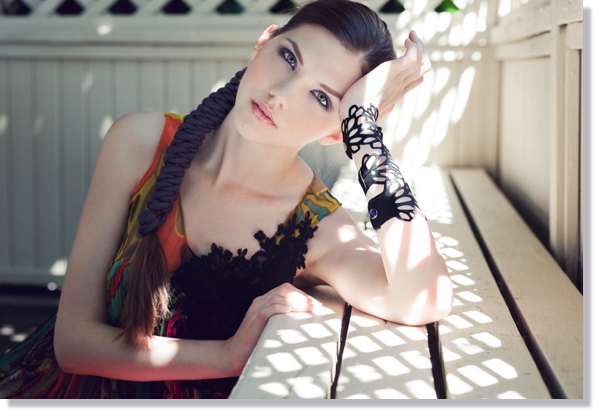 Every year, thousands of bicycle inner tubes wind up in landfills -- the lucky ones get reborn into wearable art by design team Aaron Shear and Barbi Touron. Tubes are the "perfect material for an artist who loves the unconventional," Barbi says. To keep the smooth, soft texture and luster, each one is carefully washed and coated in a special organic, plant-based formula.
Bonus: Each year, 3 percent of proceeds are donated to an earth-friendly nonprofit. Urban Lace Cobblestone Cuff; $30−$50 (pictured above)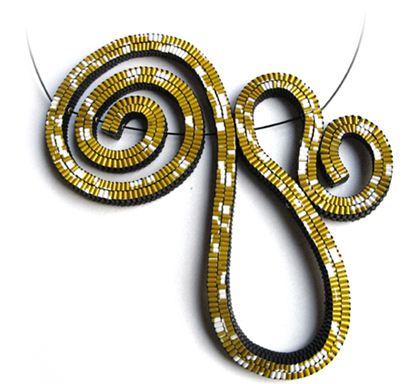 New York-based virtuoso Francesca Vitali began making museum-quality jewelry design after having begun a career as a chemist. She sees her jewelry work as a kind of poetic alchemy. Her pieces are made from recycled magazine pages and shopping bags, a transformation of "a humble and ordinary material" into "precious objects of original and modern design."
Bonus: A clever visual cue for witty repartee at sophisticated soirees. Frucci Design Paper Curve Theory Necklace; $480 (pictured above)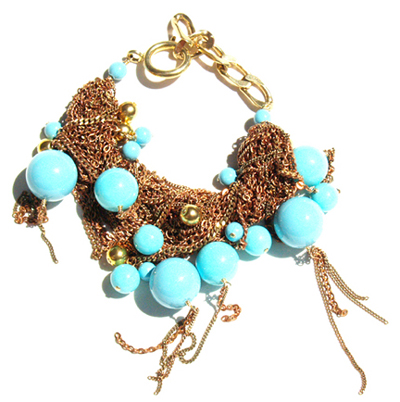 RAIDING THE JEWELRY CHEST
Nanci Bennett's "deliciously glitzy gobs" of sparkly chains and recycled baubles are recreated out of reclaimed heirloom cast-offs. They're handmade, one-of-a-kind punk-chic masterpieces that take to concept of "(re)living in excess to a whole new level."
Bonus: Styles the stars are sporting is a great gift for those in the know. Sid Vintage Upcycled Turquoise Bead Vintage Bracelet; $240 (pictured above)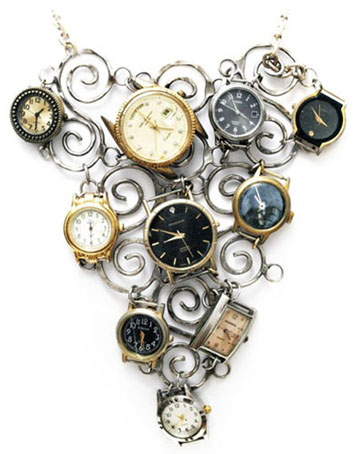 Micha Kuechenhoff creates sensational "haute couture conversational pieces" from recycled findings, such as these broken watches collected around the world, but made by hand right here at home.
Bonus: Steampunk is all the rage, and no two pieces are ever alike. MD Micha Design It's About Time Bib Necklace; $289 (pictured above)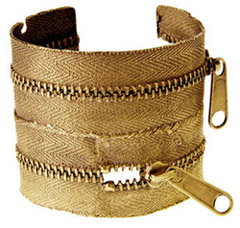 Husband and wife design team Dara Gerson and Ashley Lowengrub believe this cuff "brings a bit of rocker whimsy to any outfit." Cuffs are handmade in Los Angeles from reclaimed metal and fashioned using a mold created from discarded zippers.
Bonus: Every month, a portion of sales is donated to a different charity. Alkemie Jewelry Large Zipper Cuff; $209 (pictured above)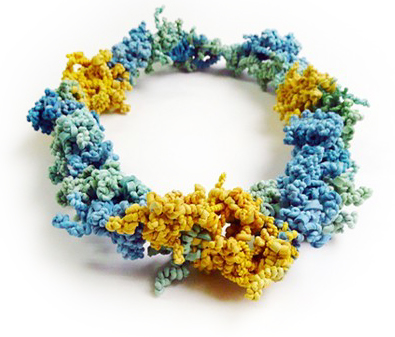 M2 is the fashion venture of New York City architect Margarita Mileva (milevarchitects.com), who creates jewelry from obsolete office supplies. Her remarkable sculptural pieces offer extraordinary new perspectives on ordinary items.
Bonus: She makes brilliant dresses, too! M2 Arizona Dream Rubber Band Bracelet; $85 (pictured above)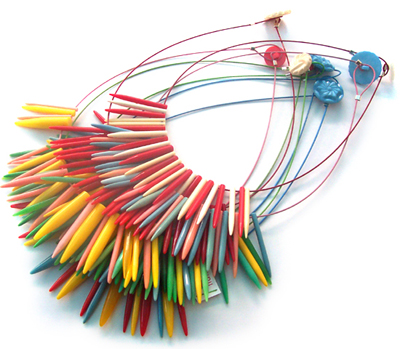 Liana Kabel rescues knitting needles and Tupperware cast-offs from flea market bins and turns them into one-of-a-kind, pop culture couture with a femme-punk wink. With a Tupperware Lady mother and a jeweler father, she says, "What else was I destined to be but a jeweler obsessed with plastic?"
Bonus: Requests for custom color combinations and concepts are welcome. Liana Kabel Knitwit Necklace; $120 (pictured above)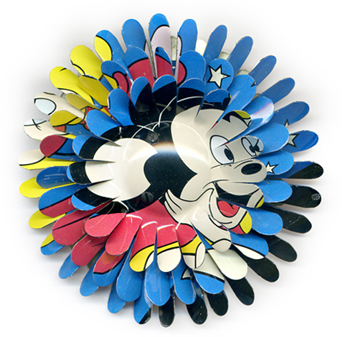 Harriete Estel Berman's focal point pins raise the question, "How much of our own identity is derived from what we consume and why we consume it?" In this case, a custom brooch was created from a recycled tin depicting Mighty Mouse, an early superhero famous for singing, "Here I come to save the day!"
Bonus: Mementos reborn from nostalgic relics make great gifts. Harriete Estel Berman Custom Request Mighty Mouse Brooch; $470 (pictured above)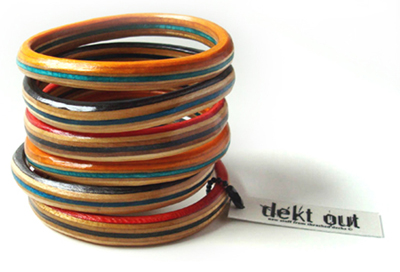 In a previous life, these texture- and color-rich bangles were trophy decks. According to re-maker Pam Farren, that's skater speak for "a board that was broken while doing a really cool trick."
Bonus: Cleverly crafted keepsakes mean fewer boards in dumpsters. Re-Maker Trophy Dect Out Bangles; $27.00 (pictured above)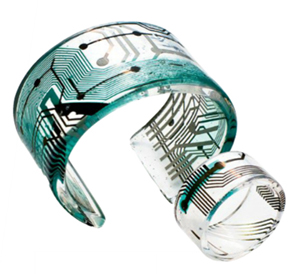 Like it or not, we are all dependent on ones and zeros. But with technology evolving so rapidly, where do all the obsolete parts go? Paola Mirai has developed a transparent, super-light casting material to preserve and showcase the esoteric aesthetic of yesterday's circuitry.
Bonus: An excellent choice for the eco-chic geek on your list. Cirkùita Upcycled Cyber Jewelry; rings $150, bracelets; $240 (pictured above)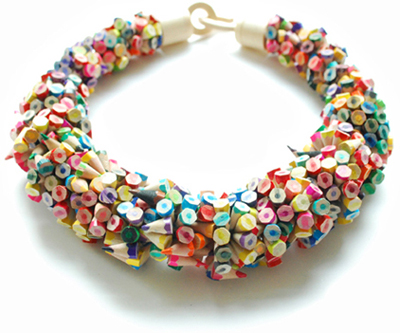 Iris Tsante (iris-tsante.com) transforms used colored pencil nubs into flawlessly crafted contemporary jewelry. Her thought-provoking pieces explore "optimism, joy and innocence" juxtaposed with such qualities as "fragility and vulnerability."
Bonus: Gives "wearable art" a whole new meaning. Iris Tsante Pencil Tip Necklace, $1,485 (pictured above)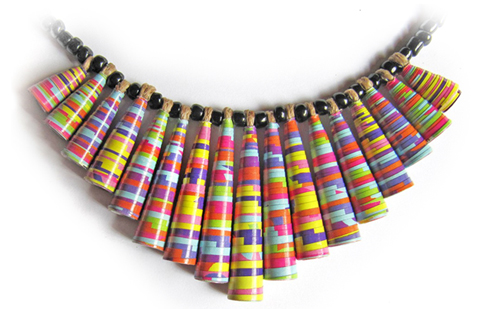 Shape-shifter Devi Chand transforms repurposed paper, salvaged beads and other unconventional materials into jewelry. She is fascinated by happy colors and sees them as "a deliciously sweet candy that's fun to have, any time of day."
Bonus: Happy colors inspire happy moods. Hippie Kingdom Up-cycled Sunday Comics Paper Necklace; $68.00 (pictured above)
Calling all HuffPost superfans!
Sign up for membership to become a founding member and help shape HuffPost's next chapter