For my parents, going to McDonald's felt like living in outer space. So clean! So cheap! So safe! So instantaneous! Within the time it took for Neil Diamond to sing halfway through "Sweet Caroline," you could order and receive a complete meal without exiting your car!
That was the last stage of the first phase of fast food. After "fast," it really had nowhere else to go. A few faint-hearted ventures into Diversityland and Saladland, but classic fast-food fans still want the same menu their forebears wanted when Superballs were new.
And classic fast-food franchises attract only a certain sector of the populace. A big sector, but still: For those millions who would rather starve than bite into a Bonus Jack, "fast food" does not exist. Their brains are wired to block it out. Place them, desperately hungry, on a street dotted with Taco Bells and Burger Kings and they will wander, arms flailing, until they starve to death.
It's weird how the intersection of food, speed and convenience went from being a high-class thing (Wonder Bread as the pure, perfect, pre-sliced alternative to rough, hard, rise-and-punch-for-five-hours home-baked bread) to being a low-class thing.
But artisanal foods, too, can be "fast." Advances in technology are transforming the field, making luxuries such as small-batch coffee and forbidden rice with sun-dried mangoes instantaneous or nearly so.
That rice, served with seared marinated tofu and seasonal patti-pan squash, is on today's menu at SpoonRocket, a brand-new Berkeley, CA-based startup that delivers chef-prepared gourmet meals to customers' doors in an average of ten minutes for a grand total of $6.
"We make our food in batches so that it's hot and ready in our vehicles and delivered as soon as customers order. The only latency is the actual traveling time -- as soon as customers place their order, it's on the way," SpoonRocket's co-founder Anson Tsui told me.
I met Tsui and his business partner Stephen Hsiao a few years ago when the 2009 UC Berkeley grads launched an earlier food-delivery service. Now executive Chef David Cramer and the rest of the SpoonRocket team develop an ever-shifting array of sophisticated menus: Another of today's options is roasted organic chicken breast stuffed with oyster mushrooms, ricotta cheese, lentils and summer root vegetables, served with marble-sized new potatoes and heirloom carrots. It's a far cry from the Big Mac, and it's fast.
"Our chef decides on what items to make based on whatever ingredients are fresh and in season," Tsui explained.
He and Hsiao "have always appreciated good food and, coming out of college, we didn't really have any real skills -- so opening a restaurant seemed to be the most obvious step to take, since we wanted to start a business and food is something that everyone has some knowledge about. Then we went to do more research about food and nutrition, going as far as being raw vegans for months at a time, and that's when we realized how poorly people are eating. That's probably also why three-quarters of the U.S. population is overweight. We wanted to change that."
SpoonRocket is the newest and fastest version of Fast Food 2.0, a gourmet-ized hybrid of classic fast-food franchises and home-delivered restaurant meals. Other outfits deliver upper-level food directly to customers, albeit usually into their mailboxes: The Hungry Globetrotter International Food of the Month Club delivers boxes containing nearly all the components of a different ethnic meal each month: sauces, spices, grains. Subscribers need add only fresh produce and/or dairy and/or meat. THG also sells mail-order gourmet gifts such as the Africa Impact Box (whose contents are depicted below), containing rarities from far afield, with a portion of the proceeds benefiting the Freedom from Hunger charity -- just as a portion of SpoonRocket's proceeds benefit the UN's Meal Matching program. This social-justice aspect holds a keen appeal for the Whopper-dissing crowd.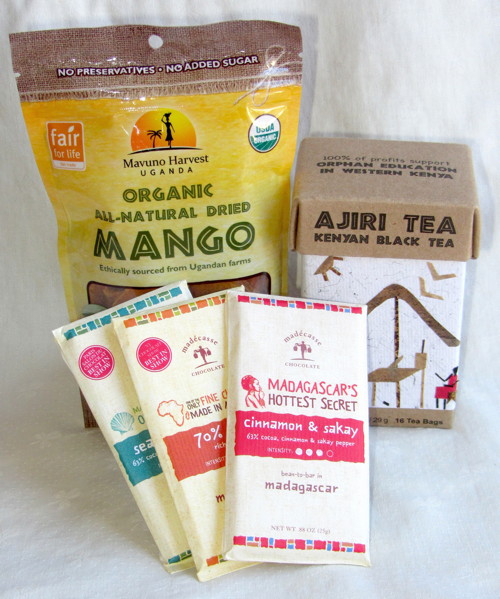 Meanwhile, Peet's Coffee & Tea just launched Single Cups, sold in supermarkets and designed with a specific dose of artisan-roasted international coffee per cup and a distinct measured-to-the-micron grind parameter, packaged with a mesh-like patented RealCup filter designed to let essential coffee oils enter each single serving. It's not instant coffee, as is Starbuck's VIA. But it's rich and a lot faster than a trip to the nearest café.
"Peet's selected the RealCup technology because it produces the best cup of coffee possible -- one that we are proud to put our coffee into and deliver to Peet's fans," Peet's COO Shawn Conway told me.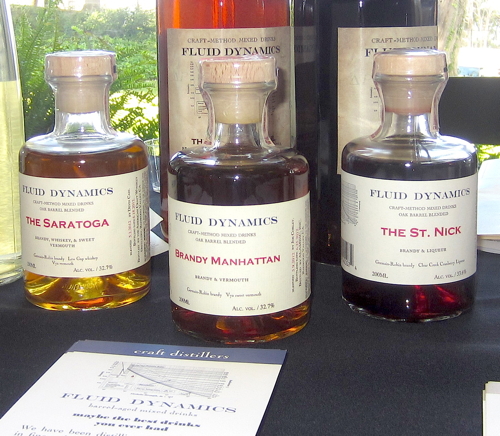 Add this to other new concepts such as luscious pre-bottled cocktails from OM and Fluid Dynamics, and Hot-Can's self-heating cans of coffee, tea, cocoa and soup. (Pressing a button on the can allows water to enter its heating chamber, which contains quicklime. This heats the can without ever touching its contents. A dot on the can changes color to indicate readiness.)
"Fast food is a little bit like the 'default' option to feed yourself when you don't have much time or money," says SpoonRocket's Anson Tsui. "It's easy to get a cheeseburger for a dollar and be full. However, none of this [typical fast] food has much nutrition. We want to make healthy and nutritious food more accessible to people so that the default thing people should be eating is always something that is good for them.
"Obviously, it would be great if everyone on the planet were raw vegans -- it'd be great for people and the environment, but that's not going to happen, so SpoonRocket is trying to bridge that gap and transition people towards healthier eating."
Photographs by Kristan Lawson, used with permission.