Downtown Los Angeles is growing into a mega-art mecca destination point for art enthusiasts and collectors--and not just for the monthly Downtown LA Walk held on the second Thursdays of the month, which continues to draw crowds. But Chinatown and the Downtown Arts District, located on different ends of downtown, offer visitors and collectors authentic art immersion
Mat Gleason--art critic, native Angeleno, owner of Chinatown's Coagula Curatorial who lived in Downtown for decades, first at the historic American Hotel above Al's Bar (the punk rock dive which hosted the likes of Black Flag, the Red Hot Chili Peppers and Beck, and then at the Brewery, the world's largest active art commune--took a group on an exploration of Chinatown and the Arts District. The tour, sponsored by SpringHill Suites, was designed to open our eyes (and tastebuds) to the evolving Downtown Art scene and remind us that art is everywhere. As part of their program to support the art communities throughout the world, SpringHill Suites recently launched a website, Artiseverywheregallery.com, which aggregates all photos and posts with the hashtag #artiseverywhere.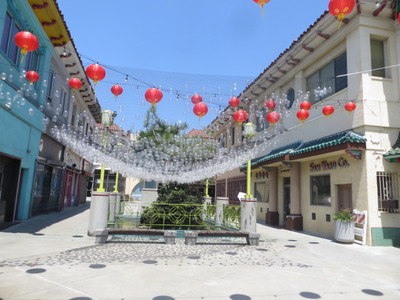 First stop on the party bus was Chinatown where Gleason explained the area's history: Chinatown was the first condo development in Southern California, with families buying buildings with unit retail units on the first floor and apartments above. Chung King Road, the least touristy section of Chinatown, features over half a dozen galleries, plus artists' studios (and some of those artists include Devo's Mark Motherbaugh and Zach de la Rocha from Rage Against the Machine).
Before we explored the street art in the Downtown Los Angeles Arts District, we hit Eat Chego, where fusion chef Roy Choi has elevated street food to an art: French fries with spicy sambal sauce, pan-Asian rice bowls, succulent meatballs atop tofu.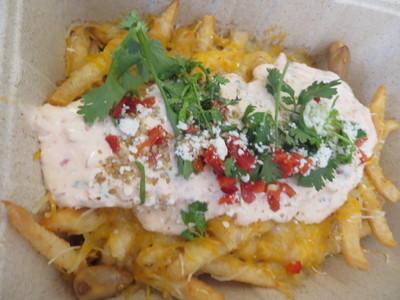 Gleason's old stomping grounds in the Arts District have changed quite a bit since he lived at the American Hotel. Rooms that rented for $350 are now $900 (and the shared bathrooms are down the hall ). The people talking to themselves in the 80s and 90s were crack addicts and the homeless; now the person mumbling to seemingly no one is jabbering to their blue tooth about press runs and color corrections.
One of the biggest changes--aside from the arrival of juice bars and yoga studios--is the number of murals in the Arts District: ROA, Shepard Fairey, UTI, Mr, Cartoon, and Dabs & Myla are just some of the renown muralists in the Arts District. While some murals date back to pre-development, many are less than a decade old. With the new Los Angeles City Mural Ordinance, passed in 2013, more will be painted--and some will be painted over. Ironically a block's worth of street art risks removal because the international gallery, Hauer, Wirth & Schimmel, purchased a group of buildings and plans to create a giant gallery complex, which could mean the loss of the exterior walls featuring several hundred feet of murals.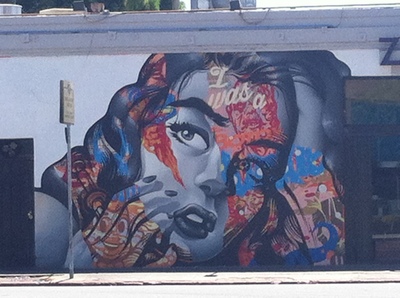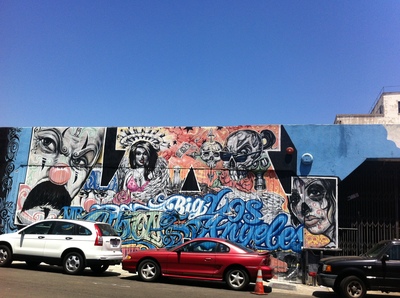 While Hauer, Wirth & Schimmel will end up being the largest gallery in Los Angeles, they weren't the first the Arts District. Both District Gallery and Art Share L.A. showcase a variety of work. District Gallery focuses on local artists in their cozy space, while Art Share L.A. is a mixed use space with live/work lofts, classrooms, a theater and large gallery which during our tour showcased the private collection of Tara Thomas (owner of Traxx Restaurant in Union Station) which featured a wide selection of California artists.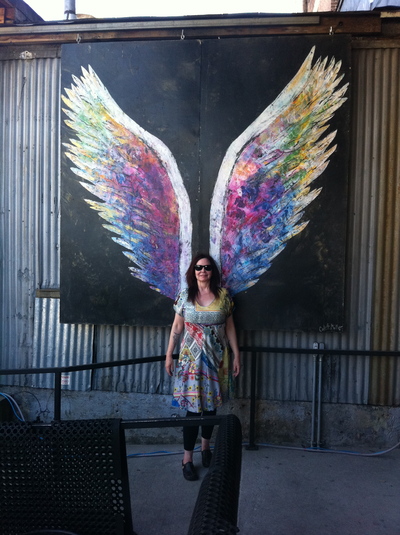 The final stop was Angel City Brewery where the art of beer brewing and giving back to the community are central concerns. We tasted four of the brewery's drafts ranging from a light wheat beer to a dark, heady beer aged in bourbon casks. Angel City Brewery is creating an organic beer with hops grown on their rooftop, and donates to local charities and supports local arts organizations as well as holding art-centric benefits in their 100-year old building.
The hidden art of Los Angeles--galleries tucked into alleyways, murals that appear overnight on walls, cross-cultural food mash-ups in mini-malls, colorful graffiti on freeway overpasses--can revealed by taking a stroll, even if it's not a one guided by Mat Gleason. And if you have your phone or camera with you, upload those images to celebrate our city's art and remind others that #artiseverywhere.