In an era where the scales of justice may seem to act more like an unpredictable teeter totter, it is refreshing to come across a creative beast as inventive as Naomi Pitcairn. The Southern California-based artist-activist-free speech proponent wears a number of Change Agent hats, however over the last few years, Pitcairn has garnered attention for her site-specific works of art, dubbed Chalkupy.
Pitcairn is not the first human to coin that word, nor is she the only one who has taken elaborate chalks to the streets, and, more specifically, public spaces to make a bold statement—from the political climate to the civil rights, or lack thereof, of Indiginous Peoples.
She says she has been performing Chalkupy events since 2011, mapping our various designs to a town square's pavers, and using the existing grid as a guide as well. To that end, Pitcairn uses a fascinating handmade giant compass, triangles, T-squares, snap lines and something called Eternity Chalk—it boasts the most colors.
"Anyone is welcome to participate by either working on the big picture with us or to do their own thing," she says. "We bring chalk, water and music for everyone who participates."
But Chalkupy is just one curious element of this unique Change Agent. She happens to be a brilliant artist, overall, and her commitment to activism seems beyond adventurous—from standing up for the rights of formerly detained Chelsea Manning to peaceful protests at Standing Rock.
Pitcairn shares her journey with me in another another episode of "Mystics in a Chat Room" (above).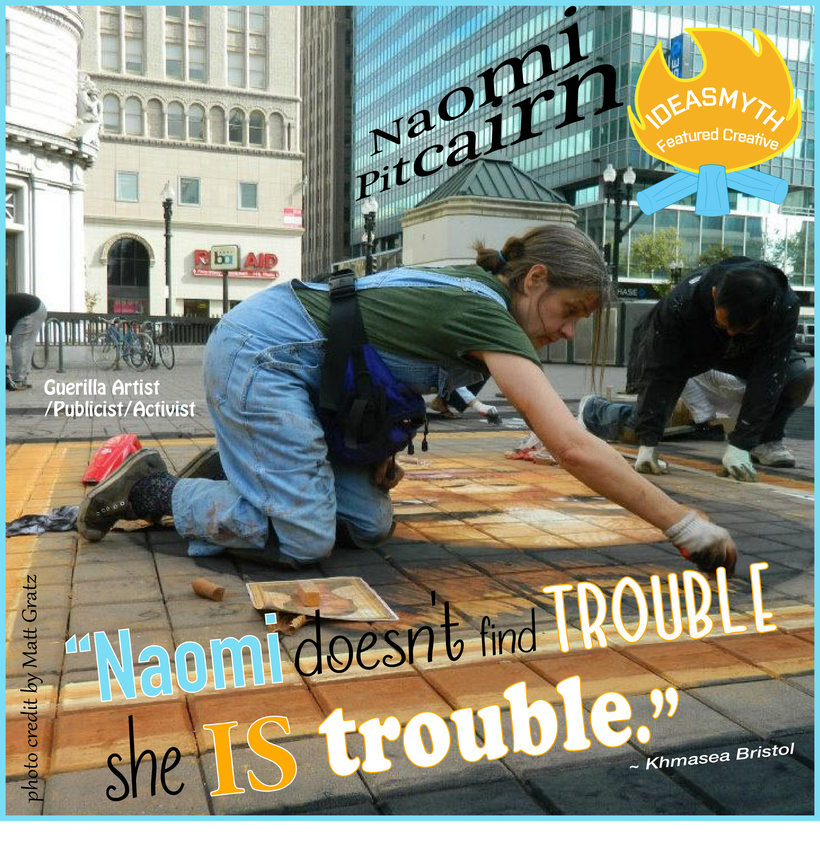 Learn more about Naomi Pitcairn here.
REAL LIFE. REAL NEWS. REAL VOICES.
Help us tell more of the stories that matter from voices that too often remain unheard.
This post was published on the now-closed HuffPost Contributor platform. Contributors control their own work and posted freely to our site. If you need to flag this entry as abusive,
send us an email
.