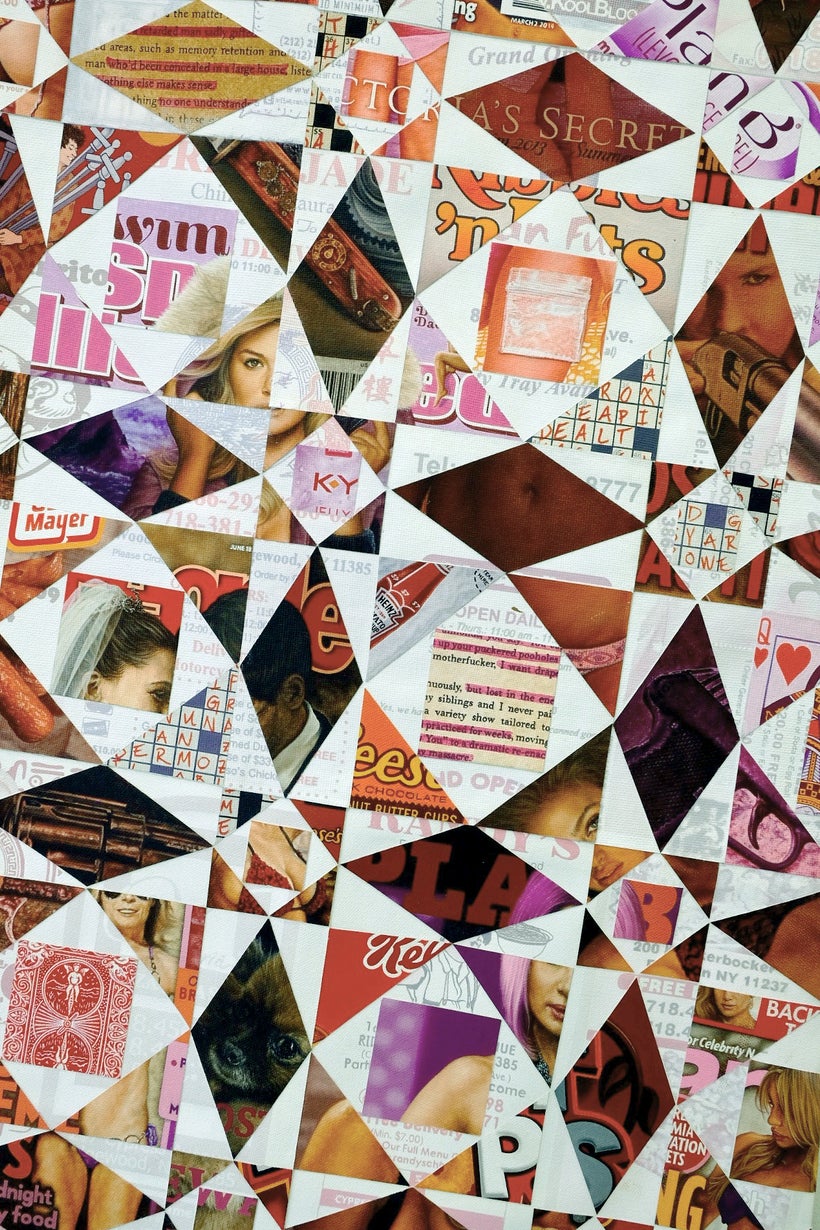 I felt like I was looking at a life puzzle; the unusual anatomy of a soul in distress, but however anxious Adam Krueger was when he divined the pieces for his show EN CAUL, recently on view at Kin & Gold, the first of many to come in this initial quiet BOOM of their independent pop-up exhibitions, he meticulously worked his way through the impasse. Fortunately, for Krueger he was able to use the natural opioid of is artist hands and mind, spelling out the SOS of pain he had been in after a break-up. It is through the minutia of everyday life activities and objects du jour that the details by which we all sieve through our life moments come to be recognized as something other than ordinary. Acting as vessels these objects we come in contact with sometimes become meaningful in ways we are unconsciously associating our feelings with and what seems to be mundane innocuous materials become symbolic markers, telling the secrets of our lives. In the case of "EN CAUL," smartly named as it is the web that rare babies are born with, the mundane becomes iconic through the very skilled and meticulously expressed hand of Krueger.
The artist with curator and gallery owner Jenny Mushkin-Goldman walked me through the exhibit and because of the charcoal grayness of most pieces, a colorful one in the center called "SECURITY BLANKET" was the first one that called my attention. I stared at what seemed to be a folded blanket with small little paintings of fractured moments chronicled into its fabric, cut elegantly into a perfect shape of drapeiness on canvas.
"Everything is kind of revenge oriented in a way, dealing with a breakup and people that you want to remember but don't really want to remember. It's like idealizing these different situations of loss in a way. I started gathering imagery. Things that I would do on my own. Reading books or crossword puzzles, whatever magazines I would look through. But, you know, at the same time throwing in a little bit of emotion, such as torture moments. I actually started working on this when I was still in a relationship which I knew wasn't good. And in order to deal with it I just shut myself off and just focused on making these little paintings. The paintings are only a few inches square and the background, all the white parts are take-out menus from either the Lower East Side or Brooklyn… in order to distract yourself you use magazines, Instagram, you know anything, Cheetos or Reeses, etc…"
It is a fragmented portrait of a break-up…A perfect micro world of Krueger's experience mapped over a course of time.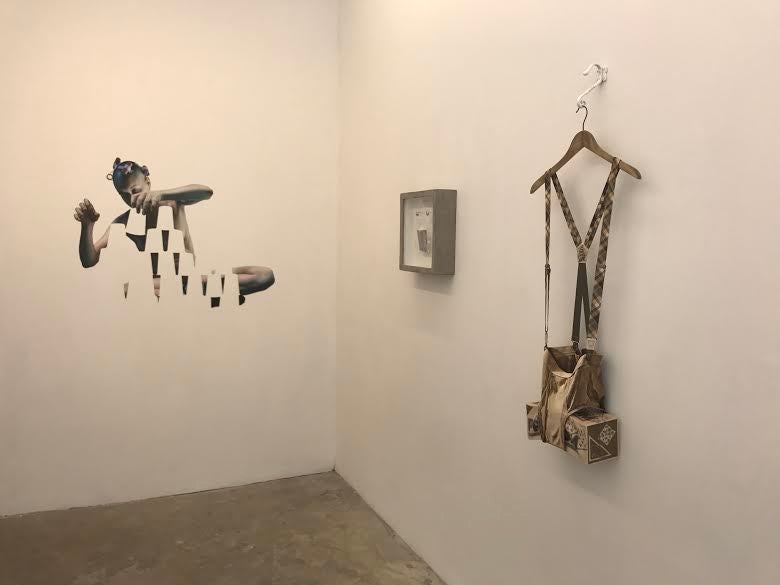 We move on and I am compelled to look at a perfectly rendered drawing of a shower drain with hair in it. I can't help remembering myself at Krueger's age seeing blonde hair in my shower at the apartment I once shared with my then boyfriend and then taking the camera I bought him for his birthday and swinging it around my head and hammering it against the wall like a maniac. All of that flooded into my brain in a mere nano-second. Hmmmm…the whole show brought me back to the craziness that was then and made me laugh and shake my head.
A bald woman with curlers is building a fort with cups on the back wall. Krueger explains that it's an oil painting , that he cut out and then glued to the wall giving the effect of a mural. "So the negative space is a sort of barrier which we talked a lot about at this show. Something to protect ourselves from getting hurt. So it's doing an ineffectual act of self-display, it's like "I'm performing look at me," but at the same time you're hiding yourself because you need to create this distance so you can't get hurt or judged or something."
Moving on, a pair of quite perfectly constructed sepia lederhosen are suspended from a hanger. Krueger tells me that he started it about 6 weeks prior to the show. It's something I want to touch and I ask for permission. Gently I run my hand over the soft squishy surface. "So this is all tattooed silicone. I've been dealing with. Yeah so parts are squishy and parts are solid. But I wanted that droopiness factor to kind of relate to the hanger and the sagginess of the underwear but dealing with the Trump era and the idea of "white privilege," I don't know what to create anymore. I am this person, am I ashamed?" Like how am I supposed to feel about this right now? I want to help people and kind of disassociate myself from Trump and what people think that I am."
The conundrum of being white represented by the cracker box that might be empty or full and what kind of "cracker" are you anyway? Are all too present during this fragile time requiring reflection.
"It's a struggle. And I feel like I'm kind of strapped into it and so I started thinking about the idea of a strait jacket. The suspenders alone took him 70 hours to do. It is an amazing piece of representation.
What I find so lovely about Krueger is his intensity and the need to perfect the presence of his vision, no matter how long it takes or how arduous. He wants so much to talk with the viewer in that silent way that can only be expressed through the commitment to give everything he is, with everything he's got to his work.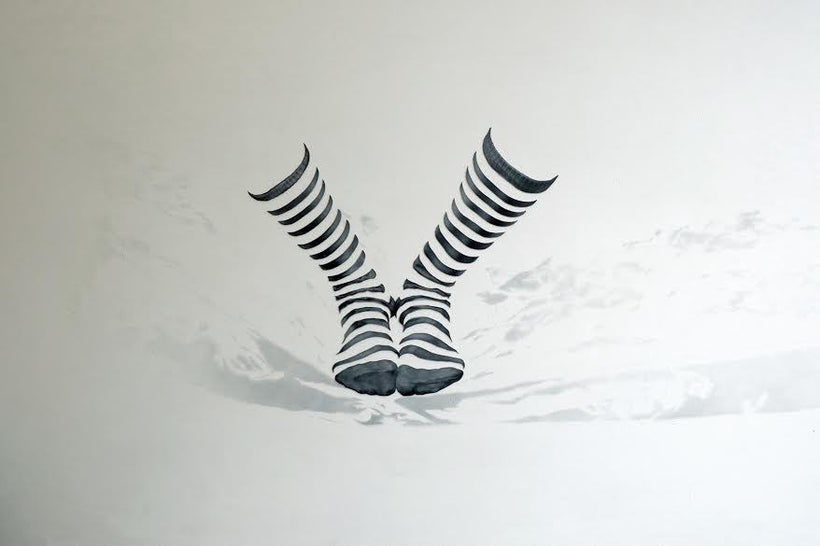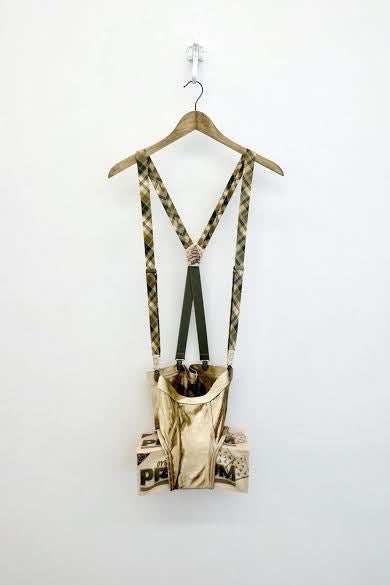 REAL LIFE. REAL NEWS. REAL VOICES.
Help us tell more of the stories that matter from voices that too often remain unheard.
This post was published on the now-closed HuffPost Contributor platform. Contributors control their own work and posted freely to our site. If you need to flag this entry as abusive,
send us an email
.