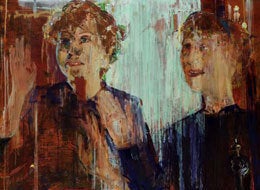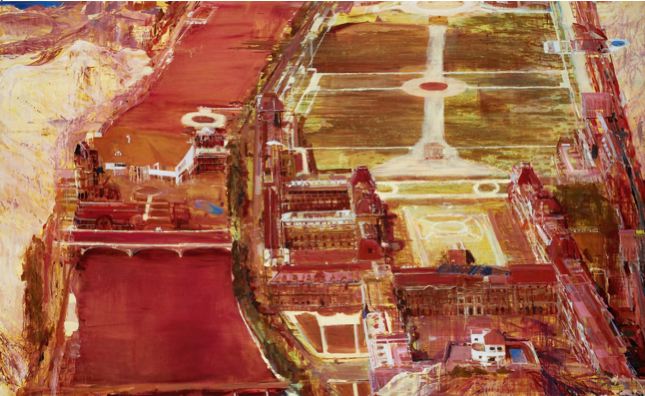 Angela Dufresne, The Bruno S Island Acting School and the S House, Paris, France, 2006, oil on canvas, 66 by 108 inches. Courtesy of the artist and Monya Rowe Gallery, New York.
Committing oneself to being an artist is fraught with uncertainty on so many levels --the subjectivity of success, the schizophrenia of the solitude needed to create and then the exhibitionism needed to reveal-- but within the act of creating, the artist exerts total control. She plays God. And if that means rewriting history too, all the more powerful. Given the last seven years of this administration, where we're more likely to spot bumper stickers that say "He's Not My President" than flag pins, it is refreshing to encounter artists who also take history-- any history-- into her own hands.
In Angela Dufresne's work, she uses art, literature, architectural, and geographical references to recreate history with oil paints and canvases. Her enlivened, bold pastels and rapid brush strokes overhaul the Louvre with new architectural and geographical features as in the "Bruno S Island Acting School." Liz Taylor ascends Dufresne's painted staircase, replacing Duchamp's famed nude. Tonite, with her show "The Twilight of Mice and Men", she takes on John Steinbeck. With humor and fluidity, Dufresne's paintings recreate the present and past so that we (or she) can handle what the future brings.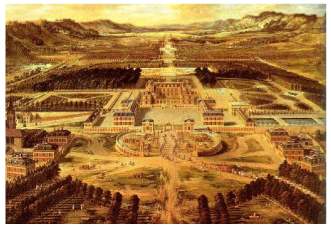 Drawing of Versailles, http://academic.brooklyn.cuny.edu/history/dfg/core/c4-iv.htm
Kimberly Brooks: How did you personally come to reworking and rewriting history in your work?
Angela Dufresne: It was 1999- I was in Paris at Versailles and was nauseatingly looking around at the Coat of Arms everywhere-the room restorations turns out are paid for by American Investors- another layer of the Skull and Bones classicist need for [Americans] to belong to the European Aristocratic image... Anyway, I realized at that moment: "Screw the cultural history that has been shoved down my throat- I'm making my own." That meant creating my own coat of arms, my own genealogy....populated bastardizations of people and moments I deemed important. It also meant formally- a new set of criteria for meaning and balance.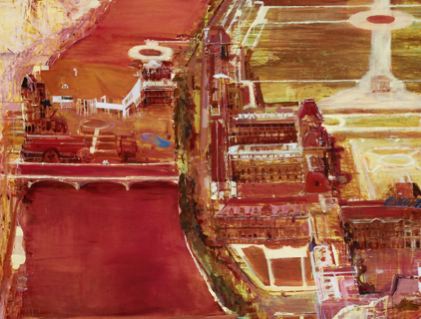 Angela Dufresne, DETAIL: The Bruno S Island Acting School and the S House, Paris, France, 2006, oil on canvas, 66 by 108 inches. Courtesy Monya Rowe Gallery, New York. KB: So this "bastardization" led you to erect and paint the Bruno S Island Acting School into the blueprints of the Louvre?
AD: Definitely. "The Bruno S Island" is a renovation of the Louvre with new buildings dedicated to the actor Bruno S of the Herzog Films. I say renovation because it's an improvised alteration- intuitively altered with Bruno S in mind--with the forms of the Louvre in mind. Out of the marks came the acting school and residence plopped onto the courtyard and a new island over the Seine with modern architectural improvements not to mention a palette overhaul.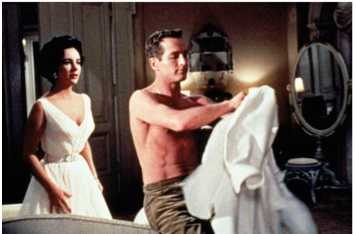 Elizabeth Taylor in "Cat on a Hot Tin Roof"
KB: What inspired you to replace the Du Champ's Nude with Liz Taylor?
AD: I don't think Du Champ should be exempt from bastardization...anymore than anyone else- actually I think he'd enjoy it- he is after all the master of bastardization- I mean, I consider him kin, not to be arrogant- but he gives all of us permission- so I wanted to acknowledge that I have taken his lead seriously. But also this is from "Cat on a Hot Tin Roof"...there's a politically progressive connection between Du Champ and this William's play though I am sure it's too tedious to describe here...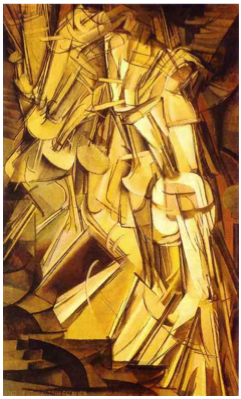 Marcel Du Champ "Nude Descending Staircase"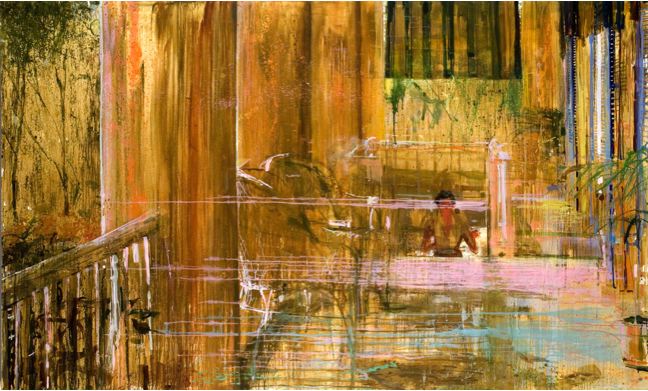 Angela Dufresne, "Liz Taylor Ascending the Staircase", 2007, oil on canvas, 60 by 108 inches, Courtesy of the artist and Monya Rowe Gallery, New York.
KB: As a painter married to a filmmaker, I love that kind of tedium. When did you start painting scenes from films anyway?
AD: Basically there's has always been a cinematic connection to the work; it's a bridge I have perceived from Giotto to Antonioni, from Bacon to Haneke, from Vuillard to Ozu. Framing, light, psychology that certain paintings have that translate back to film and vice versa. One could also say a documentary spirit that cross-pollinates from Alice Neel to films like "Grey Gardens" or "Harlan Country USA". Film and painting, though profoundly different, have been having a feeding frenzy with/on each other for the past century. To me film is like still life, its more real than most of our reality. Officially, just to answer your question, I did my first full-on painting from a film in 2002, but the work has its arteries in cinema.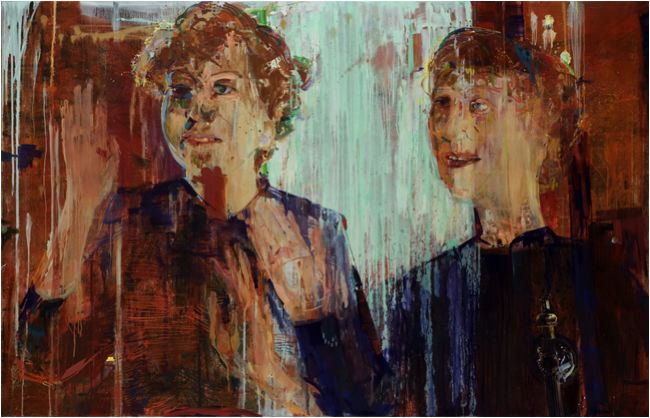 Angela Dufresne, The Two Ladies in The Jewelry Store From Fassbinder's 'Veronika Voss' - AKA 'The Oath, 2007, Oil on canvas, 54 by 84 inches. Courtesy Monya Rowe Gallery, New York.
KB: If you read this column regularly, you know that any artist that mentions arteries and cinema in the same sentence is just trying to butter me up. So I must know more: what genre of film intrigues you most as a source of inspiration for your paintings?
AD: There is no one genre- I try to avoid genres. I like maverick directors, Joseph Losey, Haneke, Fassbinder, Apichatpong Weerasethakul, Cassavetes, Gus Van Zant. Those who are willing to take on issues like class, sensuality, neurosis, perversion, fear, love, self consciously but without inhibition.... Also films that are less refined or packaged, but I feel the same about paintings. For all these things Fassbinder is god, he above all understood how to transport his audience into the real time of human emotion, but self-consciously, so he's Brechtian and Aristoltlian together at last. I hope my paintings achieve something similar. I still don't think anyone has come along that has made a more interesting cinematic achievements than him, the Zant may surprise us all...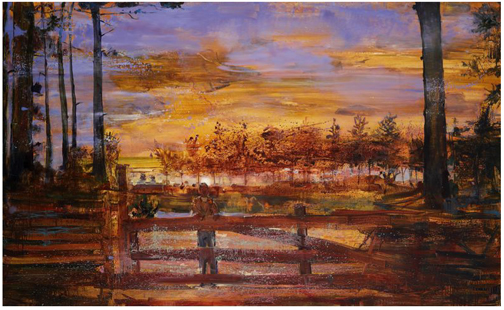 Angela Dufresne, "Man-Boy at Fence" (from 'The Yearling'), 59 by 97" (5 by 8 feet), Oil on canvas 2008, Courtesy of Monya Rowe, New York and Kinkead Contemorary, Los Angeles
KB: In a clear nod to Steinbeck, you have a show opening tonite at the Kincaed Gallery in Los Angeles "The Twilight of Mice and Men". How is the current series different than your last?
AD: There is a sort of "Grapes of Wrath", Great Depression feel to the paintings, the light in the work has gone full on twilight, but this was an organic process, unplanned. I titled the show after taking a bird's eye view of the works in the studio. I can't really say how "different" it is, the work is always evolving, changing, but these paintings have their strength in their raw power, their immediacy, their execution is hyper-raw and visibly present, they are unrefined assaults on the senses, perhaps even more so that prior bodies of work. It is also a very figurative show, which to some may seem different but in fact I have always been making paintings of the figure, though some of these pieces are paintings made immediately from life, in combination with film stills. But as I said before, these are the priorities I have, it seams essential to me that paintings have such immediacy.
KB: Do you have a favorite artist or work of art?
AD: Too many- but I saw this painting by David Park recently in D.C. and thought- now that's love.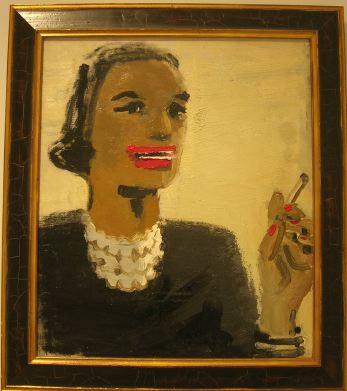 David Park, National Portrait Gallery.
Angela Dufresne's work has been the subject of numerous international solo and group exhibitions. Her recent and upcoming group exhibitions include "Painting The Glass House: Artists Revisit Modern Architecture" at The Aldrich Contemporary Art Museum, CT; Yale School of Architecture, CT; and Mills College, CA in 2009. She is currently part of a group show "Get up off our Knees" at the Monya Rowe Gallery through June 7th. Her solo show "Twilight of Mice and Men" opens today at the Kinkead Contemporary." -- First Person Artist is a weekly column by artist Kimberly Brooks in which she provides commentary on the creative process and showcases artists' work from around the world. Come back every Saturday for more Kimberly Brooks. You can view more interviews and essays at www.firstpersonartist.com.
Calling all HuffPost superfans!
Sign up for membership to become a founding member and help shape HuffPost's next chapter