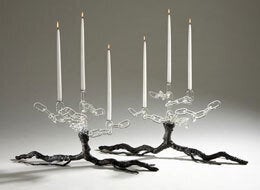 I am fascinated by artists who find themselves and their art careers later in life. Unlike, say, mathematicians and scientists who allegedly peak before 30, artists tend to mature and get better with age like a fine wine. Take, for example, Wassily Kandinsky, who in 1895 was minding his own business as a law professor at Moscow University, when he saw the nearby French Impressionists Exhibition and felt outraged that Monet felt he had the right to paint things in a way that made the subjects not perfectly recognizable. Cut to: one year later, he comes home all dressed in his knickers, throws his leather briefcase on the kitchen table and says to his wife, "Honey, pack up the house and the kids--I'm quitting my job, we're moving to Munich and I'm going to be a painter." Kandinsky, of course, went on to be a leading theorist and practitioner of abstract painting. Another example is Henri Rousseau who retired from his job as a tax collector in Paris at age 49, had never left France or visited a jungle in his life, taught himself to paint, yet left the world with such renowned images as the "Snake Charmer".

Left: Kandinsky "Abstract" Right: Rousseau's "The Snake Charmer"
I believe being an artist is a calling, and if it is inside you, it is always there, scratching and clawing to find a way out. I also believe that most people have one inside them-- that your hairdresser really wants to be in a rock band, your lawyer is a frustrated comedian and the postman is secretly a poet. It takes guts to let it out; to make that transition. For those who do it later in life -- and don't just sail from high school to an art major to MFA, etc.-- there is a particular sweetness to the final product; one that radiates the texture of the circuitous path, the passion necessary to pivot and the essence of arriving toward one's truest self.
One such artist who made that leap is former advertising executive Kathy Taslitz. If not in a Rousseau painting, her limited edition art pieces might appear exactly in the part of Maurice Sandak's Where the Wild Things Are when after being punished and sent to bed without supper, Max's bedroom turns into the the jungle. She just opened the doors to her studio to showcase her limited edition works in Chicago a few weeks ago.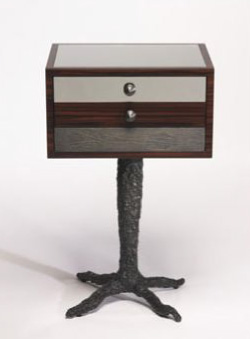 Kathy Taslitz. Truth, 2007 Blackened bronze, Macassar ebony, and mirror
Kimberly Brooks: I'm fascinated by the path you've taken as an artist. In college you majored in communications major, became a successful ad executive and now are making art and living as an artist. Was it something that you were harboring in you all along and then finally came into? Or was it a sudden urge that overtook you and you just followed it?
Kathy Taslitz: Yes and no. I have always thought there was something more I needed to do creatively and put forth that had never been satisfied. I wasn't sure what it would be until I began creating these pieces. I knew I had a voice that hadn't been expressed. This series of works--"Pieces of Ourselves"--has a point of view. It tells a personal and global story about the human experience.
KB: In your bio you mention that you're the daughter of an artist. Can you tell a specific story of working with him/her and how that influenced you?
KT: My mother is an artist that has worked in various media. I remember one day when I was five or six, she took me to the studio where she painted and I had my own canvas to paint as she and the other artists painted theirs. Afterwards, there was a critique where I felt very encouraged. She always had her supplies around the house and let me work with them while she did.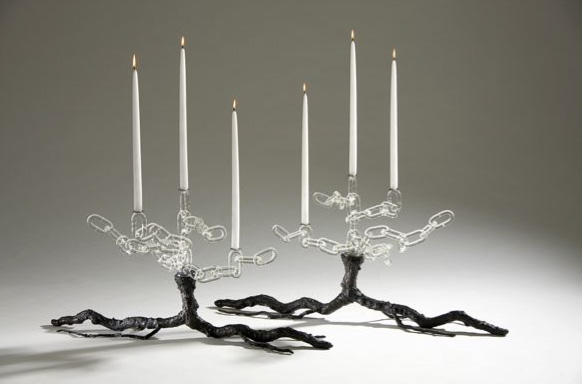 Kathy Taslitz, Family Chain, 2007, Blackened bronze, glass, and stainless steel
KB: What is the genesis of your first collection, "Pieces of Ourselves"?
KT: Pieces of Ourselves is a collection of sculptural furniture that grew out of my love of nature and my regard for the stories and truths it offers us. I wanted to bring timeless ideas about nature and experience into modern, human settings. Family Chain, for instance, stresses the strength and stability of roots in the ground, but I hope it also relates the power of partnership, connection, reach, light.
Kimberly Brooks: How did "Old Leaf" come about?
KT: When I walk in the woods or on the beach I am always inspired. But there was one day when I was particularly contemplative, and my senses were very acute. I was struck by the leaves that had fallen to the ground, by their dignity, and by their ability to impart strength and wisdom through the simple act of letting go. I knew that was something that would remain momentous in any setting.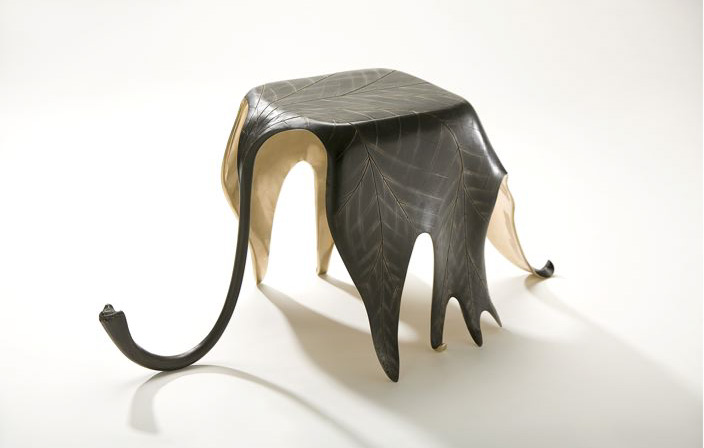 Kathy Taslitz, Old Leaf, 2007, Blackened bronze and polished bronze
KB: How do you transform an idea into these sculptures that double as furniture?
KT: The great sculptor Henry Moore said "To know one thing, you must know the opposite." I love that. I am fascinated by both nature and modernity, and though we tend to think of them as opposites, being human really means living out this duality--life is the quest to do this well and gracefully. First I'm inspired by a specific expression in nature, and then I start to sketch that inspiration, but as I work, I move toward making the forms I see in the natural world tangible in some new, modern way. I gravitate toward materials like bronze, glass, and aluminum, which have a very urban quality. To the extent that I have a routine, it is this consistent openness to interesting combinations of forms and materials, and a progression from inspiration and a romantic sensibility to functional pieces that reveal an attention to detail and craft.
KB: Is there a work of art that inspires you?
KT: I have so many inspirations--Andre Breton, Salvador Dali, Alberto Giacometti, Rene Magritte, Henry Moore, Juan Miro, Isamu Noguchi, Man Ray. For as long as I can remember I've felt a strong attachment to surrealism, which shares the view that nature illuminates our experience and enables us to tap into the subconscious and develop our self-awareness and human potential. I also love how the surrealists play with the familiar to forge new meanings. Magritte did this brilliantly in works like "The Son of Man."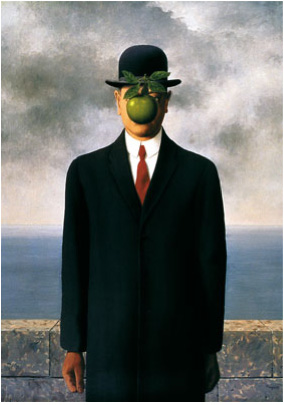 The daughter of an artist, Kathy Taslitz learned about the aesthetics of art and design early on. She pursued a communications degree at the University of Illinois. After graduating, she worked as an advertising executive and found herself drawn to the creative world as a photo stylist in the fashion and home furnishings industries. Taslitz has been an interior designer for the past nine years, which informs her art practice. She is the winner of an ASID Illinois 2006 Designer Excellence Award. "Pieces of Ourselves" is Taslitz's first collection of sculptural furniture. Her studio is in Chicago, IL. Taslitz's recent show "Pieces of Oursleves" can be seen at www.ktaslitz.com.
--First Person Artist is a weekly column by artist Kimberly Brooks in which she provides commentary on the creative process and showcases artists' work from around the world. Her current solo exhibition "Technicolor Summer" runs through June 14th at the Taylor De Cordoba Gallery in Los Angeles. Come back every Saturday for more Kimberly Brooks.
Related
Popular in the Community