A new exhibit, titled "Refuge," brings this juxtaposition to light by showcasing the refugee children who stand to lose the most from Trump's policies.
Visual artist Claire Salvo conceptualized the project last fall as a way to de-politicize the conversation around refugee resettlement. In particular, she wanted to highlight the fact that more than half of the world's refugees are children, and many of them have only known life inside a refugee camp.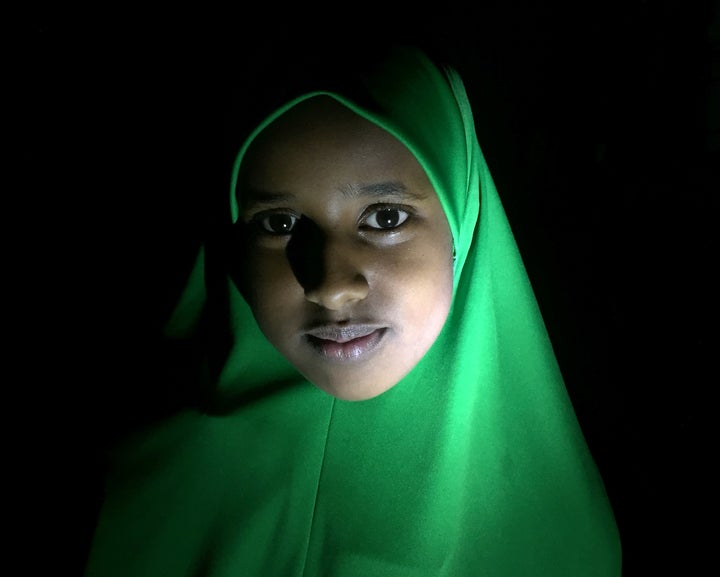 "I wanted to remove the political aspect and just make it human," Salvo told The Huffington Post. "There's something about kids everyone can relate to. Everyone can agree it's not a child's choice ― it's no one's choice ― to be a refugee. They have no say in the matter."
Salvo worked with her local branch of Church World Service, a refugee aid organization, to locate families that would be interested in participating. In Lancaster, Pennsylvania, where the artist lives, it wasn't hard.
Lancaster is known for being "America's refugee capital." The city takes in roughly 20 times more refugees per capita than any other city in the U.S. In 2016, Church World Service Lancaster helped resettle more than 400 refugees, nearly half of whom were children under the age of 18.
"These are the people that President Trump wants to close our doors to. They are some of the world's most vulnerable people," Stephanie Gromek, community resource coordinator for Church World Service Lancaster, told HuffPost.
The organization connected Salvo with three families who expressed interest in participating, and the artist spent the last few months photographing, interviewing and sketching fifteen children from the families. Salvo shot the photographs on an iPhone and did the drawings with charcoal. She'll be auctioning the pieces off starting in May, and a portion of the proceeds will be donated back to the participating families, the artist said.
All three of the families arrived in the U.S. speaking only their native language and "with little more than clothes on their back," said Gromek.
One was a Muslim family from Somalia ― one of the banned countries included on Trump's initial refugee order ― who just arrived in the U.S. in December. The other two families are related and living under one roof. They hail from Ethiopia and are members of the Anuak tribe, a persecuted ethnic minority.
The process of resettlement is an arduous one. Refugees recommended for resettlement in the U.S. by the U.N. undergo a stringent, two-year long vetting process that includes various security and medical clearances as well as cultural orientation.
"It's their first line of credit once they get into the U.S., and they're expected to pay that travel loan back," Gromek said. "It's a way for them to establish themselves with credit."
But Gromek added it can take years for refugees to pay back the loan, especially if they have a large family.
"Refugees are some of the hardest working people I've ever met," Salvo said. "Many are supporting families of upwards of ten people on minimum wage, but they're just so grateful to be here."
During her interviews with the families, Salvo said she asked them: "What's your greatest hope for life in America." The language barrier made it difficult for her to get across the broader scope of the question, Salvo said. But one of the mothers, named Faduma, was able to communicate that what she wanted most was a washer and dryer.
One day, Salvo was leaving her house when she saw that a neighbor had left a washer out on the curb. The photographer said she called a friend to help her lift the washer into her car, and she drove it down to the CWS office with a note that it was for Faduma.
"The things many refugees want are so basic," Salvo said, "and they're things we take for granted, like not having to walk a mile to laundromat."
Refugee children have their own basic tasks to attend to once they arrive in the U.S., Gromek said. These include learning English, getting various immunizations and enrolling in school. Within a month, most refugee children have started their classes and are on their way to becoming everyday American kids.
"Children are resilient in their own right, and refugee children are even more so I believe because they've been through so much," Gromek told HuffPost. "They end up thriving."