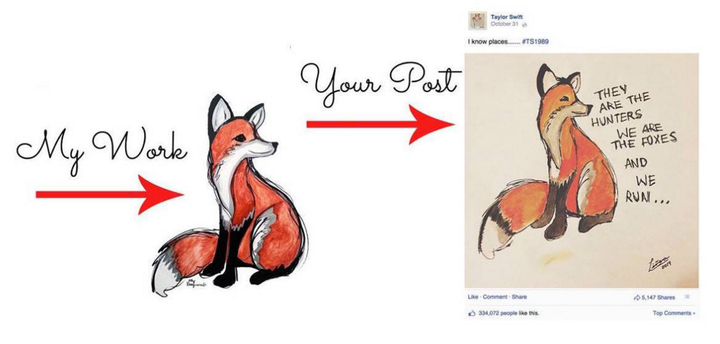 There's some bad blood between Taylor Swift and a fellow artist amid allegations the Grammy-award winner and outspoken fair-pay advocate stole artwork to promote her hit album "1989."
New Orleans artist Ally Burguieres posted an open letter to the "Shake It Off" singer on Friday following what she says is a yearlong battle for any kind of recognition for Swift's use of her fox.
The red and white sketch was allegedly tweeted out to Swift's millions of followers back in October of last year, but not before another person's signature was slapped on it along with Swift's lyrics to "I Know Places."
Burguieres, who runs a vegan artisan boutique and clothing line called Cocoally, said she was immediately flattered by her artwork's use, but when she reached out on social media for recognition, to her surprise, she found her efforts rebuffed.
"I don't have anything artistically against her, or anything personally against her, but I guess from a professional standpoint, I naively thought there would be more respect there," she told The Huffington Post on Monday.
Four days after its Oct. 31 posting, Burguieres says the image was quietly deleted from Swift's page. That leaves her convinced that Swift's team knew they made a mistake. Problem is, she said, they have yet to fess up.
"You can handle it in a decent way and that's not just pretending it didn't happen," she said.
Burguieres said she eventually contacted an attorney who was able to get in touch with Swift's lawyers. In a conversation between them last month, Burguieres was offered an undisclosed "four-digit" sum but with that payment stipulated as going to a charity.
A spokesperson for Swift's team, responding to Burguieres' claims on Tuesday, described the image's use a misunderstanding that's been blown out of proportion in "an unfortunate effort to extract more money and more publicity."
"A fan has stated that she created the watercolor drawing of a fox, added some of Taylor's lyrics and signed the artwork as her own, posting it. Ms. Swift, believing it to be the fan's original work, reposted the fan's art, with her own comment, continuing the social media conversation," the spokesperson said in an email to HuffPost.
Once they were made aware of Burguieres' ownership claims, they scrubbed the fox from their social media feeds, they insisted.
It was Burguieres' outcries that led them to offer last month what Swift's team is calling "a fair offer of payment well above a reasonable licensing fee for the short time that the fan art was posted online." There was never any requirement that the payment go to a charity, they insist.
Burguieres, responding to their side of the story on her Facebook page Monday, addressed their claims as incorrect.
"They're saying they never stipulated donating -- they did. They're saying they offered fair compensation -- they didn't. They're acting as if they 'gave' me publicity -- they didn't (it is the thousands of people who believe in doing the right thing that brought this publicity, not Taylor's team). They claim I want 'more' money -- they didn't give me any. And finally, how does one contact 'Taylor's office'? To pretend she is that approachable and accessible is a lie," she wrote in part.
Immediately after Swift shared the fox image, it began circulating online with Swifties -- as her devout fans are lovingly called -- rapidly copying the image for their own creative use and association to the singer.
Today it remains on social media sites like Twitter, with fans using the hashtag "IKnowPlaces" to share their own versions of the image.
Burguieres' claim is particularly ironic, considering Swift's famously public battle against low-royalty streaming services while demanding fair pay for her own work, as well as others.
Swift made headlines in 2014 when she pulled her music from Spotify and similar streaming services. That same summer, she published a Wall Street Journal op-ed that described art as "important and rare," and being of such, is of value and "should be paid for."
"It's my opinion that music should not be free, and my prediction is that individual artists and their labels will someday decide what an album's price point is. I hope they don't underestimate themselves or undervalue their art," she stated in part.
How Burguieres' case could somehow be different from Swift's own stated values has left the New Orleans artist mystified and increasingly upset.
"This is difficult because of everything that she's said, this is the last thing I'd imagine," Burguieres told HuffPost. "You can handle it in a decent way and that's not just pretending it didn't happen."
Burguieres, who makes her living off of her artwork, went on to compare the pop artist's team's suggested payment to charity as them pouring "salt on a wound."
"This isn't just up to what she thinks I may deserve or what I don't deserve. This is basically artists' rights. I shouldn't have to fight so hard just to be credited," she said. "I've started to feel intimidated and steamrolled and I'm not even a threat. All I'm asking for is credit."
Editor's note: This article has since been updated to include a response from a Taylor Swift spokesperson.
PHOTO GALLERY
2016 Album Covers
Calling all HuffPost superfans!
Sign up for membership to become a founding member and help shape HuffPost's next chapter