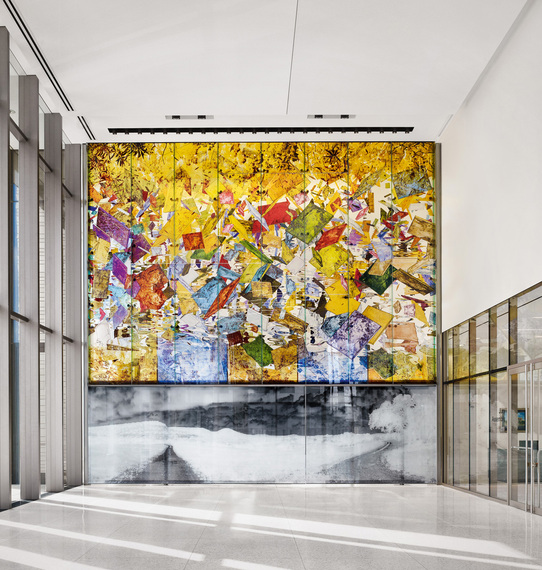 The Austin Wall as seen from the main lobby of the Austin Federal Courthouse.
Copyright: Clifford Ross All Rights Reserved
A few years ago, I visited Clifford Ross's Greenwich Village townhouse/studio, where the artist produces his extraordinary photographic images (most notably large scale depictions of Colorado mountains and Hamptons waves during hurricanes) and computer generated videos. While Ross is also a painter, sculptor, multimedia artist and inventor, I spotted something unexpected and intriguing in his basement "digital dungeon," models for a brilliant stained glass window, commissioned for the lobby of a new federal courthouse being built in Austin, Texas. The striking modernist building, by architects Mack Scogin and Merrill Elam, has now opened. When I entered the downtown courthouse, I noted a more intimate lobby space than expected, not at all intimidating, peopled by friendly guards (despite the ten "spacious"-- according to the guards -- day jails on the third floor). Adjacent to the Jury Assembly Room, Ross's 800 square-foot translucent "The Austin Wall" also serves as a partition; the space can be remarkably extended for various functions, as the two lower black and white stained glass panels pivot. The top section of the enormous glass wall consists of 21 etched and textured sections of high colored abstraction, reflecting Ross's hypnotic "Harmonium Mountain," a video I had originally witnessed in 2011 at the Sonnebend Gallery in Chelsea. I was fascinated by the recently installed and gloriously wrought window and was anxious to hear about the Yale trained New Yorker's experiences in the seemingly new worlds of Texas and stained glass.
Elizabeth Sobieski: Clifford, you spent ten days studying locations near Austin, especially the Texas Hill Country. What attracted you to these particular roads, one straight and one winding, and was Robert Frost's "The Road Not Taken", which would seem a most appropriate ode to a hall of justice, in your thoughts?
Clifford Ross: I wish I could take credit for having thought of Frost's poem, but I can't. Actually, when I came upon the scene I had one of those jolts of recognition -- a feeling of emotional rightness that takes hold when I "find" a subject. In retrospect, I realize that beyond the formal beauty and structure of the scene, it fulfilled two things that are not usually part of my agenda when looking at nature.
1) I needed to find an image that was an unusual format -- long and horizontal -- that would be a critical part of a larger artwork -- and not something just complete unto itself. It was to be translated into black and white negative and form a visually powerful base about 8' high for a stained glass wall that would ultimately be 28'x28' -- the upper part destined to be radiantly colorful and abstract.
2) Most of the time, as an artist, I can be self-indulgent, fulfilling my own impulses, embracing imagery that contains poetry on my own terms, without immediate regard to an audience or the particular placement of my finished work. This time I had to fulfill the requirements of a specific site -- a new Federal courthouse with a wonderful and original modern vocabulary. I effectively had a triple mandate beside my own goals -- from the judges that the landscape of their federal judicial district in the Austin area be well represented, that the totality of the work carry a certain gravitas even with its bold design, and from the architects that it work to enhance the building itself and not exist as a separate artistic gesture.
The twin road scene hit me when I saw it. It was iconic -- and strong. Subconsciously I think I understood that it related to the Republic Park landscape that would be seen from the courthouse lobby -- where the piece would be. There were live oak trees, a natural benchmark of Texas landscape, in both the Park and the Austin Hill Country scene. And then there was that straight road juxtaposed with the curved (or twisted) one! My subconscious could probably hear the judges asking the defendant, before sentencing, whether or not he had thought about the path chosen...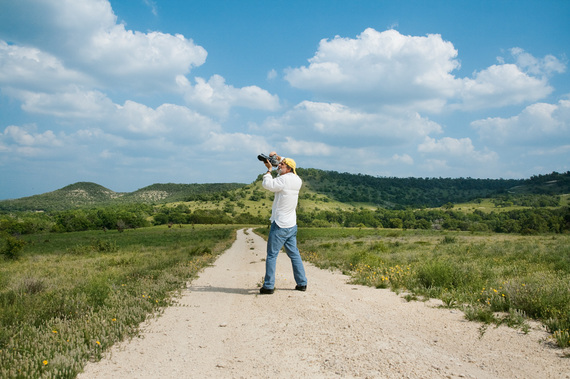 Clifford Ross taking the initial photos of Texas Hill Country. These photographs were the inspiration and foundation of the Austin Wall. Copyright: Clifford Ross All Rights Reserved
ES: Few people are aware that in all new federal buildings, ½ of 1 percent of the construction budget must be spent on art, part of the General Services Administration's Art in Architecture Program. Numerous artists submitted proposals for the Austin Courthouse and you were chosen. Were you surprised, Texas being Texas-centric Texas, that they didn't go with a local artist?
CR: The people of Texas are rightly proud of their own, just like the French and the Italians, but visiting artists have often been given a shot in the history of art. They can bring a new vision and vitality to an important project. At the risk of reaching a bit high: think of Marie de' Medici, wife of Henry IV of France, commissioning a Dutchman, Peter Paul Rubens, to execute 24 paintings for the Luxembourg Palace in Paris. And of Pope Innocent X having a Spaniard, Diego Velasquez, create what became his most famous portrait. One of the great aspects of art making, throughout time, has been the existence of that little sign that reads, "Visitors Welcome". I am working on a project for Brooklyn right now -- and I'm referred to as a visiting artist from Manhattan!
I was surprised about the commission for another reason. Originally I was going to be one of many artists contributing work to the building -- but as it unfolded the GSA, the architects, and the judges entrusted me with the task of carrying forward the entire artistic program.
ES: When you were selected for the courthouse, you were originally commissioned to create large-format photographic work, and then, once you had the assignment for the whole building, you redirected your effort to use a new technique you developed for printing on wood. In response to the finished architectural designs, you changed directions once again, conceiving a 28'X28' stained glass wall. You completely changed direction twice to implement this site -- specific work. How did the selection committee react?
CR: Well, I think it's fair to say that a lot of jaws dropped, and that reaction went way past the selection committee. It included the architects, judges, and the GSA. Their reaction was understandable. To everyone's credit, after the architects and I had a really beautiful meeting of minds, everyone signed on. It was admittedly a very high-risk venture for me to make a work in a new medium for such an important location. It could have been a disaster.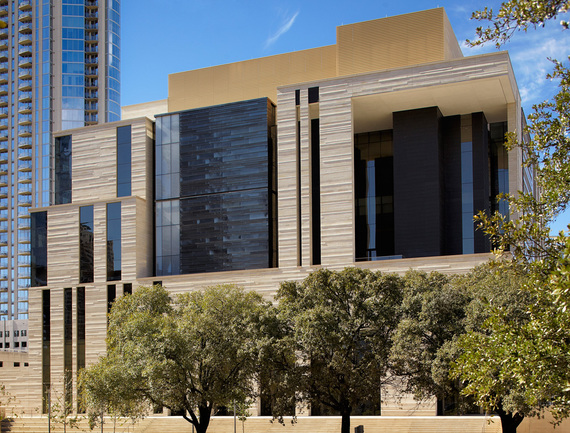 U.S. Federal Courthouse, Austin, Texas houses Clifford Ross' The Austin Wall
Copyright: Clifford Ross All Rights Reserved
ES: At one point, you gave the Austin federal judges and the selection committee an extensive tour of the Metropolitan Museum. What did you show them and how did they judge the art? Did their opinions change after your discourse?
CR: The purpose of my tour was to foster a mutual understanding among all of us as to what art could be -- and explore the myriad ways artists work -- the different vocabularies. In simple terms, I wanted to instill a confidence in the judges that something far afield from their original conception could fulfill their goals. These were a group of very smart, very dedicated people, who I felt would be open to a new understanding about art -- and wanted to underscore that they were a crucial part of a joint effort and that I would take heed of their wishes -- but on my artistic terms. I was asking for a staggering leap of faith. Their skepticism was entirely fair.
So we looked at classic American art like Hudson River Landscape painters Albert Bierstadt and Frederick Church who painted the American West, strolled past German-born Emmanuel Leutze's famous "Washington Crossing the Delaware", dropped in on Titian, Tintoretto and Tiepolo, and eventually landed in front of Pollock, Rothko, and Ellsworth Kelly. Let's just say the tour worked for me and for them. We all learned a lot and shook hands on the adventure to come.
Popular in the Community