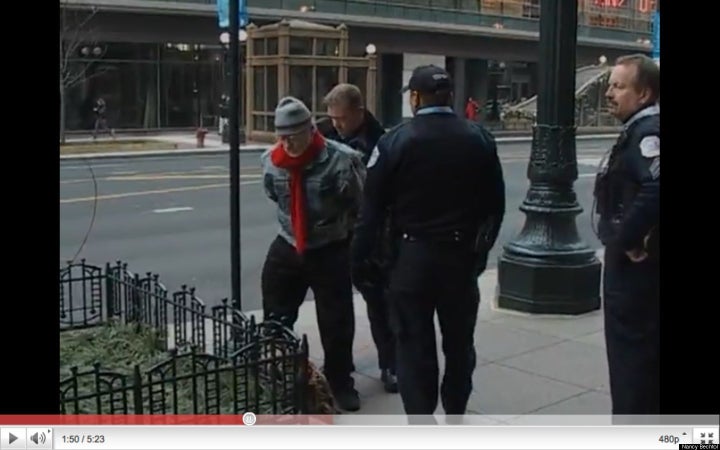 Chris Drew was finally ready to get arrested. An artist and activist, Drew had spent years protesting a Chicago ordinance that puts tight restrictions on where and how people can sell their art on the street. He was downtown, on State Street, selling silk-screened patches for $1 and defying the city to stop him.
He'd tried his act of civil disobedience three times before -- a First Amendment lawyer on hand to argue his case, a team of videographers ready to film the arrest -- but the police simply let it slide. When, on December 2, 2009, he finally succeeded in getting booked, Drew was ready for a few hours in lock-up on a misdemeanor, and a lengthy court battle. He was in no way prepared for what he would actually face.
The state charged Drew with a Class 1 felony, not for selling art on the street, but for violating the Illinois Eavesdropping Act by recording his own arrest. He faces up to 15 years in prison.
"Illinois has the worst eavesdropping law in the country," Drew said in a phone interview. If not the single most punitive, it's certainly in the top three.
The state is one of twelve that has so-called "two-party consent" eavesdropping laws. This means that audio recording any conversation is illegal unless all parties to the conversation consent.
All but three of those states make an important exception to that law: the recording of police conversations in the public way. Only Maryland, Massachusetts and Illinois deem such recordings illegal, and the Maryland attorney general recently issued an opinion suggesting that taping the cops shouldn't be prosecuted.
But Illinois is staying the course, currently prosecuting nine individuals -- including Drew -- for making just such recordings.
"We as an organization, we believe that there's an important role that these kinds of recordings can play in terms of trying to understand the actions of police on the streets, and then using that information to advocate for particular changes in terms of police behavior," said Ed Yohnka, Director of Communications and Public Policy of the Illinois branch of the ACLU. "And we believe that that speech in particular is protected by the First Amendment."
The law first came to the ACLU's attention through a separate but similar case, in which two young protesters in Champaign, Illinois were charged with eavesdropping for recording a police interaction on a street corner. The organization filed an amicus brief in that case, and the state's attorney dropped its charges, but continued prosecuting other cases of the same kind. Yohnka said the ACLU decided to challenge the law itself when it realized the consequences it might have on its own attempts to defend citizens' constitutional rights.
Speaking of one particularly sticky situation with the police, he said, "We realized in sending out some legal interns, you couldn't tell them to do what you'd actually tell them to do in this day and age, which is take out your iPhone and give us a sense of what's going on there."
The ACLU is currently taking the Cook County State's Attorney to court, challenging the constitutionality of the law on the First Amendment grounds he mentioned. So far, the challenge has failed in two separate rulings, the most recent of which came down on January 10 of this year. Yohnka says the group's legal team is now in the process of preparing an appeal to the Seventh District Appellate Court.
He acknowledged that it might seem ironic for the ACLU to be attempting to weaken an eavesdropping law, which offers the kinds of protections the Union might otherwise fight for. But Yohnka saw the irony the other way around. The Chicago Police, he said, have been expanding their recordings of ordinary civilians, with blue-light cameras, cameras in patrol cars, and the like. The justification for these recordings is that what happens in public is public, and there should be no expectation of privacy.
"We think that's the standard that ought to be applied to police officers who are engaged in their public duty, in a public place, in an audible voice."
Thus far, the courts don't agree. That means that Chris Drew will go to trial on April 4 for the felony charge against him. "We filed two motions to dismiss, but they were both denied," said his lawyer, Mark Weinberg. Drew faces four to 15 years in prison for the charge, though he could also be released on parole.
"My lawyers say it's unlikely I'll do prison time," Drew said -- "but I do live in Chicago."
Given the ordeal he's been through, his lack of faith in the city is understandable.
Popular in the Community