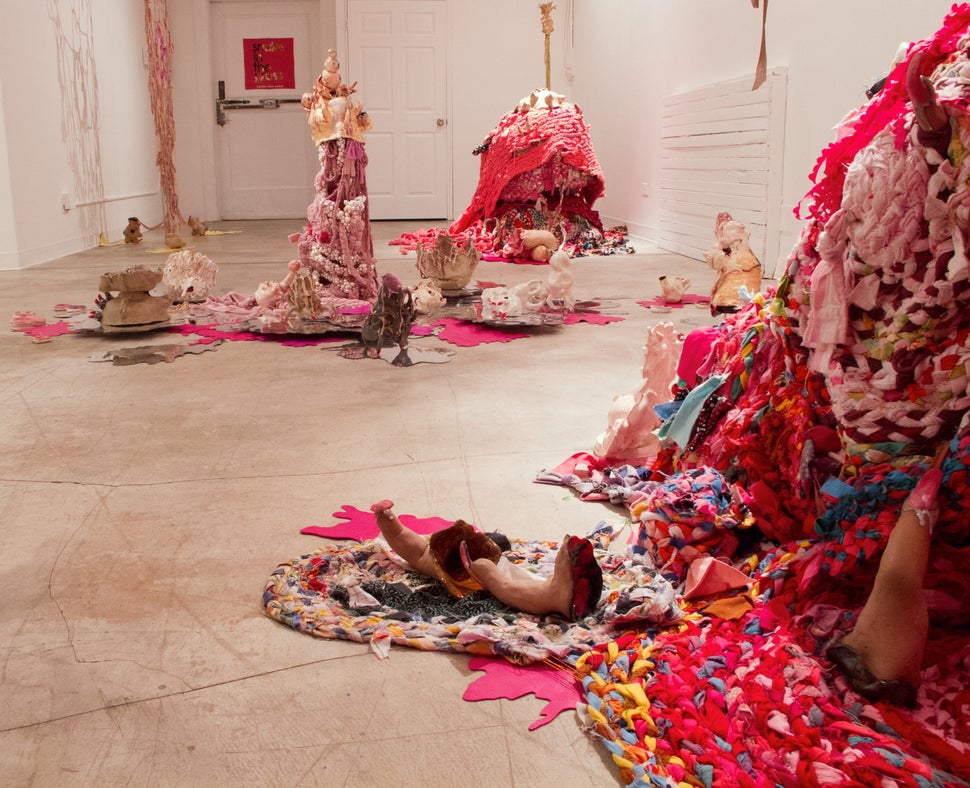 "Art is so often only experienced through looking," artist Caitlin Rose Sweet explained to The Huffington Post. "It's a short pathway from the eyes to the brain. I want the whole body involved."
Sweet is a Brooklyn-based maker blurring the line between art and craft one muddled, fleshly form after another. Her most recent installation, called "Snake in the Grass," was inspired by Hieronymus Bosch's iconic 15th-century triptych "The Garden of Earthly Delights."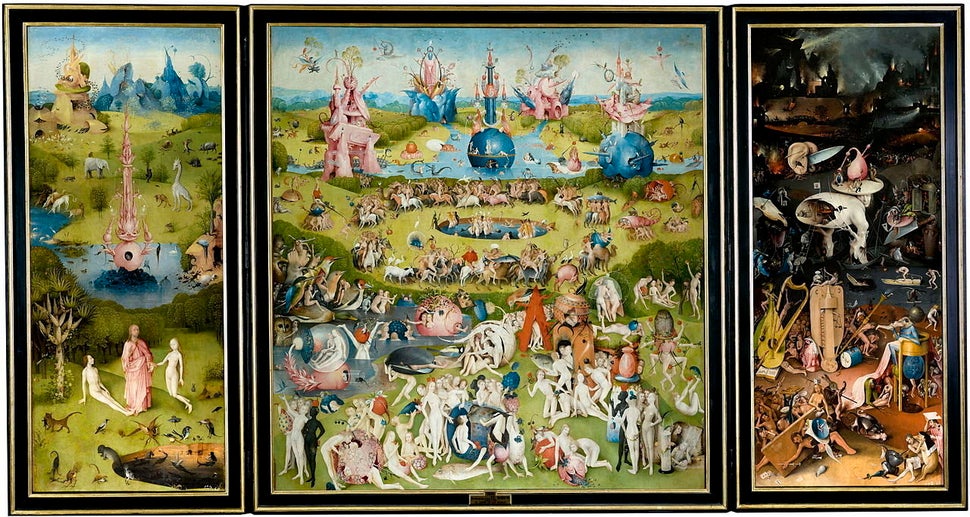 Bosch's nightmarish painting is known for its manic details and convoluted subject matter, including a group of lost souls squashed by a pair of giant ears and a "diabolical bird on a potty chair." For many young, aspiring artists -- many of whom happen to be queer -- it's the museum work that first stands out as being at once classically rendered and utterly bizarre, fueled by fantastical sensual pleasures and equally hallucinatory and horrifying consequences. 
While Bosch's depiction is detailed, precise and full of microscopic detail, Sweet's interpretation is sprawling, sloppy and anything but contained. Fingernails, boobs and lipstick claw themselves out of a stew of feminine entrails and accoutrements. Somewhere between a deconstructed body and an obstacle course, Sweet's work doesn't just exist in a space, it threatens to eat the space alive.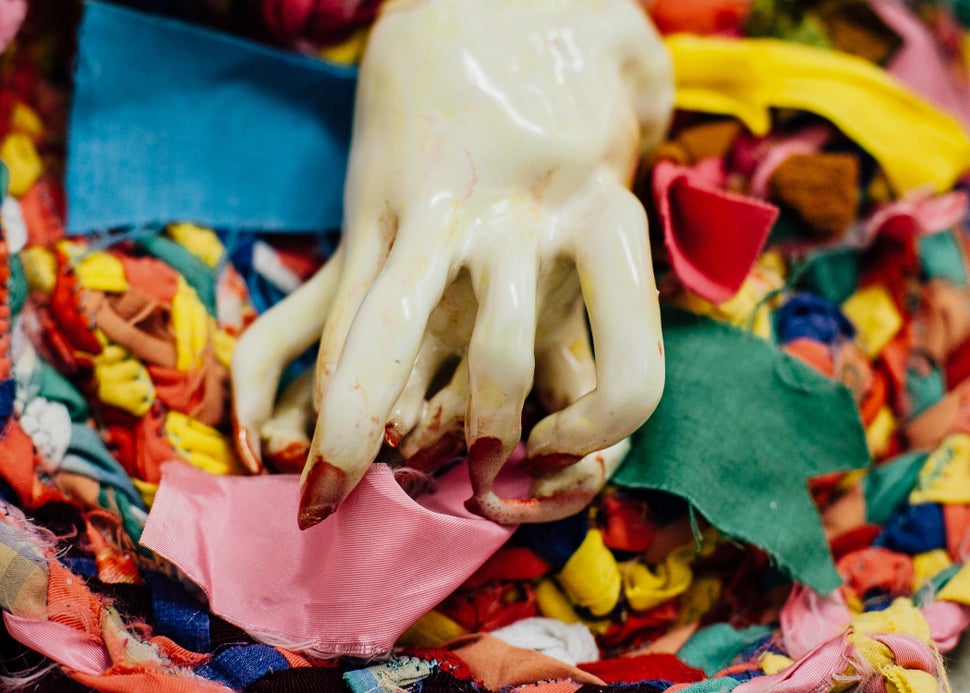 "'Snake in the Grass' is about messy femininity," Sweet said. "Being a feminine person in this world feels dangerous and grotesque. Riding the subway as a cisgender woman with DD tits is a daily reminder of how weird the world is about bodies. I want armor that isn't about hiding who I am or masculinization. How do I weaponize my femininity? Long bloody nails, metallic tits, and bodies covered in drippy lipstick are my power symbols. This is femininity in revolt, it is the vessel that leaks, the red mouth full of fangs."
Just as Bosch's triptych is divided into three panels -- signifying paradise, earth, and hell -- so Sweet's installation can be divided into three sections, "big mama vibes" "pool party" and "kill joys." The artist was inspired by a detail of Bosch's "Garden," depicting a group of women bathing together surrounded by a circle of men, alluding to the looming threat of the male gaze and potential violence. Sweet sees her revamped "Garden" as a space of "feminine rage," inspired by the painting that served as a ray of light for young queer people in the world looking for an artistic vision with which to identify.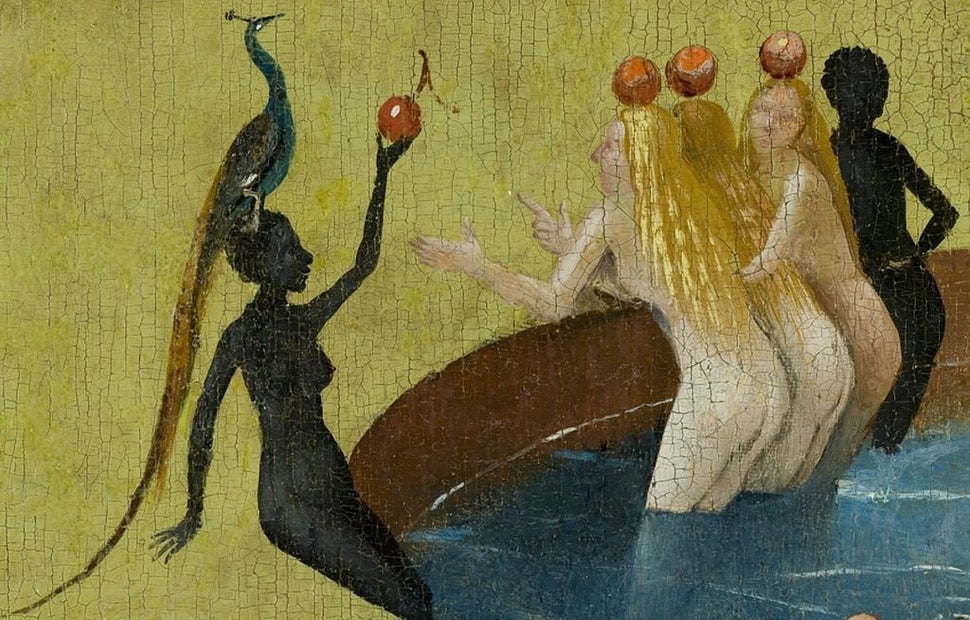 Sweet was one such young, queer artist. "When I was researching the 'Garden of Earthly Delights' there was a lot about the horror of the painting, which caught me off guard because it has always been visceral but calming to me," she said. "For so many people (mostly queer) I talked to, the painting was a beacon of hope, relief, and excitement. When you are seen as a monster by your culture, that painting takes on a whole new meaning."
For the artist, it was crucial that her installation incorporate not just the eyes of the viewer but the entire body. The viewers' physical forms are vital to the work, their physical movement implicating the shape and perspective of the surrounding environment. The viewer doesn't just look, she crawls, crouches, hovers and slithers.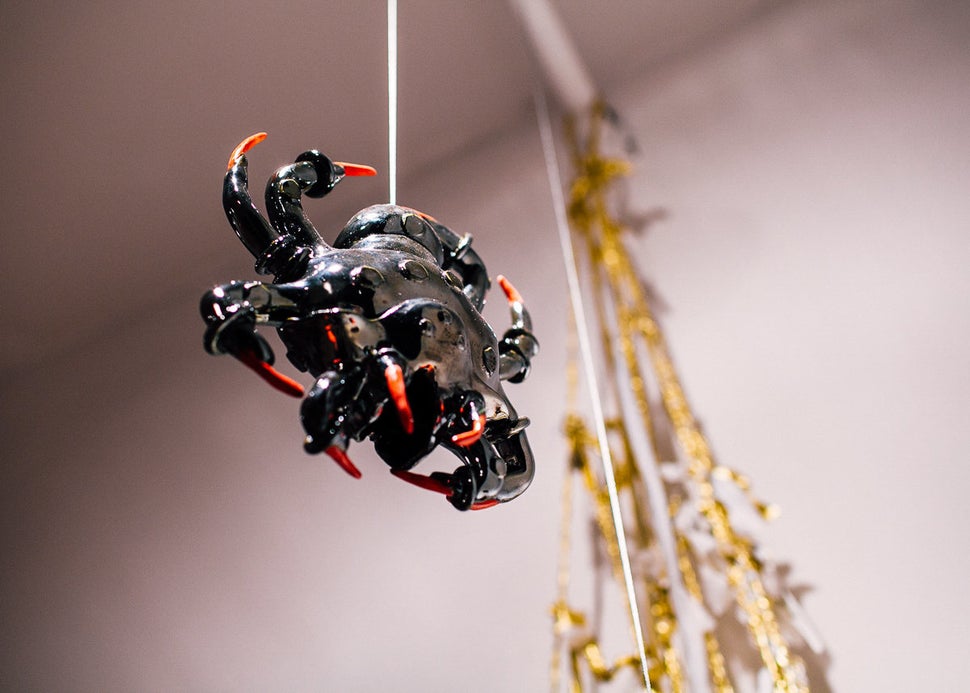 "We live in a world that blocks bodies from moving freely, feeling pleasure, and being valued," Sweet explained. "'Snake in the Grass' had a lot of fragile pieces on the floor; it makes people uncomfortable and forced to consider how their body impacts the work. Which is something generally missing in the art world. There's a disconnect. You are supposed to look at something and then walk away. The art object is this independent, untouchable thing. I'm not interested. I want context, entanglement, and mess. Because that's real. Life is messy."
Another important aspect of the installation is the handmade-ness of it all, an aesthetic inherent to queer politics, according to Sweet. "Hands are amazing. Ahat we touch and how we touch the world shapes how we think," she described. "As a queer woman, hands are symbols of political resistance, agency and sex. Mandy Merck wrote about the 'lesbian hand' as this highly sexual organ that wasn't a phallic replacement because the hand goes beyond the act of penetration. I joke that craft and queer sex are both done by hand."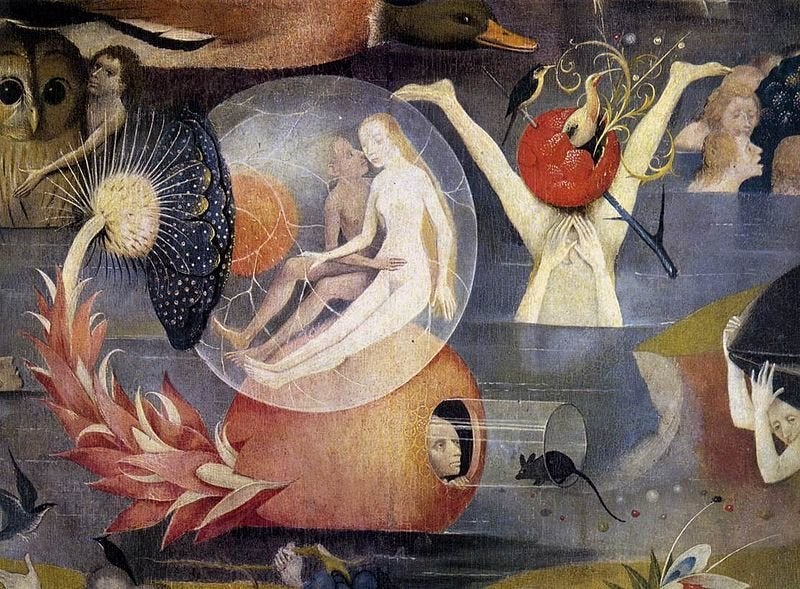 Sweet's work lands squarely in the hazy terrain between art and craft -- a distinction that, in Sweet's words, is wound up in understandings of "history, material, and class." The artist is less interested in the binary distinction between the two categories than blurring the line separating them.
"I'm interested in aligning in myself with craft because it's a form of expression that values the prescience of the body, through its emphasis on the mark of the hand and functionality. Craft is about connection. Being a queer femme maker I see my body and its labor to be a highly political space and I infuse that into my work." However, craft's emphasis on mastery and tradition, Sweet clarifies, runs counter to her idea of queer visualization.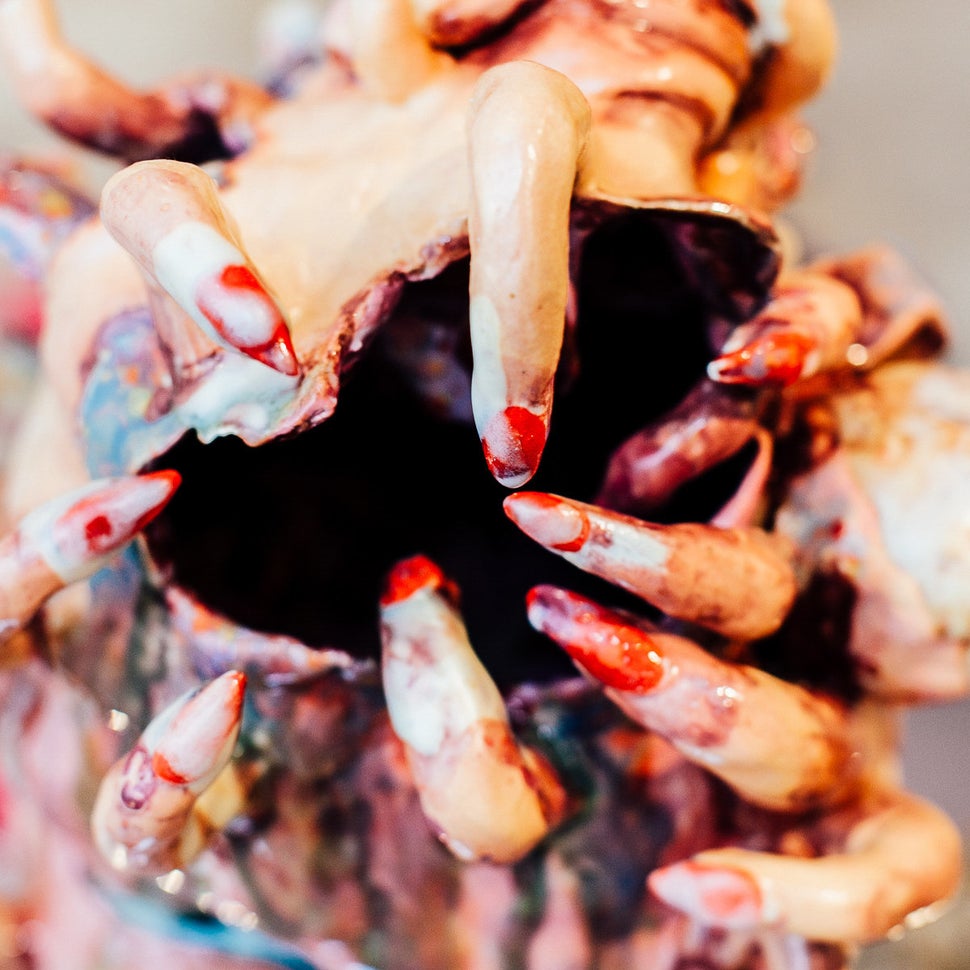 Sweet's "Snakes in the Grass" is a queer, feminist reimagining of Bosch's classic work. Yet beyond featuring feminine imagery, soft colors, gay symbols or camp kitsch elements, Sweet's work is created through queer artistic strategies, techniques based on ideas of connection, intimacy, imperfection, sloppiness, decay, sexuality and fluidity.
"I make work that is really queer because it resists containment," the artist said. "And I think that's why a broad audience responds to my work, because queers and the rest of the world want to shake off the chains and be like, 'Yes, our desires and bodies are complex and changing and fuck it.'"
REAL LIFE. REAL NEWS. REAL VOICES.
Help us tell more of the stories that matter from voices that too often remain unheard.