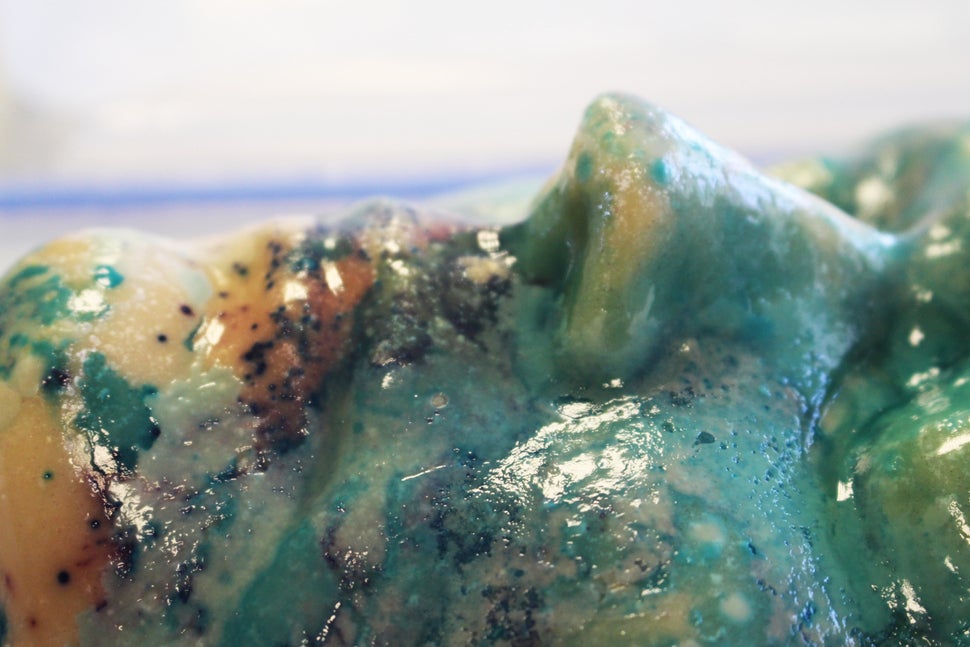 You see your face every day, reflected in the mirror, in random windows and sunglasses and screens. You know what you look like, down to the mole that sprouts hairs you have to keep an eye out for. But when it comes to bacteria, the microscopic intruders making a home between your cheek and nostril, our own face may as well be a foreign country. For most of us, we're lost and clueless. 
UK-based artist Mellissa Fisher creates self-portraits that capture the invisible worlds existing on your skin. The series, titled "Microbial Me," features jelly-like sculptures in the shape of a human face, though their color and texture resembles a rotting birthday cake in one image, a neglected aquarium in the next.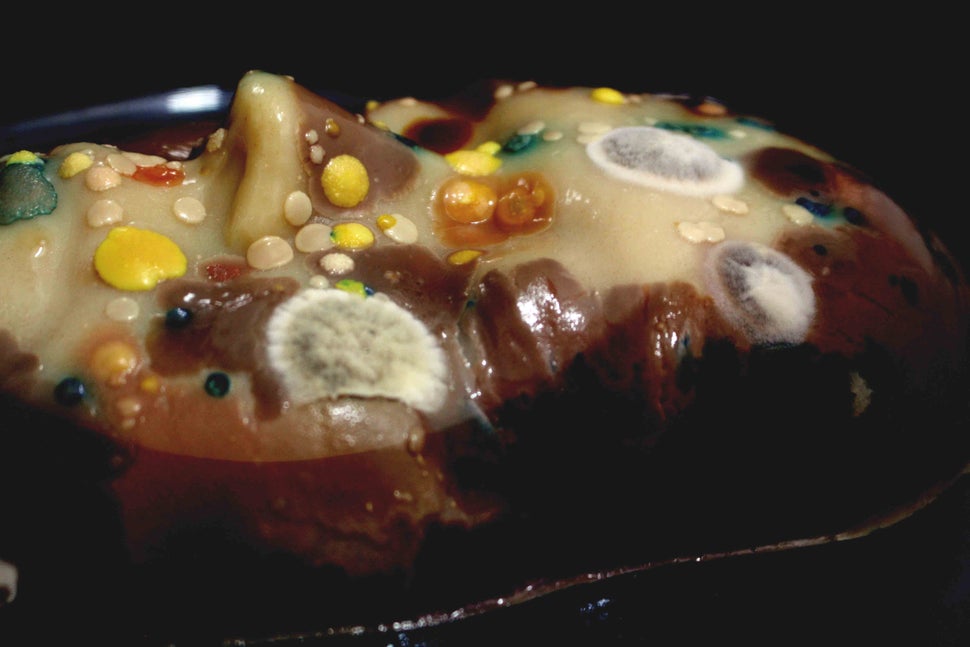 The secret ingredient in Fisher's sculptural works is agar -- a jelly-like substance obtained from algae used to culture microorganisms. The artist mixes agar powder with water to create a gelatinous substance, which she then pours into a mold in the shape of her face and leaves to set. The result, a face-shaped cast, is the first layer of the sculpture. 
Fisher then swabs her face to collect the bacteria piling up on its surface. As the artist explained to Broadly: "The face became an interesting grounds for growing bacteria because there is so much, passed through your hands, phones, the list goes on." She rubs the bacteria onto the face cast before placing it into an incubator, where the bacteria cultures can grow in a controlled environment. After around three days, you can see the little guys thriving. 
And you thought your nude photos were revealing.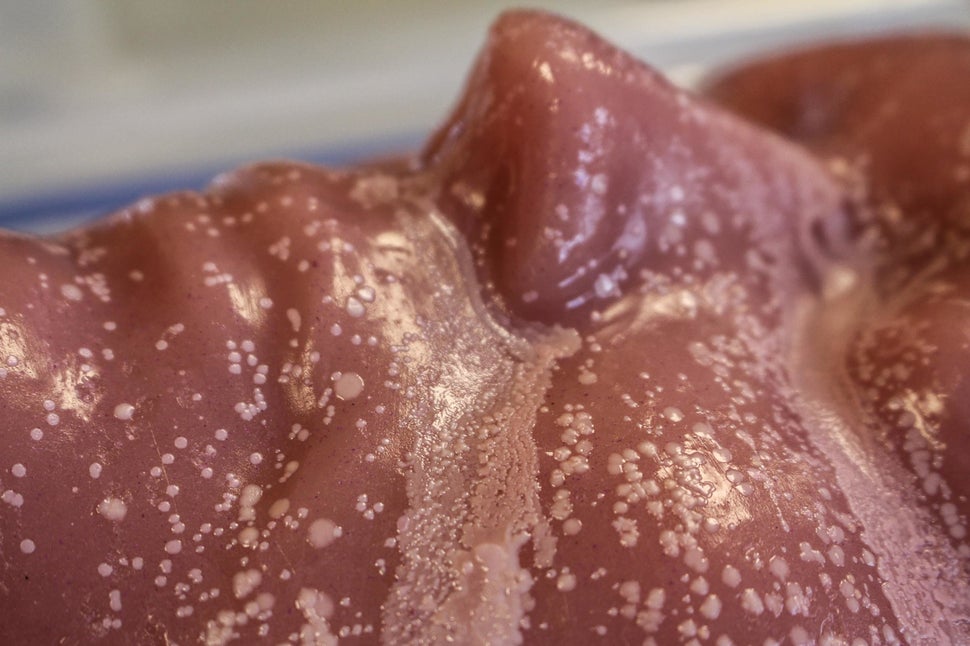 Each of Fisher's sculptures lives for approximately a year, the organic artworks constantly existing in a state of flux, first blossoming and then decaying like the natural beings they are. The particulars of the microbial sculptures' aesthetics -- whether they're milky white, aquamarine, or the color of bubbling blood -- depend on the type of agar Fisher uses, as well as the temperature and conditions of the incubator. 
The resulting sculptures, all in the same Fisher-face shape, are like a science nerd's take on a Cindy Sherman photograph. Although Fisher herself is at the center of the work, she disappears into disguises of gurgling germs, cloudlike mold and flesh-colored sprinkles, becoming a stranger to herself. 
"Microbial Me" is a spellbinding glimpse into the grotesque and beautiful living things existing ever so secretly on your freshly washed face. Allowing them to grow, change, age and die makes the work a living, breathing portrait as dynamic as life itself. 
Fisher's work will also be displayed in the upcoming show, "Unfolding Realities," opening May 25 at Central Saint Martins in London, England. 
Calling all HuffPost superfans!
Sign up for membership to become a founding member and help shape HuffPost's next chapter
BEFORE YOU GO
PHOTO GALLERY
30 Artist Names You Are Probably Pronouncing Wrong