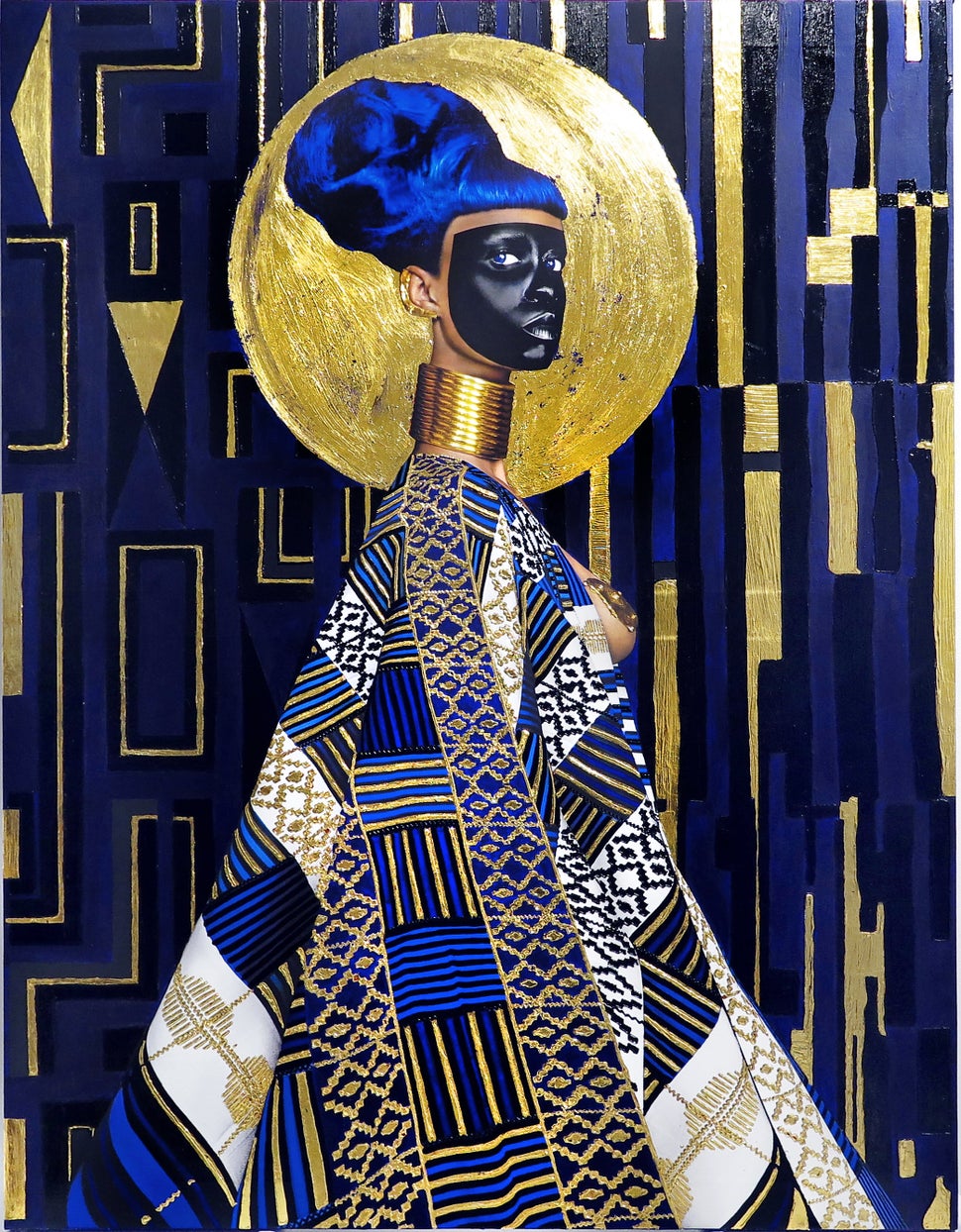 One only has to look at gold for a moment to catch a glimpse of its eternal mystique. Its sacred powers are evident in its mellow luminescence, a quiet visual hum that draws you closer, hypnotized. Its glow radiating heat, power, holiness and timelessness.
For artist Lina Iris Viktor, gold is her muse. "It is one of the softest, most malleable metals in existence, yet, in its purest form (24 karats) it is practically indestructible," the artist explained to The Huffington Post.
"Since its discovery, humans have been struck by its beauty, resonance, and otherworldliness," Viktor continued. And she's right. The substance has bewitched cultures around the world for centuries, from the men who risked their lives to mine for it, to the wars waged in its honor. 
"All of this is just the outcome of gold having found its way to our little planet," Viktor mused. "In actuality, what makes gold so remarkable is the cosmic story of its creation in a supernova -- and how it had to travel across the seas of the cosmos to be deposited on our little planet."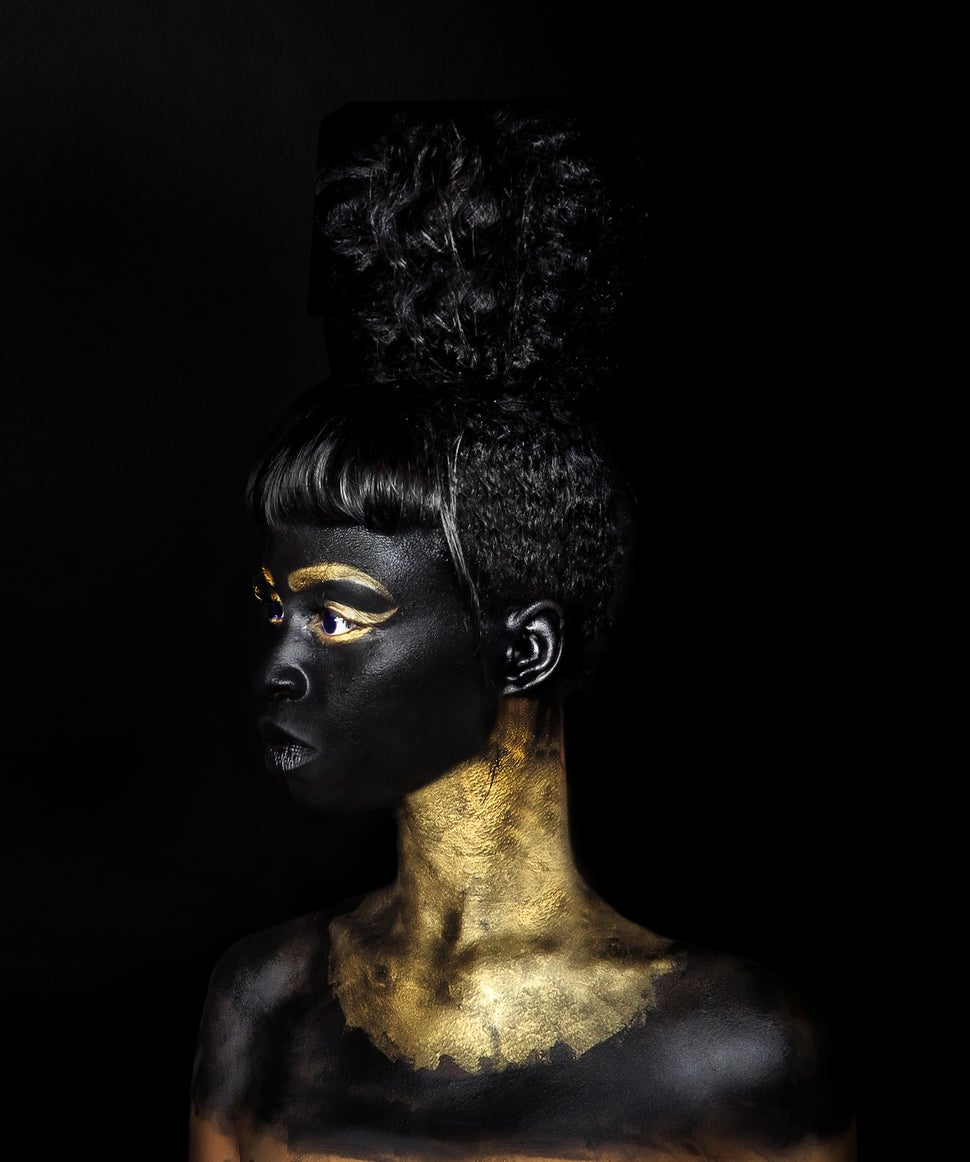 Viktor has been an artist since she can remember. As a kid she performed in plays and films before switching to film production as an undergraduate. After graduating she studied photography at The School of Visual Arts in New York, where she first became immersed in the world of design. Craving the opportunity to create more bold and imaginative work, Viktor transitioned to the realm of fine art in 2013. 
Viktor's works, reminiscent of spiritual tapestries past and future, often center around a photograph of the artist herself. However, as she explains: "The image is not about self, but rather dis-identification, abstraction and transformation."
Viktor paints her body, normally in shades of black, white, gold and Majorelle blue, before snapping her portrait. The image is then digitally enhanced and printed onto a canvas, at which point Viktor paints and guilds until, in her words, the image "becomes a seamless conversation between form and the perceived patterning of the universe that surrounds it."
She describes the works as sculptural, due to the materials that pile up on the canvas over time.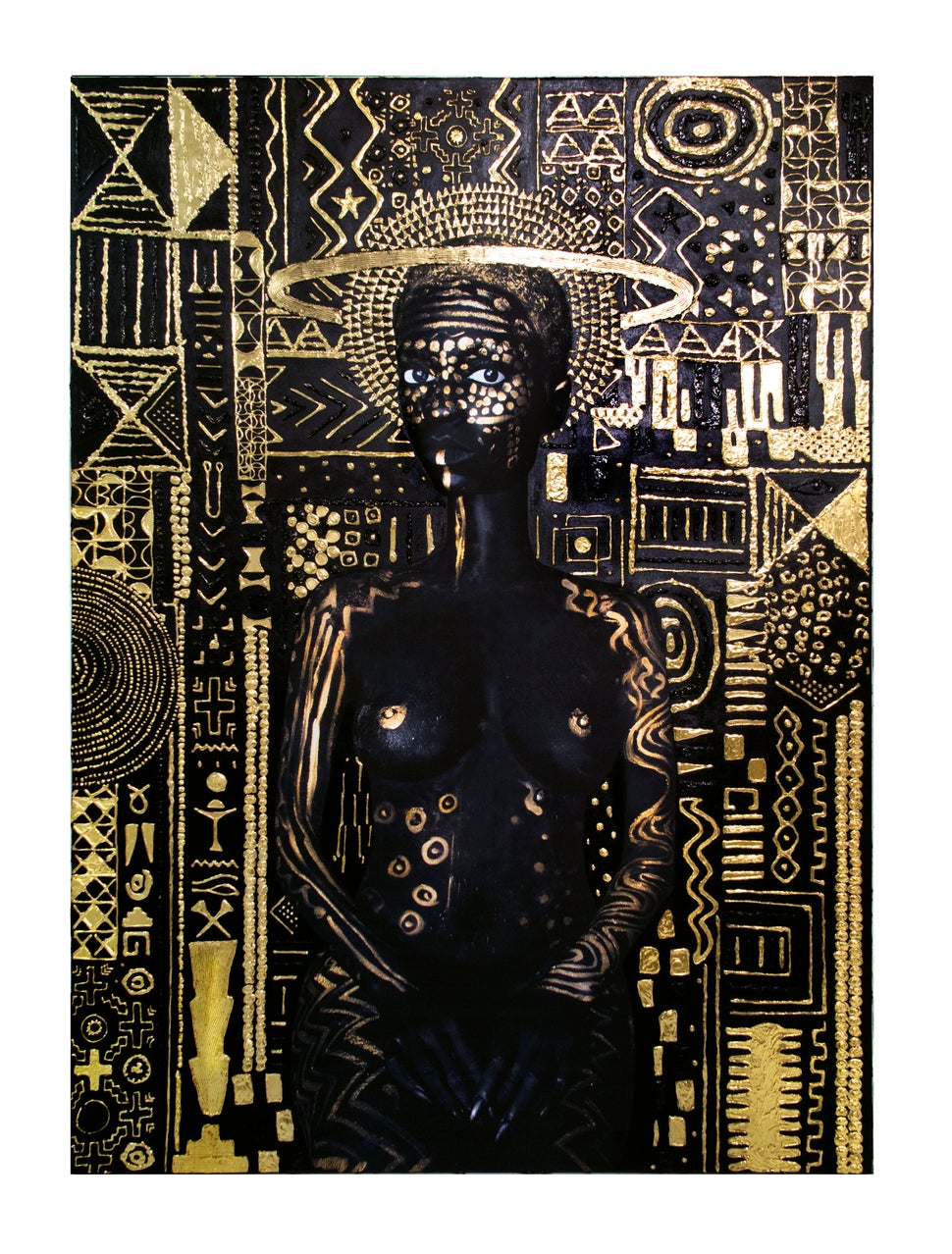 The resulting canvases drape Viktor's barely recognizable form in impenetrable blacks, deep blues and weightless gold that skims atop their surface. The colors, each rife with symbolism and history, mingle and converge to form a geometry of their own creation. 
The multimedia works convey the harmony between an individual and the cosmos surrounding her, visualizing the incomprehensible truth that we're all made of stardust. In this sense, Viktor's work is reminiscent of Yayoi Kusama's, the Japanese artist who consistently aims to dissolve the self via her artwork. As Kusama puts it: "When we obliterate nature and our bodies with polka dots we become part of the unity of our environments."
Viktor cites Kusama along with artists like Kerry James Marshall, Kara Walker, Vanessa Beecroft and Constantin Brancusi as inspirations. However, many of her ideas also stem from the realms of mathematics, science and spirituality. "I study the dream paintings of indigenous Australians, Ancient Egyptian hieroglyphs and their sacred sciences, the cosmological narratives of the Dogon in Mali, and African fractals present within much of the architecture and textiles across the continent... All of these cultures have a divine understanding of the dimensions beyond our earthly plane."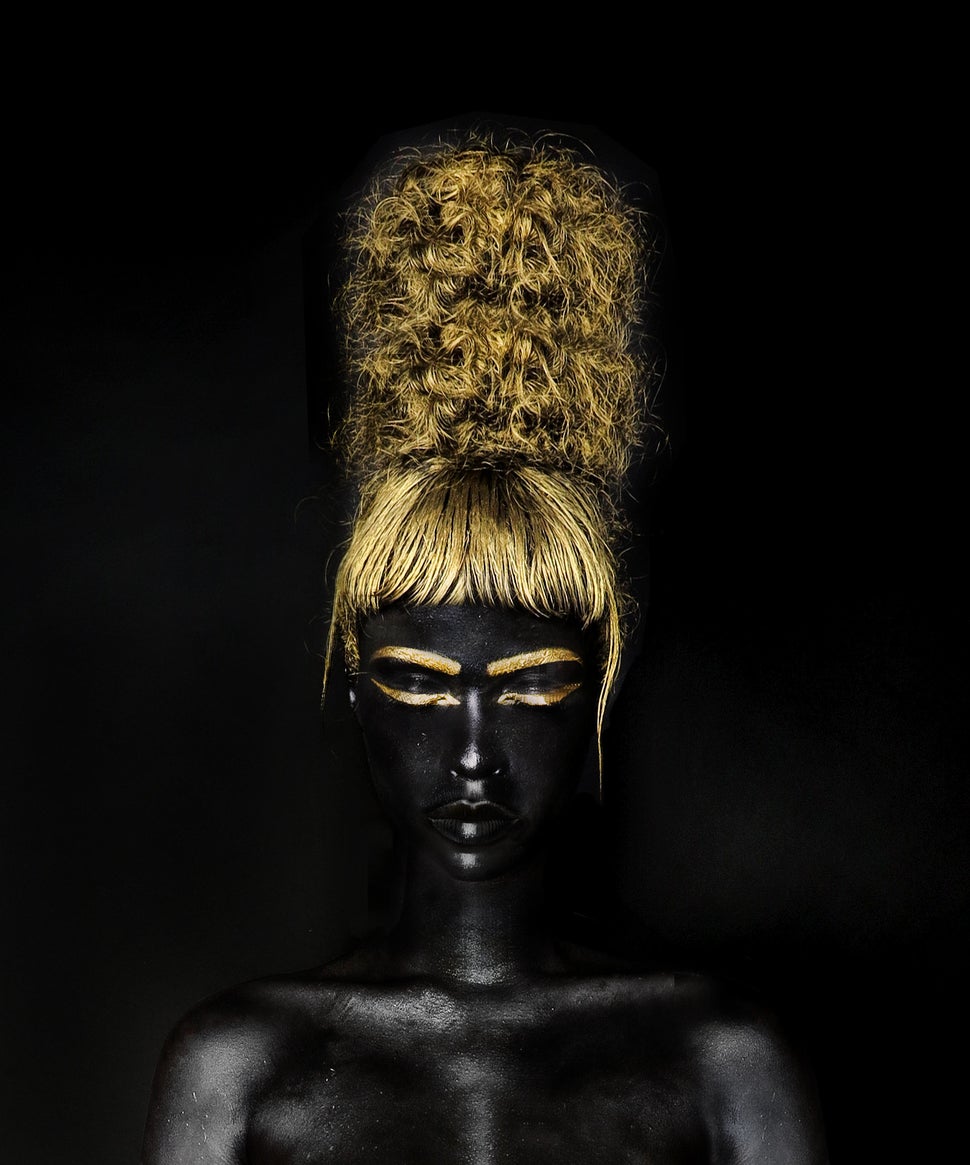 I discovered Viktor's work after speaking with curator Ni Sandy about the Afrofuturist artists who inspired her. Although Viktor is hesitant to describe her work as Afrofuturist, as she is with any label, she can see how the connection would be drawn. 
"When I consider Afrofuturism, I simply think that it is a vocabulary (visual or written) that finds its origins in the narratives, mythologies, and practices that are akin to various African cultures of the past and presen t... Works that fall within this category often have a spiritual or otherworldly aura about them, and tend to border on magical-realism -- i.e. there are components identifiable as existing within the natural world, yet there are sprinkles of the 'supernatural' throughout, of other dimensions and realms that the eye cannot always see."
One of gold's many powers is its virtual immortality. Both as an object of currency and something far more ethereal, gold has rarely wavered in its value, dating back to the days of Ancient Egypt. As Viktor said: "They encased those who had passed in golden tombs and sarcophagi to send them on their journey into the next world. Gold was sacred, a protective agent that was representative of the immortality of the soul, hence why it was used so abundantly in preparing the passageway between worlds. It was not regarded as having monetary value, but rather spiritual value."
Like her predecessors, Viktor incorporates gold into her artworks so they will last forever. "Most artists use gold very frugally because it is so prized and expensive," she noted. "I follow the tradition of the Ancient Egyptians. I lace my work with gold in the hopes that these canvases can live on in perpetuity long after I am gone."
Calling all HuffPost superfans!
Sign up for membership to become a founding member and help shape HuffPost's next chapter