From October 1st to November 7th, 2015, Danny Rolph will be having his first solo show at the 532 Gallery Thomas Jaekel. Rolph has shown his at museums such as the Tate Gallery, the Metropolitan Museum of Art and has been nominated for the Sovereign European Art Prize.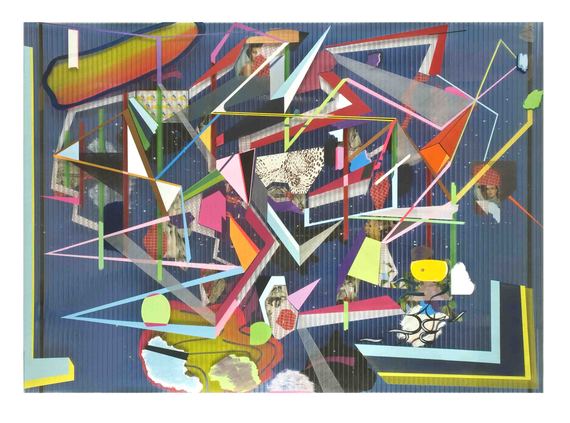 A: How did you get into making art?
Danny Rolph: I got in to art the usual way. After being thrown out of a physics lesson at school, aged 15, I wandered over to the art room and started a conversation with an inspirational teacher named Iain Rutherford, who gave me a book on Mondrian and some oil paints and told me to think with my hands.
A: Who are some of your inspirations?
DR: My inspirations are many and varied across subjects such as philosophy, poetry and history. Within art I would say Uccello, Tiepolo, Tintoretto, De kooning, Georgia O'Keefe, Agnes Martin, Georg Baselitz, Sigmar Polke, Hilma of Klimt, Donald Judd, Jasper Johns, Thomas Noszkowski, Julian Schnabel, Laura Owens and Chris Ofili. They all float my boat!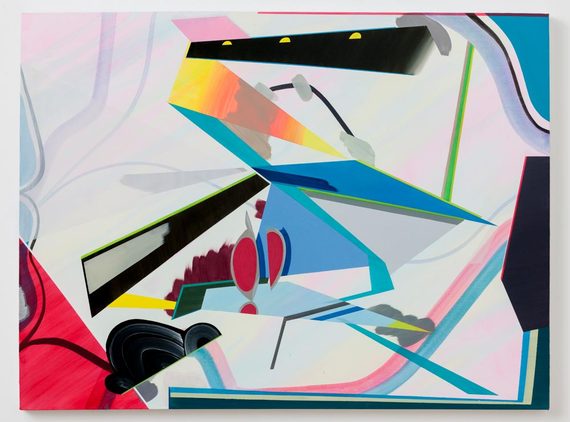 A: What were some of the specific inspirations that inspired your work at 532 Gallery?
DR: I love Vermeer's paintings and whilst studying his great "Love letter" painting in Amsterdam late last year, I became fixated by the studio ephemera scattered around the composition, which made me think in a different way about what we can overlook too easily in a composition. I became interested in what actors call the "fourth wall," when they turn and speak directly to the audience (think Kevin Spacey in "House of Cards"). I felt Vermeer was doing this, a bit like Velasquez in "las meninas", revealing the studio and its elements by integrating them into the picture. I have incorporated a studio bucket, broom, staple gun and a self portrait in a Christmas decoration into the various painted compositions I'll be showing at 532 Gallery.
A: I'd love to hear about how you pick your colors and the relationships between them and space.
DR: The color choices are always instinctive but informed by a life of painting and absorption in the world in which we live in. I find cities like London, New York and Rome truly inspiring as well as the beautiful desert-like landscapes of West Texas and New Mexico, whose sunsets populate the backgrounds of my work somewhat. I embrace doubt and discovery within my paintings, on both the Triplewall plastic and canvas surfaces, and I work on trying to create new spatial dynamics possessed with different attitudes. Voltaire summed it up well when he said " Doubt is not a pleasant condition, but certainty is absurd".
Interested to learn more about investing in art? Find information about the artists and collections open for investment on the Arthena platform by clicking here.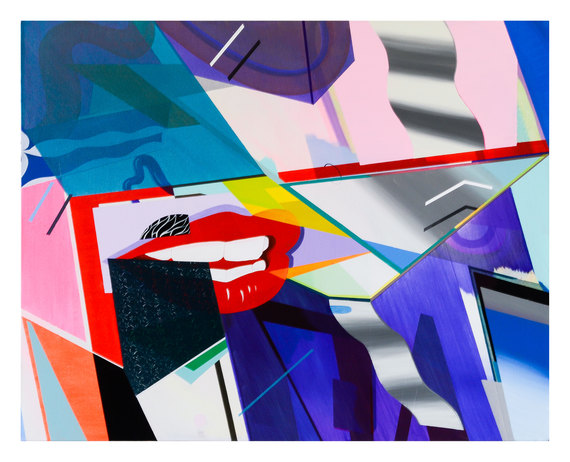 A: I've heard that art history and LP sleeves have been an influence in your work. I've often heard your work also compared to music composition.
DR: I've always been a big fan of art history and believe that nothing replaces the experience of being in front of the work. Music and LP sleeves mainly from the 70's and 80's are always around me in the studio. I'm in to P-Funk, Sun Ra, Curtis Mayfield, Grandmaster Flash, Mtume, Chic, Pink Floyd, Daft Punk and Thundercat at the moment. I used to DJ for a few years way back, so I suppose the rhythm and sampling does seep in somewhat. P-Funk said "is there funk after death, I said 7UP, yeah" !!
A: What advice would you give to a young artist?
DR: "Art is not what you see, but what you make others see" - Edgar Degas
This article is one of a series of artist interviews that Arthena publishes as part of its Artist Initiative. We believe that artists are backbone of the art market, and our interview series aims to give a voice to artists and to support them in sharing their work with a wider audience.
Read more on Arthena here.
Related
Popular in the Community