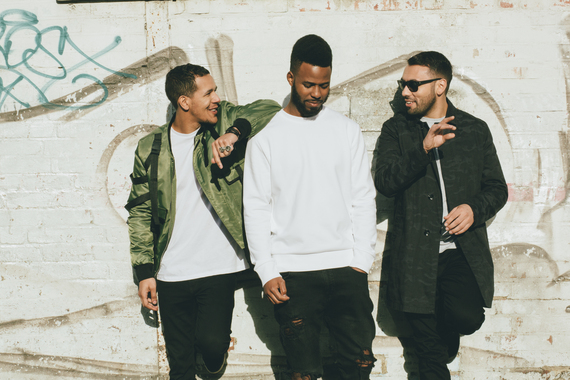 Fresh off a collaboration with one of the biggest names in electronic music (David Guetta), and prepping for a summer residency at Amnesia in Ibiza, British trio Disciples (Duvall, Gavin, and Luke), walk the line between underground and mainstream sound. Their authentic style helped to make "How Deep is Your Love" (with Calvin Harris), one of THE songs of last summer. And because they write, produce, and sing all of their own tracks, there's no doubt that we can expect a lot more from this breakout act from London.
How did you meet?
Duvall: I met Gavin at Reigate College in Surrey. We both fell in love with the same music - hip hop, r&b, and house. About two years later we met Luke, and we all started working on each other's projects. Total it's been 10 years, but we've only been Disciples for four.
What is the studio like?
D: I usually start ideas that Gavin will riff of. Luke does the low vocals (that's him on Flawless from The Following EP), and I do the high vocals.
The Following EP feels quite influenced by the underground...
Luke: We want to make whatever comes out of our hearts. We are very beat oriented, and then the hook comes.
How did the "How Deep is Your Love" collab with Calvin Harris happen?
Duvall: Gavin and Luke were negotiating a deal and they sent over a beat. The publisher pushed for Calvin to get involved. Then he (Calvin Harris) suggested we release it together and we thought...what's the worst that could happen? (500 million plays on YouTube, 350 million on Spotify, and breaking into the top-ten charts in over 74 countries is what could happen).

Any gigs you're really looking forward to this summer?
Glastonbury, Leeds, Creamfields, Summerburst, Exit Festival. And we have a residency at Amnesia in Ibiza. We're really excited about Amnesia, we're going to make it a lot more personal. And we really want to put on a show when it comes to the mix.
Is there a track you're excited to play out?
Daylight. It's one of ours. It just feels epic.
How did the collab with David Guetta, "No Worries" come about?
"No Worries" is with Curtis Richardson. We wrote it about two years ago. David came to our studio and begged us to work on it. And we thought...what's the worst that could happen?
Are you working on anything new?
We're trying to, but sometimes it's hard to concentrate on the road with all the free alcohol...and the women. But we are working on a club EP touching back to our roots. Then we have two commercial singles with two new videos, which we will be in for the first time, so that's exciting. And then a free EP. We're going hard. We just want to give people great music, and we want people in our genre to continue to be creative.
Do you have any advice for young producers and artists?
Don't be too safe. You have to explore your imagination and share your craziest ideas. Also know when to take criticism and improve on it.
Catch the Disciples (basically) everywhere this Summer. CLICK HERE for tour dates.
REAL LIFE. REAL NEWS. REAL VOICES.
Help us tell more of the stories that matter from voices that too often remain unheard.