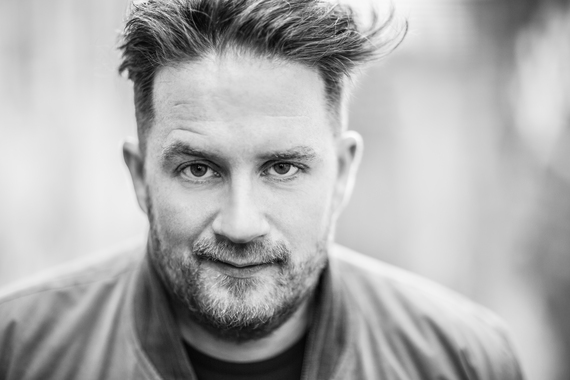 Eats Everything likes to throw a good party. And last weekend in Williamsburg he did just that in what turned out to be a progressive gig through Output. Starting on the roof in the rain, his set moved into the Panther Room and ended with a proper dance party on the main floor.
The week before I spoke with the Bristol born and bred producer/dj/label owner, while he waited in Heathrow Airport for the beginning of another weekend packed with gigs in Europe and the U.S. Eats Everything aka Daniel Pearce has a quick wit and laid back personality, which translates into a keen ability to make crowds feel immediately comfortable whenever he is behind the decks.
So you're playing at Output soon?
Yeah. I've played in NYC maybe 10 times. The last time was at Blk Market. NYC is my favorite city, other than Bristol.
What is the scene in Bristol like?
There's a strong musical heritage in the city. There are loads of small crews, but everyone has sort of meet each other, so it has created this amazing music scene and community. As people get a little older they move back to Bristol. And if you say you're from Bristol, people automatically take your music more seriously.
Is there a gig you are really looking forward to this summer?
Glastonbury, I'm playing every night. And Sonar mainstage sticks out. It's one of the biggest festivals of the year, and Spanish raves have some of the best crowds in the world. Even in places in America, like El Paso. There's something about the culture, it's not really about drugs, but they just really like to party and they're really up for it.
What's a track you're excited to play out this summer?
There is one from my label (Edible Records)
Jesse Perez - What You Say About My Mama (he saved it for near the end of his recent Output set and it killed)
Why did you decide to start Edible Records?
I started it with Nick Harris, who has been kind of at the forefront of breaking genres. We wanted to put out music from new kids not getting so much attention and heads from back in the day that we have admired...for example Brett Johnson. We want to create a hype and put out good music.
What's your production style like?
I don't really have a formula. I start and if it sounds good, I continue. I used to sit there and work on a loop and try to solve it, even though I knew in the back of my head that it wasn't going to work.
Do you have any advice for younger producers or artists?
I always give the same advice. Never give up. If you really believe, then don't give up, you should continue until you've exhausted every possibility. I didn't become successful until 30 and started playing out at 12.
Also, when you think you're good enough, think again. Wait until you're making music that your friends start getting excited about. There's no point in putting out music that isn't good enough...I didn't do that, but wish I had, and spent a lot of time trying to bury these tracks.
And lastly, spend all the money you have on the best monitor speakers you can afford.
Catch Eats Everything this summer. For upcoming dates, CLICK HERE
REAL LIFE. REAL NEWS. REAL VOICES.
Help us tell more of the stories that matter from voices that too often remain unheard.