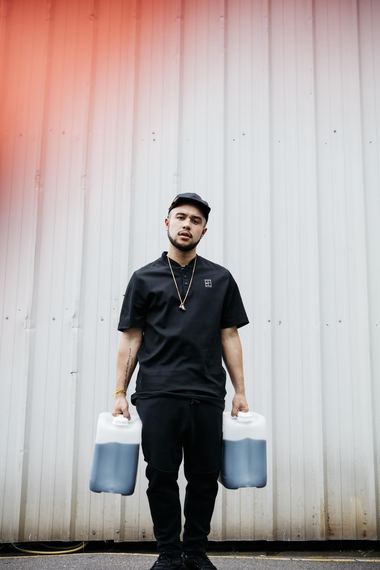 Jax Jones is a funny dude. Not "let me tell you a joke" funny, more "I talk in witty banter because that's just how I live my life" kind of funny. He also happens to be a very good musician, a multi-instrumentalist, songwriter, and producer. And last year he scored Grammy and Brit Award nominations for his collab with Duke Dumont, "I Got U."
A native of South London, Jones is on the rise, with a forthcoming album, and brush with the mainstream (Selena Gomez is a rumored feature on a track called "This is Real"). His understanding of both old school house and modern production give him a genuine vibe that just makes the dance floor come alive. Maybe this is why the original mix of his recent single "House Work," stands out above the many remixes that were made.
But back to Jax Jones, and his love of socks. Our recent conversation began, somehow, with a discussion about Dj's requesting fresh socks in their rider.
Jax: Actually, I did a gig and one of the other Dj's put it in his rider, so the promoter got me a pair too. They have pineapples on them and they're like my favorite pair of socks. Pineapples are the perfect fruit for socks. They're just flamboyant enough to get noticed.

So you're into socks.
My uniform has been sliders, and you need fresh ones. I basically bought like 20 pairs and wear them with Nike sliders. Man if DJ Khaled didn't already...
Sounds like we've got a million dollar merch idea on our hands.
At Leeds Festival I had on a pair of fresh Air Max, but it was so muddy i had to wear black bags over them.
Where did you play out this summer?
I did a few things like Leeds and Reading Festival. I also did this random festival which was like on a cruise ship from Barcelona to Rome. They split the boat in two, so half was the festival and half people just on this cruise.

Tell me about "House Work".
People love a slight lyric, that hip hop vibe. But part of the challenge is you got the instrumental, and you have like four lines to get it right. This one came quite quick. I had this beat and I wanted to write this sort of Steve Lawler - House Record tribute to House.
This track definitely works out.
Yeah, some Dj's started testing it in some of the clubs and they put it on and it just works. It's so cool to play something that doesn't have any pianos.
What about the music video?
It's a weird time because there's so much dance music coming up. I just didn't want to have a video of people on roller skates, or white dudes in slo mo, meeting beautiful girls on holiday. I thought, let's go a bit deeper.
They had this guy, Barry Scott, who did an infomercial for Cillit Bang, it's like a bleach. He's like a white version of Mario Lopez back in Saved by the Bell. He made headlines because he got fired.
Ozzie P (the director) had the idea to do the video as an informercial. I also wanted to tip my hat to Daft Punk with the dancing in the end (the video pays homage to the "Around the World" video). They nod a lot, especially on "Teachers" from Homework (Daft Punk's debut album).
I love your remix of "Impossible" by Lion Babe.
I sort of kitchen sinked it. Like there's a little of everything in there. They initially asked me to do the remix and first, I turned it down. Then I listened to the track again and, I wound up doing it for free.
I play guitar, bass, drums, and keys and when you're making club music, well the track is not your typical club structure. There's a Tokyo Drift sample, I'm a big fan of The Neptunes. And I was like, I hear a guitar solo, I'm gonna put it in.
Why dance music?
I guess I came to dance music quite late. I was on hip hop, and into music like Musiq Soulchild and Tank. I actually wrote a song with Musiq Soulchild a few years ago, and was like, I used the lyrics to your music to get with as many girls as I could.
I was trying to do the whole songwriter game and I started working with Juke and he put me on to a lot of different genres of house music. As I dug deeper I found some of the genres that I really love. It's fascinating as a genre. I can just make a beat and be as creative as I can, and then it has rules to it. To make really good house music it has to be perceptively simple.
What is the scene like in the UK?
Heavier drop stuff doesn't really work in the UK. The UK is a weird place. For you to even get into the mainstream, you need to get through specialists. And there's now real shows that are playing national that are supporting this bigger sound, and even then, Route 94 "My Love" was a simple record no proper drops. And Offaiah's "Trouble" is influenced by EDM, the drum sounds are very clean. They always say you can tell from the kick if they have a knowledge of house. When the kick has too much nose, its EDM.
What are you working on right now?
It's a mixture, "House Work" is like a club crossover. Some things are a bit deeper. I want to have a body of work like Daft Punk, where I have my club music and, my grandma recently passed and I have this track, "Celebrate Our Love." The edit is like the Elder Brook remix by Andhim, "How Many Times". It's just a long six minute wind up.
Where there any tracks of the summer for you?
There are key moments that I play certain tracks, like the Four Tet remix of "Opus". I usually play it at the end of set. I played Leeds festival and that's like 16,000 people. It's a five minute build up of arpeggio and when kicks in it's just an experience.
The other track I've been really championing, it was on the Bromance Compilation, "Virile" by The Blaze. They shot their own music video.
Calling all HuffPost superfans!
Sign up for membership to become a founding member and help shape HuffPost's next chapter