Carpenters Workshop Gallery will present Dutch designer Maarten Baas' latest collection 'Carapace' in a solo show this spring.
A scientific term for a protective, decorative or camouflaging shell found on the back of an animal, Carapace serves as the inspiration behind Baas' newest series. This idea of creating a protective layer is transparent through each piece's metal exterior and fine interior.
"I feel it's important to have a hard layer under which something good and fruitful can bloom up. The works explore the feeling of vulnerability up against the desire for development in the environment," says Baas.
Developed with Carpenters Workshop Gallery, the furniture in the collection is encompassed by a patchwork of dot-welded, bronze or steel plates and resembles curved forms found in nature. Similar to the shell of a beetle or turtle, the patches guard each piece's detailed and well designed features.
The solo show also includes an addition to the renown 'Real Time' series, a self portrait clock which features Baas for a continuous 12 hours of filming. The two original clocks were created in 2009 and each iteration since has featured a different character, theme and design.
Inspired by a traditional puppet theater, the back of the clock looks as though an actor is inside playing his role. "I wanted to inject my own activities, my own personality and manner, different than the previous clocks," Baas says.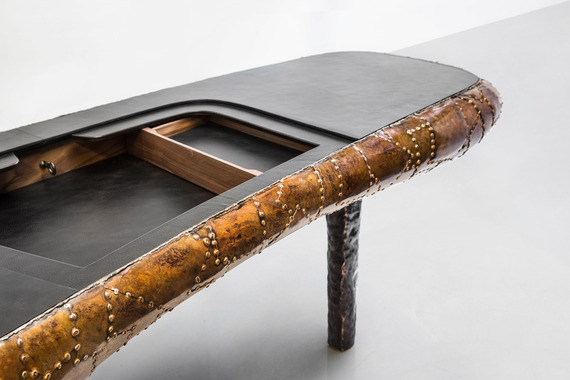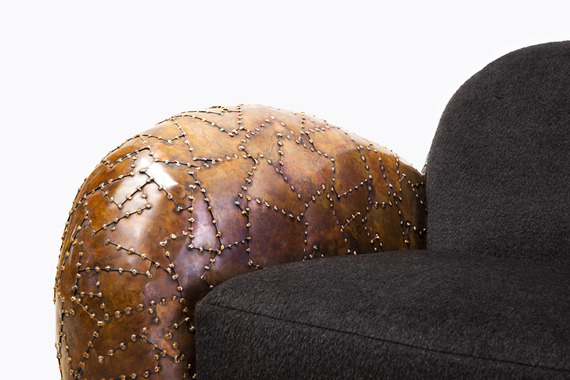 Calling all HuffPost superfans!
Sign up for membership to become a founding member and help shape HuffPost's next chapter