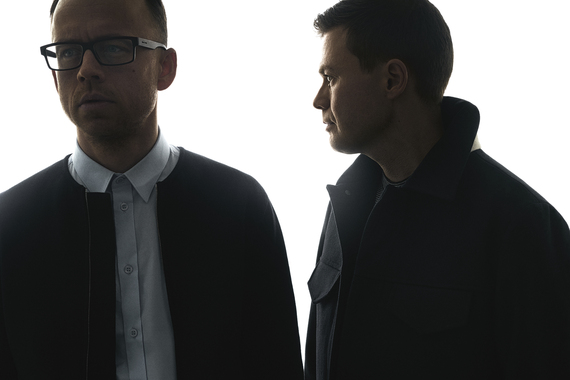 Norway has always been a breeding ground for strong producer duos, and Seeb (aka Simen Eriksrud and Espen Berg) are no exception. Their remix of "I Took a Pill in Ibiza" by Mike Posner exploded on Spotify and music charts around the globe, quickly followed by their emotional debut single, "Breathe" feat. Neev. Currently based out of Oslo, Norway, the pair are working on new music and playing out for the very first time this summer in Malta.
How did you two meet?
Simon: We're originally from Trondheim, but have been based in Oslo since 2002. I played in a band when I was younger (with a member of the hit production team Stargate). Then I started working with Esben on demos, who was already established and working as a producer for people like Donkeyboy and a bunch of Norwegian and Swedish artists such as Loreen (winner of the 2012 Eurovision Song Contest).
We connected with Island Records about three years ago, and began traveling to the U.S. to expand our network and worked with (producer) Rami Afuni. He heard a remix of a Donkeyboy track called "City Boy," and wanted to build a relationship. So we started making songs to be pitched for labels. About a year ago, we were a bit tired of writing for other artists. So we started doing remixes.
How did you find your sound?
We were making tropical house tracks , but the basis was a pop sound focused on harmonies with a melachonic twist. The sound has always been there but now we're moving in a more dance direction.
What is the music scene in Oslo like?
We're not really involved in the music scene, we are in the studio during the day and then home with our families, but there is a lot of good music coming out of Norway.
Have you met Mike Posner?
Yes, we met Mike in Oslo during a promo tour.
Tell me about "Breathe".
Breathe is doing really well, already 30 million on Spotify, and climbing the charts in Germany. The future looks very bright. The song was written by (Neev) the girl who also made the melody and producer Tiago.
What are you working on next?
We have a publisher helping us find great undiscovered tracks for us to put our spin on. We're going to the U.S. in September for some sessions for our own songs, and we're going to start playing out end of July in Malta, followed by a tour in the U.S.
Any songs you're excited to play out?
We're excited to play some of our songs out. We have a lot of music that that hasn't been released yet?
Are there any other Nordic Producers that should be on our radar?
Not sure. With Spotify, it's all about different music in Scandinavia. People are fans of songs.
Do you have any sort of advice for aspiring artists and producers?
Start remixing. Find a song you love, get a hold of the vocals and put your twist on it. If it blows up, you've made a name for yourself.
Calling all HuffPost superfans!
Sign up for membership to become a founding member and help shape HuffPost's next chapter